September 2, 2012
Vikings pick up three consolation titles at UWW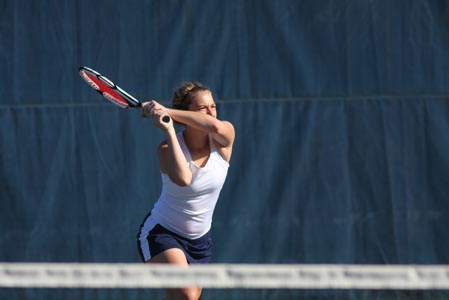 Sophomore Miranda Pence teamed with fellow sophomore Chelsea Lavin to win the consolation bracket in number one doubles at the Wisconsin-Whitewater Invitational on Saturday, September 2.
WHITEWATER, Wis. - Augustana won the consolation title in three of the six categories at the 2012 Warhawk Tennis Invitational on Saturday, September 1 in Whitewater, Wisconsin. The Vikings of second year head coach Jon Miedema scored nine points in the team standings and placed seventh.
Freshman Aileen MacDonald (Mundelein HS, Mundelein, Ill.) and a pair of doubles teams were the big winners for Miedema's team on Saturday. The number one doubles unit of sophomore Miranda Pence (Oswego HS, Oswego, Ill.) and sophomore Chelsea Lavin (Downers Grove South HS, Downers Grove, Ill.) and the number three doubles squad of juniors Mariah Bardo (Sterling HS, Sterling, Ill.) and Caitee Margenthaler (Moline HS, Moline, Ill.) joined MacDonald as consolation winners.
MacDonald played in the number three singles draw and she lost her opening match to Clo Thirovin of Grinnell by a score of 6-2; 6-2. She bounced back with wins of Svenja Schroeder of Illinois Wesleyan (6-3; 6-1) and Megan Etten of Wisconsin-Oshkosh (6-1; 6-0) to win the consolation championship.
Pence and Lavin were in the number one doubles draw and lost in the opening round to the team of Taylor Heltne and Katie Gillman of Wisconsin-Eau Claire by scores of 6-1; 6-3. They bounced back and won back-to-back three set marathons to take the consolation title. They defeated Erin Hendrickson and Abbi Howell of Carthage 3-6; 6-4; 10-8 in the consolation semi-final before taking care of Catherine Fitch and Hanna Feldman of Grinnell in the final (4-6; 6-4; 10-5).
Bardo and Margenthaler were at number three doubles and they dropped their first match to Abby Day and Jessica Vitale of Wisconsin-Whitewater by a score of 6-1; 6-0. They beat Rachael Wabers and Jennifer Graham of Wisconsin-LaCrosse in the consolation semi-finals and then beat Martha Peterson and Daria Ekkert 6-0; 7-5 to win the championship.
The number two doubles team of senior Meghan Wethington (Geneseo HS, Geneseo, Ill.) and junior Katie Scharnagle (Wheaton St. Francis HS, Lisle, Ill.) won the opening round match at number two doubles. Wethington and Scharnagle beat Tara and Lauren Casey of Illinois Wesleyan 7-6; 6-2 before falling 6-4; 6-2 to Andrea Vivian and Carrie Williams of Wisconsin-LaCrosse.
Host Wisconsin-Whitewater won the team title with 47 points while Wisconsin-LaCrosse was second with 28.5 and Wisconsin-Eau Claire took third with 25. Carthage was fourth (16.5), Grinnell fifth (14) and Illinois Wesleyan sixth (13). The Vikings took seventh with nine and Wisconsin-Oshkosh was eighth with six points.
Augustana will play a pair of matches on Labor Day (Monday, September 3) at home. The Vikings will open College Conference of Illinois & Wisconsin action at 9:00 a.m. against North Central before taking on Loras at 3:00 p.m.