September 1, 2012
Vikings fall 39-21 at Dubuque in season opener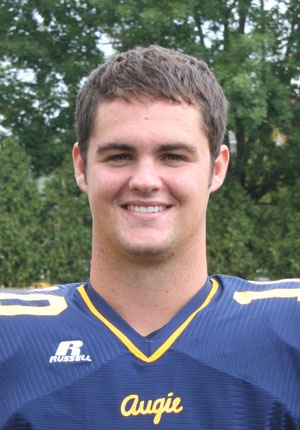 Senior quarterback Nick Welch rushed for 56 yards and a touchdown in his first collegiate start Saturday, but the Vikings fell 39-21 at Dubuque.
DUBUQUE, Iowa-Dubuque rode its high-powered offense to a 39-21 win over Augustana Saturday night at Chalmers Field in the season opener for both teams. The key stretch in the game came late in the first half and early in the second, when the Spartans scored four touchdowns in a span of less than five and a half minutes and went from down 14-7 to up 33-14.
The Spartans took the opening kickoff and went 73 yards in 13 plays for the game's first touchdown. Running back Kyle Acker finished off the march with a 5-yard scoring run. Dubuque kept the drive alive by converting a key fourth-and-three at the Viking 43-yard line. Standout quarterback Wyatt Hanus hit Tyler Rutenbeck for a 10-yard gain on the play.
After the teams traded punts, Augustana tied the contest just before the end of the first quarter. Starting from his own 35-yard line, senior quarterback Nick Welch (Oswego HS, Oswego, Ill.), getting his first career start, picked up six yards on a first down run. After throwing an incomplete pass on second down, Welch busted off a 59-yard touchdown run. Brady Rogers' (Cherokee Trail HS, Parker, Colo.) PAT evened the score at 7-7.
On the Spartans' next possession, Hanus connected with Chris Bagley on a 59-yard pass play that took Dubuque from its own 13 to the Viking 29-yard line. However, on third-and-two from the 21, linebackers Erik Westerberg (York HS, Elmhurst, Ill.) and John Draminski (Wethersfield HS, Kewanee, Ill.) broke through and dropped Acker for a three-yard loss. The Spartans gave the ball back to Augustana with an incomplete pass on fourth down.
Welch and the Vikings went right back to work, going 76 yards in 13 plays for a go-ahead touchdown. Junior running back Eric Chandler (Cary-Grove HS, Cary, Ill.) capped the drive with a 14-yard run. He also caught a 20-yard pass from Welch on the march. The key play came when Dubuque sacked Welch for a seven-yard loss on fourth-and-three at the Spartan 33, but were called for a face-masking penalty which kept the drive alive.
The rest of the half was all Dubuque. First, the Spartans went 54 yards in three plays with Dakota Runde going in for the tying score from nine yards out. After forcing a Viking three-and-out, Dubuque drove 66 yards in eight plays in just under two minutes to regain the lead. Acker scored on a two-yard run. Another Augustana three-and-out set the Spartans up at the Viking 44-yard line, but with just 21 seconds remaining in the half. That was just enough time for Hanus, as he connected with tight end Miles Hookstead for a 12-yard gain and again for a 32-yard scoring strike as the first half clock expired. Augustana blocked Steve Jones' PAT attempt and went to the locker room trailing 27-14.
The Vikings received the second half kickoff, but on their third play from scrimmage, Welch attempted an option pitch to Antonio Owens (Naperville North HS, Chicago, Ill.), but Dubuque knocked the ball loose. Stephen Vassalotti scooped it up for the Spartans and rumbled 35 yards for a touchdown to make the score 33-14. The two-point conversion attempt failed.
Welch was picked off on Augustana's next possession, but the Spartans quickly returned the favor. Viking junior linebacker Mike O'Donoghue (Mundelein HS, Mundelein, Ill.) blindsided Hanus and stripped him of the ball with Westerberg picking it up and going 23 yards to set up the Augustana offense at the Dubuque 26-yard line. With the help of a Spartan personal foul, it took the Vikings just two plays to score. Freshman quarterback Sam Frasco (Prospect HS, Mt. Prospect, Ill.) dashed in for a touchdown from 10 yards out and Rogers' point after made it 33-21 Dubuque with 10:24 remaining in the third quarter.
The final score of the night came on a Chris Sanders two-yard touchdown run with 9:59 left in the game. That capped a 12-play, 55-yard Spartan drive.
The Viking ground game produced 176 yards on 33 carries, an average of 5.3 yards per tote. Welch, with 56 yards on eight carries, led the way and Chandler added 52 yards on just five carries. Welch was four of eight for 55 yards through the air. Westerberg, one of the leading tacklers in the nation a year ago, recorded 18 stops (including eight solo) in addition to his fumble recovery.
Hanus, second in the nation in passing efficiency last year, completed 23 of 31 attempts for 288 yards and one touchdown with no interceptions. Acker rushed for 144 yards on 31 carries.
Coach Rob Cushman's Vikings are back on the road next week. They'll travel to Pella, Iowa to face the Central Dutch in a 1:00 p.m. contest on Saturday, September 8.