September 1, 2012
Vikings capture own Invitational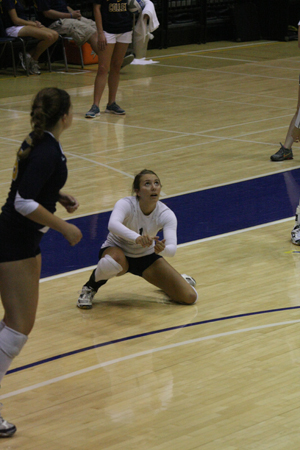 Freshman defensive specialist Kylie Siebert recorded 27 digs Saturday to help lead the Vikings to a pair of wins as well as the championship of their own Invitational at Carver Center.
ROCK ISLAND, Ill.-A pair of straight set victories Saturday at Carver Center ensured the hosts the title at this year's Augustana Fall Invitational. The Vikings defeated Knox 25-12, 25-19 and 25-11 before handling Blackburn 25-11, 25-15 and 25-17. They completed the weekend 3-1, winning the seven-team event.
Augustana 3, Knox 0 (25-12; 25-19; 25-11)
Augustana moved to 2-1 on the young season, taking care of Knox in straights sets in its first match of the day. Coach Jamie Walters was able to spread playing time around in the contest, with 15 Vikings seeing action.
Freshmen Emily Willingham (Kirkwood HS, Kirkwood, Mo.) and Martha Murray (Evanston Township HS, Evanston, Ill.) led the way against the Prairie Fire with seven kills apiece. Sophomore Emily Leazer (St. Viator HS, Mt. Prospect, Ill.) added six, while senior Sarah Williams (Rockford Lutheran HS, Loves Park, Ill.), junior Morgan Stittleburg (Black River Falls HS, Black River Falls, Wis.) and sophomore Katie Keller (Addison Trail HS, Addison, Ill.) had four each.
Freshman Jordan Hampel (Hilliard Davidson HS, Hilliard, Ohio) recorded a dozen assists with junior Katrina Colclasure (Tri-Valley HS, Bloomington, Ill.) and sophomore Stephanie Petkovsek (Lisle HS, Lisle, Ill.) providing nine each and freshman Sydney Sand (Burlington Central HS, Elgin, Ill.) six. Another first-year Viking, Kylie Siebert (Kaneland HS, Sugar Grove, Ill.), led the team with 14 digs. Murray added eight and also contributed three service aces, a figure matched by Leazer.
Augustana 3, Blackburn 0 (25-11; 25-15; 25-17)
Walters was able to go deep into her bench against Blackburn as well. Nine of the 16 Vikings who saw playing time recorded multiple kills, led by sophomore Samantha Kammerman's (Sherrard HS, Milan, Ill.) eight.
Leazer, who along with Williams was named to the all-tournament team, recorded seven kills, eight digs and six service aces. Stittleburg added six kills. Siebert led the way with 13 digs and Colclasure (12) and Hampel (10) were the assist leaders, followed freshman Samantha Marschke (L'Anse Creuse HS, Harrison, Mich.) with seven and Petkovsek with five. In addition, Colclasure and Hampel each recorded three aces.
The Vikings will take a 3-1 record into their next match, a 7:00 p.m. contest against Lincoln Christian at Carver Center on Tuesday, September 4.