September 1, 2012
Impressive showing at WIU despite heat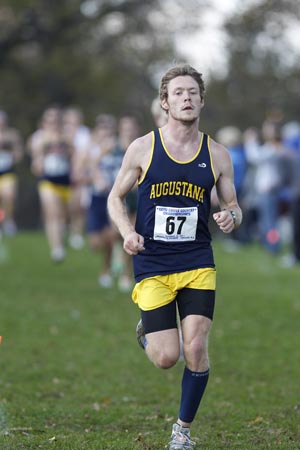 Senior Jonathan Smith placed fourth with a time of 18:55 to lead Augustana, ranked 18th in NCAA Division III, to a second place finish at the Western Illinois Early Bird Invitational on Friday, August 31. The Vikings scored 40 points and lost only to the University of Iowa, which is ranked ninth in the Midwest Region in NCAA Division I.
MACOMB, Ill. - Despite uncomfortable heat, which caused the race to be shortened to just 6,000 meters, Augustana was impressive in the Early Bird Cross Country Invitational on Friday, August 31 in Macomb, Illinois. The Vikings, ranked 18th in the NCAA Division III men's pre-season national poll, put five runners in the top 10 and placed second to the University of Iowa in the seven-team field.
Veteran head coach Paul Olsen's team scored 40 points and were bettered only by the 18 points put up by the Hawkeyes, who came into the meet ranked ninth in NCAA Division I's Midwest Region. Host Western Illinois was third with 100 points while Knox was fourth with 115. Illinois Central (124), Quincy (132) and Spoon River (191) rounded out the field.
Originally the race was scheduled for 8,000 meters but temperatures hovering in the 90's forced the distance to be reduced to 6,000 meters.
That didn't affect Augustana as the senior quartet of Jonathan Smith (Moline HS, Moline, Ill.), Brian Pollastrini (York HS, Elmhurst, Ill.), Nathan Smith (Fenton HS, Bensenville, Ill.) and Justin Smith (Fenton HS, Bensenville, Ill.) led the way. Jonathan Smith was the first Viking across the finish line as he churned out a time of 18:55 in fourth place. Pollastrini took sixth in 19:06 while Nathan Smith was ninth at 19:14 and Justin Smith grabbed 10th in 19:18 to give Augustana four finishers in the top 10.
Kevin Lewis of Iowa won the race with a time of 18:35 and he was followed by teammates Jon Michael Brandt (18:44) and Sam Chaney (18:55) for a one-two-three Hawkeye sweep.
The fifth man for the Vikings was junior Tyler Busch (Winnebago HS, Winnebago, Ill.) with an 11th place time of 19:30. Freshman Keith Sands (United Township HS, Silvis, Ill.) took 12th in 19:33 and freshman Dan Popek (Minooka HS, Minooka, Ill.) was 13th in 19:41.
In all, Augustana had a total of 11 runners in the race's top 20. Sophomore Nick Gornick (York HS, Elmhurst, Ill.) took 14th in 19:49. Senior Tommy Harris (Davenport Assumption HS, Davenport, Iowa) was 18th in 20:01 with freshman Ethan Koch (Prospect HS, Mount Prospect, Ill.) finishing 19th in 20:01 and sophomore Grant Bell (Belgrade-Brooten-Elrosa HS, Belgrade, Minn.) was 20th in 20:07.
The Vikings will not be in competition again until Friday, September 14 at the Illinois Intercollegiate Championships in Normal, Illinois.