August 31, 2012
Augustana splits first two matches of 2012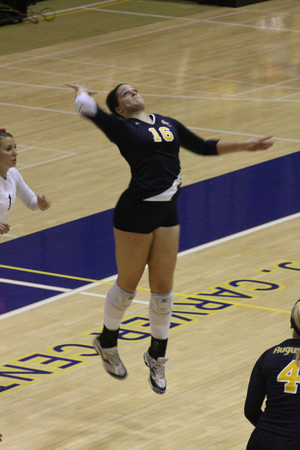 Freshman Martha Murray had 20 kills and 24 digs in Augustana's win over Greenville Friday. The Vikings went 1-1 on the first day of the Augustana Fall Invitational.
ROCK ISLAND, Ill.-Augustana bounced back from a 3-0 setback to Loras in its opening match of the day to pull out a thrilling five-set, come-from behind win over Greenville at the Augustana Fall Invitational Friday. Freshman Martha Murray (Evanston Township HS, Evanston, Ill.) had 24 kills and 30 digs on the day, including 20 and 24, respectively, against Greenville.
Loras 3, Augustana 0 (25-20; 27-25; 25-10)
The Vikings jumped out to early leads in each of the first two games game against Loras, but couldn't hang on, dropping both before falling 25-10 in the finale. Sophomore Dory Dudley (Tremont HS, Tremont, Ill.) led Augustana with six kills. Freshman Kylie Siebert (Kaneland HS, Sugar Grove, Ill.) had a team-best 14 digs and classmate Jordan Hampel (Hilliard Davidson HS, Hilliard, Ohio) led with 13 assists.
Augustana 3, Greenville 2 (26-28; 25-17; 21-25; 26-24; 15-13)
The Vikings trailed after three sets with Greenville, but came up with a big 26-24 win in the fourth to force a deciding set. After falling behind 10-7, they scored eight of the final 11 points to get the win.
Murray led the Vikings with 20 kills and her 24 digs trailed only Siebert's 25. Hampel had a team-high 29 assists and 15 digs. Sophomore Emily Leazer (St. Viator HS, Mt. Prospect, Ill.) added 12 kills and 17 digs.
Now 1-1 on the young season, coach Jamie Walters' Vikings are back in action on Saturday, September 1, when they continue play in the Augustana Fall Invitational. They'll face Knox at noon and Blackburn at 4:00 p.m.