August 31, 2012
Farell hat trick leads Vikings past Loras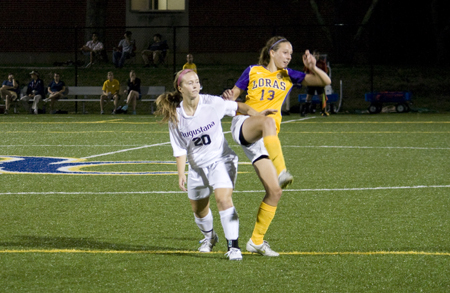 Augustana freshman Kelly Farell had a hat trick Friday night, leading the Vikings to a 4-2 win over Loras at Thorsen-Lucken Field.
ROCK ISLAND, Ill.-Augustana's Kelly Farell (St. Ursala Academy, Sylvania, Ohio) recorded a hat trick in her very first collegiate game Friday night, leading the Vikings to a 4-2 win over Loras at Thorsen-Lucken Field. Senior Morgan Olsen (Downers Grove North HS, Woodridge, Ill.) also had a goal for the hosts, who move to 1-0 on the season. Loras, which finished 18-3-1 a year ago, falls to 0-1.
Madeline Tennant put the visitors on top 1-0 in the 21st minute, getting a foot on a Hillary Wilson free kick and putting it past Augustana keeper Meredith Chew (Paradise Valley HS, Phoenix, Ariz.).
Farell leveled the score 10 minutes later off an assist from fellow freshman Jessica Kras (Glenbard North HS, Carol Stream, Ill.) and in the 40th minute, Olsen put the Vikings ahead when she blasted a 30-yard free kick just over leaping Duhawk goalkeeper Mary Kate Halm. The first half ended with Augustana on top 2-1.
In the 52nd minute, Farell got free and blasted a point-blank shot which Halm knocked down. However, Farell was able to bury the rebound for a 3-1 Viking lead. She added her third goal of the night just five minutes later, this time with the help of an assist from senior Taylor Moesle (Sandburg HS, Orland Park, Ill.). Loras' Abby Maier scored in the 71st minute to account for the final.
Chew, one of five freshmen in coach Scott Mejia's starting lineup, went the distance in goal, recording eight saves.
Loras held advantages of 15-11 in shots, 10-7 in shots on goal and 6-2 in corner kicks in the match.
Mejia's crew is back in action at Thorsen-Lucken on Sunday, September 2. The Vikings will host Concordia (Wis.) at 1:00 p.m.