August 31, 2012
Vikings drop season opener at Grinnell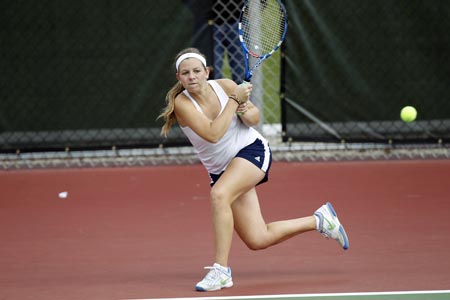 Senior Meghan Wethington teamed with fellow senior Krista Panko to pick up an 8-6 victory at number three doubles in Augustana's 7-2 loss at Grinnell on Thursday, August 30 in the season opener for both teams.
GRINNELL, Iowa - Opening the 2012-13 season against an experienced Grinnell team that finished last year 19-4 and advanced to the NCAA Division III national tournament proved to be a bit much for second year head coach Jon Miedema's Augustana women's tennis team. The Vikings dropped a 7-2 decision to the Pioneers on Thursday, August 30 at the 10th Avenue Courts in Grinnell, Iowa in the season opener for both teams.
Junior Kim Sawyer (Batavia HS, Batavia, Ill.) picked up right where she left off a year ago for Augustana as she scored an impressive 2-6; 6-0; 10-8 win at number one singles over Laura Krull. Sawyer was 27-7 last year and was the Vikings' team MVP. She won 29 matches as a freshman and now has 57 career victories.
She was the only Augustana player to win in singles but the number three doubles team of seniors Krista Panko (Geneva HS, Geneva, Ill.) and Meghan Wethington (Geneseo HS, Geneseo, Ill.) managed an 8-6 victory over the Grinnell team of Hanna Feldman and Catherine Fitch.
The Vikings have a busy weekend ahead as they participate in the Wisconsin-Whitewater Invitational on September 1 in Whitewater, Wisconsin and then host North Central and Loras on Monday, September 3 at the Lower Campus Courts. The North Central match starts at 9:00 a.m. and the Loras contest will begin at 3:00 p.m.
GRINNELL 7, AUGUSTANA 2
Singles
1 - Kim Sawyer (A) beat Laura Krull (G) 2-6; 6-0; 10-8
2 - Shirlene Luk (G) beat Emily Kaczmarek (A) 6-1; 6-2
3 - Alarcon Constanza (G) beat Krista Panko (A) 6-1; 6-1
4 - Thirouin Clothilde (G) beat Aileen MacDonald (A) 7-6; 6-2
5 - Hanna Feldman (G) beat Mariah Bardo (A) 6-4; 6-2
6 - Catherine Fitch (G) beat Katie Scharnagle (A) 7-5; 6-3
Doubles
1 - Laura Krull/Constanza Alarcon (G) beat Kim Sawyer/Aileen MacDonald (A) 8-1
2 - Shirlene Luk/Thirouin Clothilde (G) beat Miranda Pence/Chelsea Lavin (A) 8-3
3 - Krista Panko/Meghan Wethington (A) beat Hanna Feldman/Catherine Fitch (G) 8-6