August 27, 2012
Young Vikings look for continued improvement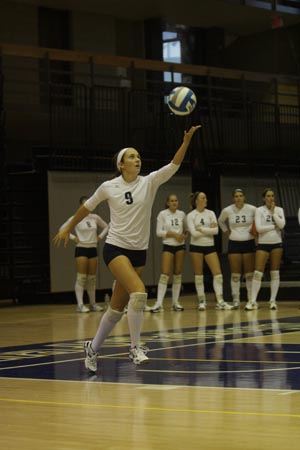 Sophomore Samantha Kammerman finished her freshman year fourth on the team in kills with 141 and fifth in digs with 108.
As the 2012 volleyball season gets ready to commence, third year head coach Jamie Walters is looking for continued improvement from her Augustana team. The Vikings were 9-23 a year ago while playing with a squad that had just one senior on the roster.
"Without question we will be more competitive this year, especially in spots one through 12," said Walters who took over the Augustana program prior to the 2010-11 school year. "We are still going to be very young but the talent level has increased, there is no doubt about that."
Last year the Vikings used several freshmen in prominent roles and that experience is bound to pay off heading into the 2012 season.
"Our sophomores now have a year of experience under their belts," she said. "I think that has helped quite a bit with the incoming class. There has been great buy-in amongst our players and that has been great to see."
One of those freshmen from a year ago who is now a sophomore is outside hitter Emily Leazer (St. Viator HS, Mount Prospect, Ill.). Leazer was second on the team in kills a year ago with 295 in 114 games. She was tops on the Vikings in service aces with 36 and second in digs with 390. She was named to the all-tournament team in the Viking Classic and the Wisconsin-Stevens Point Tournament.
Three freshmen will be contending for spots on the outside as well. They are Martha Murray (Evanston HS, Evanston, Ill.), Emilie Willingham (Kirkwood HS, Kirkwood, Mo.) and Sydney Sand (Burlington Central HS, Elgin, Ill.).
Sophomores Dory Dudley (Tremont HS, Tremont, Ill.) and Blair Theuerkauf (Batavia HS, Batavia, Ill.) along with junior Morgan Stittleburg (Black River Falls HS, Black River Falls, Wis.) have inside tracks on the right side hitter spot. Dudley played in 62 games last fall and notched 50 kills and 16 blocks while Stittleburg saw action in 73 games while notching 79 kills and 32 blocks as a sophomore. Theuerkauf played in 31 games and had 17 kills and eight blocks.
Senior Sarah Williams (Rockford Lutheran HS, Loves Park, Ill.) led the team in games played last year with 115 and she will once again handle the middle hitter position. She was third on the team in kills with 150 (1.30 per game) and was first in total blocks with 86 (0.75 per game). Sophomores Katie Keller (Addison Trail HS, Addison, Ill.) and Samantha Kammerman (Sherrard HS, Milan, Ill.) will be used here as well. Keller saw limited varsity action a year ago but Kammerman played in 82 games, mostly as an outside hitter and was fourth on the team in kills with 141.
At the setter position, junior Katrina Colclasure (Tri-Valley HS, Bloomington, Ill.) will move back here from here libero position. She played setter as a freshman but was the full-time libero a year ago and she led the team in digs with 542 (4.80 per game average). Sophomore Stephanie Petkovsek (Lisle HS, Lisle, Ill.) and freshman Jordan Hampel (Hilliard Davidson HS, Hilliard, Ohio) will also be in the battle for playing time at setter.
Colclasure could always move back to the libero position and freshman Kylie Siebert (Kaneland HS, Elburn, Ill.) has been impressive during the early pre-season practices.
"So far the attitude of our team has been outstanding," said Walters. "We are getting great leadership and we are moving forward, which is nice to see. Our players have a desire to want more and they are learning what it takes for that to happen."