August 27, 2012
Vikings go 17-6 at Fun Doubles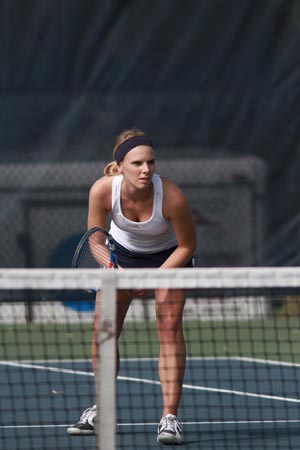 Junior Emily Kaczmarek teamed with senior Krista Panko to finish 3-1 in the "B" division at the Fun Doubles Scrimmage on Saturday, August 25 in Waterloo, Iowa.
WATERLOO, Iowa - The Augustana women's tennis team began its 2012-13 campaign with an impressive outing at the Funs Doubles Scrimmage held in Waterloo, Iowa on Saturday, August 25th. The Vikings competed with doubles teams from Wartburg, Grinnell, Loras, Cornell, Central of Iowa, Simpson and St. Ambrose. The Vikings looked solid all day long, compiling an overall record of 17-6 by the time the scrimmage was completed.
In the "A" flight, the doubles team of junior Kim Sawyer (Batavia HS, Batavia, Ill.) and freshman Aileen MacDonald (Mundelein HS, Mundelein, Ill.) had a perfect 4-0 record and finished in first place. Sawyer and MacDonald only lost 12 games on their way to first place. Also competing in the "A" flight were sophomore Chelsea Lavin (South HS, Downers Grove, Ill.) and sophomore Miranda Pence (Oswego HS, Oswego, Ill.) They were able to compile a record of 2-2 with wins over Loras and Cornell.
In the "B" flight, the Vikings had two solid showings. The team of senior Meghan Wethington (Geneseo HS, Geneseo, Ill.) and junior Katie Scharnagle (St. Francis College Prep HS, Lisle, Ill.) took second place with an overall record of 3-1. Wethington and Scharnagle made it all the way to the championship round but lost a close 8-5 match against Grinnell. Also finishing with a record of 3-1 but taking third place was the tandem of senior Krista Panko (Geneva HS, Geneva, Ill.) and her doubles partner, junior Emily Kaczmarek (Glenbard South HS, Lombard, Ill.). Their only loss was in the first match, and it was a 9-7 defeat to the eventual "B" flight champion from Grinnell.
The Vikings also found success in the "C" flight, with junior Mariah Bardo (Sterling HS, Sterling, Ill.) and freshman Lauren Kaczmarek (Glenbard South HS, Lombard, Ill.) taking second. Bardo and Kaczmarek finished the day with a record of 3-1. Also with a solid performance in the "C" flight was the doubles team of junior Caitee Margenthaler (Moline HS, Moline, Ill.) and freshman Madeline Voss (Lincoln Way East HS, Frankfort, Ill.), who finished with a record of 2-1.
Augustana will begin its 2012 season on Thursday, August 30th with a match against Grinnell, which also participated in the Fun Doubles Scrimmage. The match will be held in Grinnell, Iowa, with the contest scheduled to begin at 4:00 p.m.