Long-distance love story
August  27, 2012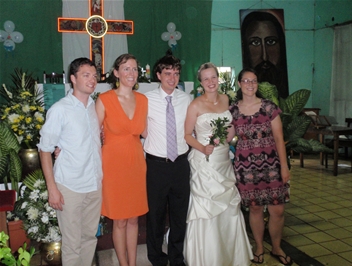 Julie (Roy) and Adam Mulherin celebrate with fellow members of the Class of '09 after their wedding ceremoney in El Salvador. From left, Ian Fletcher, Colleen Kilbride, Adam, Julie and Melissa Johansen.
Before she fell in love with her husband, Julie Roy '09 Mulherin fell in love with El Salvador.
"Adam (Mulherin '09) knew from the beginning of our relationship that El Salvador was very important to me and that I have a second family here," Mulherin wrote in an email just days after her July wedding in the Central American country.
Mulherin first visited El Salvador in 2002 on a mission trip with her high school youth group. "I fell so in love with the country and the people that I kept returning," explained Mulherin, a native of Schaumburg, Ill., who majored in education and now teaches third grade in Carol Stream, Ill.
She has visited the smallest and most densely populated country in Central America 13 times. During her Augustana years, she made five of those trips.
When she's in El Salvador, Mulherin works with the Lutheran church. "My home church, Lord of Life Lutheran Church in Schaumburg, has a sister church," she said. "I spend time in that church community, support the pastors and their work with five church communities, help at the Lutheran day shelter, and support the Lutheran Synod as a whole."
Plus she leads delegations focused on education and solidarity to El Salvador and helps coordinate their trips.
"Because of my interest in El Salvador, I minored in Spanish and Latin American studies at Augie," she said. "What I learned in these classes helped me understand more about El Salvador, the culture and the language."
Spring break 2009 marked an important milestone in Julie and Adam's relationship; they made their first trip together to El Salvador. "It was during that trip that we decided when we got married we needed to make sure to do it in El Salvador, too," Julie Mulherin said.
This summer, Julie and Adam made their dream of two weddings come true. Their first wedding took place in late June in Augustana's Ascension Chapel, just footsteps from the place they met – Seminary Hall. They tied the knot a second time at Lutheran Cathedral in El Salvador with more than 400 El Salvadoran friends and three alumni there to share in the celebration.
As one of the wedding guests, Ian Fletcher '09, put it, "Julie is a celebrity there for the work she has done, and she really shines. It was so great to celebrate her two loves, Adam and El Salvador."
Sam Schlouch
Senior Communication Director
(309) 794-7833
samschlouch@augustana.edu