August 27, 2012
Vikings beat St. Ambrose in season opener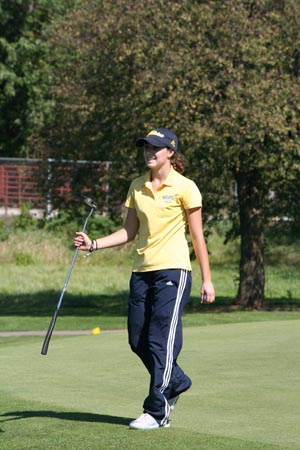 Junior Jamie Lawrence led the Vikings to a season-opening win over St. Ambrose by shooting 81 at Emeis Golf Course on Saturday, August 25. Augustana edged the Queen Bees by a score of 336-343.
DAVENPORT, Iowa - Junior Jamie Lawrence (Moline HS, Moline, Ill.) fired an 81 to grab medalist honors and lead Augustana to a 336-343 victory over St. Ambrose on Saturday, August 25 in Davenport, Iowa at Emeis Golf Course. It was the opening match of the 2012 season for both teams.
The Vikings were impressive as three players broke 85 and the top five were all under 89 as they defeated the Queen Bees by seven strokes. Senior Morgan Wilkinson (Westmont HS, Westmont, Ill.) was right behind Lawrence with an 82, which was the day's second best score.
Caitlin Hora of St. Ambrose was the top finisher for the Queen Bees with a score of 84 and a third place in the standings. Senior Megan Vandersee (Sterling HS, Sterling, Ill.) recorded an 85 and tied with St. Ambrose's Abby Frideres for fourth place. Megan Miche of the Queen Bees scored an 86 and was all alone in sixth place.
Freshman Samantha Barlage (Marian Catholic HS, Lansing, Ill.) was the fourth and final scorer for head coach Ron Standley's Vikings with an 88. She tied for seventh place with Abby Livingstone from St. Ambrose. Junior Kelly Farina (Normal West HS, Bloomington, Ill.) was fifth Augustana player under 90 on the day as she recorded an 89.
The Vikings will be in action on Saturday, September 1 and Sunday, September 2 at the Illinois College Invitational at The Links in Jacksonville, Illinois.
AUGUSTANA WOMEN'S GOLF vs. St. Ambrose
August 25, 2012
Emeis Golf Course
Davenport, Iowa
Augustana 336, St. Ambrose 343
Individual Scores
81 - Jamie Lawrence, Augustana
82 - Morgan Wilkinson, Augustana
84 - Caitlin Hora, St. Ambrose
85 - Megan Vandersee, Augustana
85 - Abby Frideres, St. Ambrose
88 - Samantha Barlage, Augustana
88 - Abby Livingstone, St. Ambrose
89 - Kelly Farina, Augustana
90 - Allison Weber, St. Ambrose
91 - Talor Ahmann, St. Ambrose
92 - Katelyn Lazar, Augustana
92 - Caitlin Carney, St. Ambrose
Others
93 - Kaitlyn Czerwonka, Augustana
93 - Ellen Turner, St. Ambrose
94 - Michelle Dempster, Augustana
96 - Kelly Olson, Augustana
96 - Megan Alano, Augustana
96 - Maggie Rothan, St. Ambrose
96 - Devan Messer, St. Ambrose
98 - Kristen Hirtzer, Augustana
99 - Emily Comperda, Augustana
99 - Caitlin Doherty, Augustana
100 - Micheala Kremer, St. Ambrose
100 - Megan Scott, Augustana
105 - Caroline Griffin, St. Ambrose
111 - Rachel Bacon, St. Ambrose
116 - Emily Springer, St. Ambrose
119 - Ashley Nelson, St. Ambrose