Principal flutist of Quad City Symphony Orchestra will perform guest recital
August  23, 2012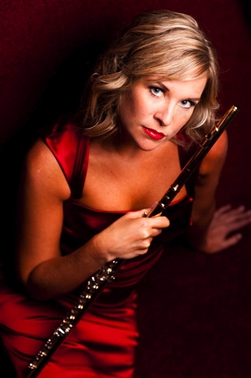 Jessica Warren-Acosta
Jessica Warren-Acosta, principal flutist in the Quad City Symphony Orchestra, will perform a classical recital at Augustana College on Friday, September 7 at 8 p.m. The recital will take place in Wallenberg Hall within the Denkmann Memorial Building (3520 7th Ave.).
Hailed as "remarkable" by the Chicago Tribune and "one to watch, in more ways than one" by Muso Magazine, Jessica Warren-Acosta has gained worldwide recognition as a dynamic performer and a flutist who thinks outside the box. Warren-Acosta has performed with numerous internationally acclaimed symphonies, including the Chicago Symphony Orchestra and the Atlanta Symphony Orchestra. She also gave the American premiere of Pascal Dusapin's Flute Concerto, "Galim," at the Spoleto USA Festival.
Warren-Acosta will perform works by Prokofiev, J. S. Bach, Debussy and Doppler. Augustana faculty members Dr. Mary Neil, pianist and professor of music, and Janet Stodd, flutist and part-time instructor of music, will join Warren-Acosta.
Sam Schlouch
Senior Communication Director
(309) 794-7833
samschlouch@augustana.edu