October 2006
Stage Left, Stage Right: Hare and Zinga in Centennial
Andrea Zinga and Phil Hare, candidates for Illinois' 17th District seat in the U.S. House of Representatives, have announced their plans to debate later this month in Centennial Hall. So what should we look for when the two political foes take the stage on October 18? "Great debaters excel at making a connection with their audience," says Dr. Dan Fitzmier, director of the Augustana Debate Union and moderator for the upcoming debate. "In the context of political debates, it follows that candidates must show the audience they have a strong grasp of what issues are important to the electorate - that they identify with their questions, needs and way of life."
As the debate's moderator, Fitzmier will direct a panel of journalists covering the race for the seat now held by Congressman Lane Evans '74. Among his many responsibilities that night will be the polite-but-firm enforcement of agreed-upon time limits. "Keeping responses within an allotted time frame is another important skill in debate," says Fitzmier. "And it's going to be my job to remind them of that."
The debate is scheduled for 6:30 p.m., Wednesday, October 18 in Centennial Hall.
New Office Brings the World to Augustana
Although awaiting a director, the newly minted Office of International Programs (OIP) is doing anything but languishing deep within Denkmann waiting for the search to come to an end. On the contrary, Jane Tiedge, OIP associate director, has been busily working to establish a central location for all campus international activities, including providing resources and information for students looking to study abroad, a home base for international students on our campus, and administrative help for faculty creating future global study opportunities.
"The creation of this office demonstrates our commitment to international study," Tiedge explains. "And it supports the goal outlined in the strategic plan of increased participation in our international programs." But what of the Freistat Center for Studies in World Peace? Tiedge says all programming that the Freistat Center produced in the past is still going on through this new office.
For more information on the OIP, visit www.augustana.edu/internationalstudy.
Field Notes
Field Notes illustrates different kinds of experiential learning that take place on campus (and take us places off campus). In this issue, biologist Kevin Geedey writes about his summer 2006 field work with biology major Julie Reynolds '07, professor of chemistry Mary Ellen Biggin and chemistry major Lindsay Shimko '07. In a project supported by the Lilly Foundation, they researched physical and chemical variables that impact species diversity in the ponds at our Green Wing environmental field station near Dixon, Illinois.
June 13. Today we go to Pine pond in the far southwest corner of Green Wing, one of my favorite places on earth. If you come before it gets too warm, you might glimpse fairy shrimp gliding by as you wade through the pond. Now the fairy shrimp are gone, though the pine woods are still noticeably cool. The pond is already mostly dry, with only 20 cm of water at the deepest point. Lindsay and Mary Ellen attach jars to the end of a telescoping pole and collect water samples for chemical analysis. At the opposite end of the pond, Julie and I sweep the long handled dip nets through the water, bouncing the frame of the net softly along the muddy bottom. When we bring the nets to the surface, we carefully tease apart the vegetation and mud with forceps, looking for life. The wriggling beetle larvae we find are an insectophobe's worst nightmare: fantastically spiny armored predators with deeply curved mandibles.
June 28. We journey to Iris pond on the north edge of the site. Iris is much larger and several times deeper than Pine. The water is the color of dark-brewed tea. This isn't from pollution, but from the rich cocktail of decomposing plant material. The colored water blocks most of the sunlight from reaching the bottom. The surface water is bathtub warm, but about 20 cm down the temperature changes abruptly; warm at my elbow, chilly from my wrist down. For some reason, my traveling companions decline to dip their arms in and decide to take my word for it. The fauna of Iris pond is diverse: larval and adult water beetles, dragonfly nymphs, water boatmen, snails, and the tiny white mussels also called pea clams.
July 27. By the end of the season we have visited eight ponds two or three times each. Julie has identified dozens of species of aquatic invertebrates. Lindsay and Mary Ellen have spent long hours perfecting lab protocols and looking for herbicides. The ponds show a large range in species richness. Pine is near the bottom of the list with only eleven observed species, while Iris is near the top with thirty. We have a rich data set to analyze, patterns to examine and argue over, statistics to check and recheck. The field season may be over, but the exploration of the ponds has just begun.
New Faces on Campus
Dr. Dwight L. Bailey
Director, Career Center
B.A., Wilberforce University
Ph.D., psychology, Wright State University
Time management has to be one of Dr. Dwight Bailey's more finely tuned skills. He and his wife Michelle take salsa lessons, sculpt with clay and have twice ridden in Iowa's RAGBRAI bike tour - all while raising three sons: Immanuel, 4; Avrom, 3; and Matthew, 2.
With more than 12 years experience in higher education as a faculty member and administrator, Bailey comes to Augustana from the MBA fulltime program at the University of Iowa, where he led its student services program. (Plus, he may be the only administrator on campus who has completed Special Forces training for the U.S. Army.)
"Being a faculty member has always been rewarding, but as an administrator I've had a much larger impact on the experiences that shape students' civic, social and intellectual development," he says. "I enjoy building and nurturing relationships with students and the people who influence their development."
As director of the Career Center, Bailey will work closely with Dr. Bob Haak, director of Augustana's Center for Vocational Reflection (CVR). In fact, the offices of the CVR and the Career Center will move to the same floor of Carlsson Hall after its renovation in 2007-08.
Bailey grew up in Cleveland, Ohio, but his wife graduated from Moline High School. They both have relatives (a.k.a. babysitters) in the area —another nice benefit of his move to Augustana.
Nancy Loitz
Associate Dean of the College
B.A., communications, Bowling Green University
M.F.A., directing, University of Minnesota
In a recent interview about her new position, Nancy Loitz cried for a few seconds, and then stopped abruptly. A few minutes later, she was laughing uproariously - then suddenly stopped again. When did working in Academic Affairs become such an emotional roller coaster?
Some people may know Loitz directed the School of Theatre Arts at Illinois Wesleyan University for eight of her 20 years at the university. But few realize she is one of only eight instructors in the United States certified to teach an acting technique called Alba Emoting. Developed by neuroscientist Dr. Susana Bloch, Alba Emoting is described as a physiological technique that allows actors to develop a full range of emotions without relying on personal memories, sensory stimuli or images. Loitz learned the technique from Bloch in Chile and has since led seminars in the United States, Switzerland and Italy. "With Alba Emoting, you learn to manipulate your body to be able to genuinely feel and express an emotion within seconds," Loitz says. "Breathing is the key."
Of course, since she's no longer teaching theatre and is now an associate dean focusing on general education and the first-year experience, Loitz probably won't have many opportunities to practice Alba Emoting.
Or will she?
From the Cabinet: Al DeSimone, Vice President for Development
The initial phase of our campus campaign is off to a good start. At this point we have nearly $800,000 in gifts and commitments to Authentically Augustana: A Call to Action. My colleagues and I are eager to answer questions you may have about how this campaign supports our mission.
Thank you for your consideration and for all the ways you help make this an even better college for our students.
P.S. Watch for campaign updates in future issues of Acknowledge.
Augustana Family News
Steve and Jane Bahls' son Timothy is engaged to Magda Widjaja from Jakarta, Indonesia. They will be married in May 2007 in Middlebury, Vermont, with a reception to follow in Indonesia. Tim is in the Ph.D. program in computer science at the University of Wisconsin-Madison, and Magda will graduate from Middlebury College in May. Steve and Jane look forward to learning more about Indonesian culture from their new daughter-in-law.
Jane Simonsen, new faculty member in history/women's and gender studies, and her husband Mike Augspurger of the English department have had a memorable summer. On June 1 they and their two-year-old daughter Solon moved from Conway, Arkansas to their new house in Davenport. They were in the middle of some work on the house when their son Nathaniel Finn was born, three weeks early. While his early arrival was a surprise, it gave them all extra time to settle in and get to know their new family member before Jane and Mike started their new jobs at Augustana.
Seen and Heard
"Here is a little thought that shocked me after I got home: I cried more once I was home missing Ghana, than when I was in Ghana missing home. And I now view home as the confusing place."
Trina Kainz '07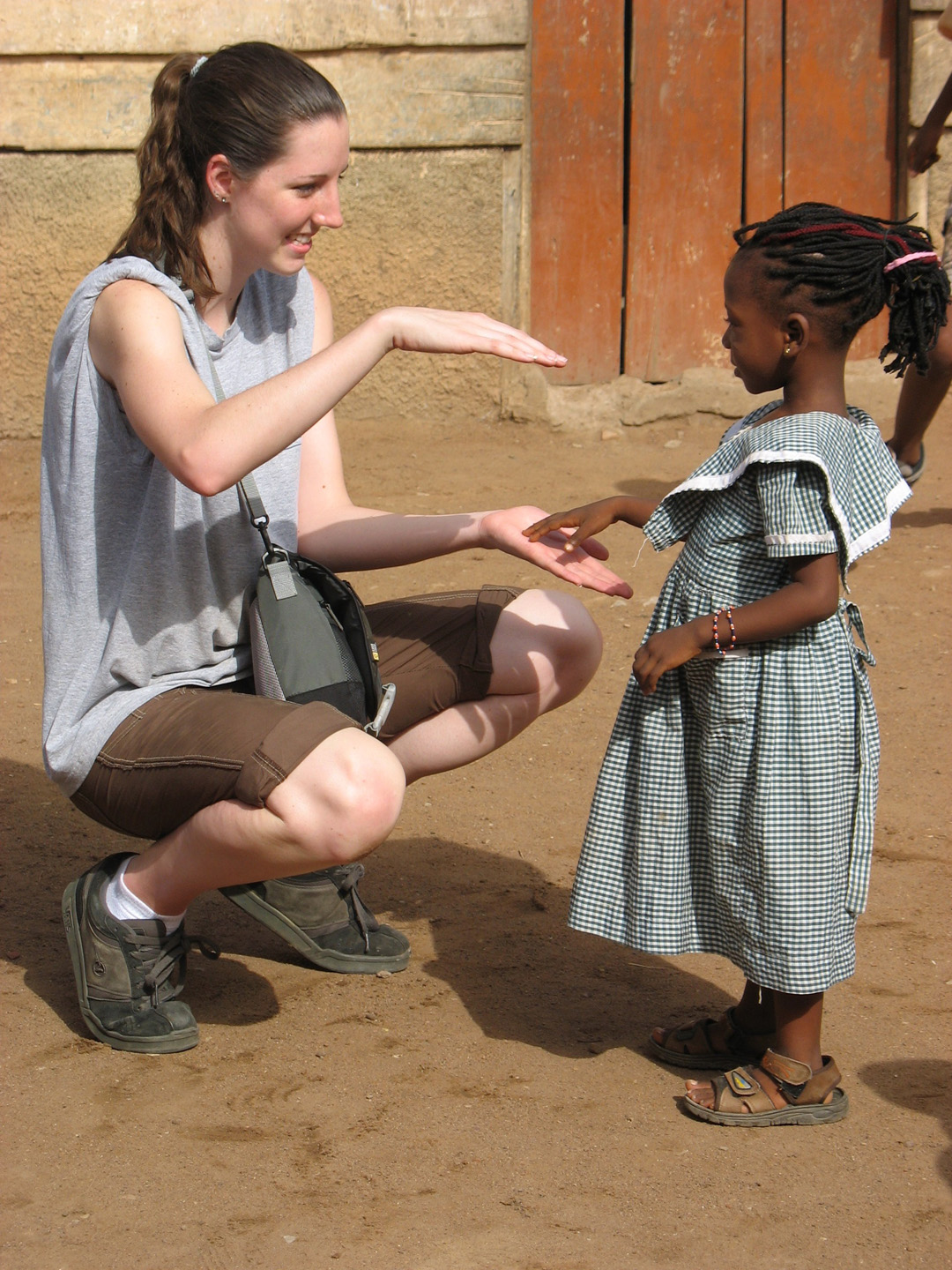 Acknowledge is published by the Office of Communication and Marketing. Contact Beth Roberts, editor. Photos in this issue were contributed by Dr. Kevin Geedey and members of the Augustana Photo Bureau.