August 23, 2012
Vikings poised for good run in 2012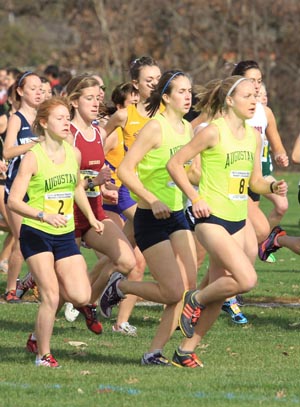 Sophomores Kristyn Barton and Becca Sund along with senior Sarahbeth Jones all finished in the top 15 at the College Conference of Illinois & Wisconsin championship last fall. They are back to help lead the Vikings in 2012.
Buoyed by the return of its entire top seven from 2011, the Augustana women's cross country team is understandably optimistic heading into the 2012 campaign. Veteran head coach Fred Whiteside, who is beginning his 31st season as the head coach, thinks there are plenty of reasons for that optimism.
"We are thinking that we could be pretty good," said Whiteside. "We have plenty of people back from a year ago and all have had success of some sort in the past. We have kids who have done a superb job of preparing themselves."
The Vikings also have the luxury of having one of the top runners in both the College Conference of Illinois & Wisconsin and the Midwest Regional to lead the way. That would be senior Sarahbeth Jones (Warren Township HS, Wadsworth, Ill.), who is coming off a tremendous junior year. She was the team MVP in three sports (cross country, indoor track & field and outdoor track & field) last year. She won CCIW titles in both the indoor and outdoor conference meets and finished the year with a ninth place finish in the NCAA Division III 5000 last spring. She placed fifth in the CCIW cross country championship last fall.
While Jones figures to be the Vikings' number one runner this fall, there is no shortage of talent behind her. Sophomores Becca Sund (Palatine HS, Palatine, Ill.) and Kristyn Barton (York HS, Elmhurst, Ill.) both finished in the top 15 in the CCIW last year as freshmen. Both runners missed the spring track season due to injuries but are back at full strength now. Sund was Augustana's Most Valuable Freshman last year and Barton shared the Most Improved Runner award.
Another sophomore who made great strides at the end of last year's cross country season and into the track campaign is Jessica Bacon (Rock Island HS, Rock Island, Ill.). She was a place winner at the CCIW track & field meet and is a school record holder as a member of the 4x1600 and distance medley relay teams.
Junior Kate Benge (Pleasant Valley HS, Bettendorf, Iowa) is coming off a solid track season and will be running cross country for the first time in college. Senior Tara Bistry (Joliet Catholic HS, Shorewood, Ill.) has enjoyed a nice career and was a place winner in the CCIW 10,000 last spring. Senior Theresa Coverick (Stagg HS, Palos Park, Ill.) is a former team MVP in cross country who didn't run track last spring but is back out this fall.
Seniors Annie Heifner (Oregon HS, Oregon, Wis.) and Jennifer Prazak (Naperville North HS, Naperville, Ill.) will serve as team captains along with Jones and Coverick. Two other seniors who could be in the mix are Kirstillyn Pohlman (Zion-Benton HS, Winthrop Harbor, Ill.) and Amanda Rodriguez (Mahomet-Seymour HS, Mahomet, Ill.). Rodriguez shared the Most Improved Runner award last fall with Barton.
Juniors Kelsey Stockert (Peoria Notre Dame HS, Mapleton, Ill.), Kristen Whiteside (Zion-Benton HS, Winthrop Harbor, Ill.), Emma Gandgeorge (Sycamore HS, Sycamore, Ill.), Kelsey Moon (Mundelein HS, Wauconda, Ill.) and Amanda Pease (United Township HS, East Moline, Ill.) all have experience and could challenge for top seven spots.
Sophomores Kristina Bowen (Kaneland HS, Elburn, Ill.), Stephanie Burbidge (Palatine HS, Palatine, Ill.), Lizzie Lundine (Willowbrook HS, Villa Park, Ill.), Rachel Kelly (Downers Grove South HS, Downers Grove, Ill.), Kerri McGrail (Plainfield North HS, Plainfield, Ill.) and Lorraine Stamberger (LaMoille HS, LaMoille, Ill.) will be in the mix as well.
A talented group of freshmen could be in the hunt for top seven spots with Hana Lobsinger (Wheaton-Warrenville South HS, Wheaton, Ill.), Katie Hoeper (Davenport West HS, Blue Grass, Iowa), Rachel Rodriguez (Mahomet-Seymour HS, Mahomet, Ill.) and Jeneen Schier (Oregon HS, Oregon, Ill.) appearing to have the best shots at cracking the lineup.
Once again, Whiteside will put his team through a rugged schedule in preparation for the championship meets at the end of the season.
"We have a tough schedule but it is no different than what we usually run," said Whiteside, whose team finished third in the CCIW last fall. "I think we can be a factor in the CCIW this year and that is fun to start the season thinking that way. It all depends on how much progress we make as a team. We know that Sarahbeth could be one of the top runners in the Midwest and we have some others who will be able to make some noise as well. It could be an exciting year."