August 22, 2012
Young Vikings see opportunity in 2012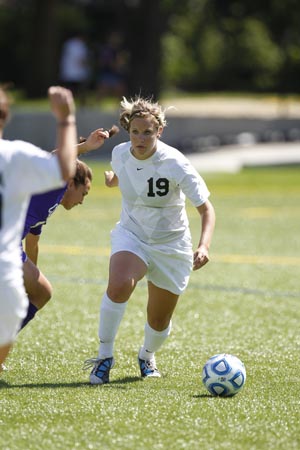 Senior tri-captain Courtney Linn and the Vikings have high expectations in 2012 despite losing 12 letter winners from last year's team.
Losing nine seniors who fashioned a composite record of 59-16-7 over their collective four year career could be enough cast a dark shade over most programs. However, Augustana women's soccer coach Scott Mejia looks at the upcoming 2012 season as one of opportunity.
"One thing that we talked about is the fact that we are an unknown quality heading into the season," said Mejia who has compiled a record of 148-57-17 in 11 years at the Vikings' helm. "We certainly lost a lot of players who were very instrumental in a lot of success at Augustana during their careers. Now it is time for some people to take advantage of the opportunity."
The Vikings went 11-8-1 overall a year ago and 4-3 in the College Conference of Illinois & Wisconsin. A total of 15 letter winners and four starters return from that unit.
"The returning players know that we have a chance to create a new identity and that is exciting," said Mejia. "Our upper-class players have talked about that and in the first few days of the pre-season it is pretty evident that they are serious about it."
One area where Mejia can count on some experienced players returning is the midfield. Senior tri-captain Taylor Moesle (Carl Sandburg HS, Orland Park, Ill.) was a first team NCAA Division III All-America selection as a sophomore and was second team all-region a year ago. She led the team in scoring with seven goals and eight assists for a total of 22 points. She is currently tied for third on Augustana's career list for assists with 17, fifth in points scored with 73 and seventh in goals scored with 28. She was the Vikings' offensive MVP a year ago as well.
Senior Kirsten Boesen (Normal West HS, Gibson City, Ill.) has been a starter for the last three seasons and was all-conference as a sophomore in 2010. Junior Briana Clark (Nazareth Academy, LaGrange, Ill.) and sophomore Taylor Navarro (York HS, Elmhurst, Ill.) have both been in the starting lineup before.
Other veterans who will be used in the midfield include senior tri-captain Courtney Linn (Pleasant Valley HS, Bettendorf, Iowa), senior Amanda Tucker (Crete-Monee HS, Crete, Ill.) and junior Ally Frickman (Loveland HS, Loveland, Colo.). Help could also come from talented freshmen Kortney Hix (Mountain Vista HS, Highlands Ranch, Colo.), Somer Druzkowski (Lincoln-Way Central HS, Manhattan, Ill.) and Jessica Kras (Glenbard North HS, Carol Stream, Ill.).
The forward positions have been completely re-tooled and Clark could move up top from her normal mid-field slot. Freshman Kelly Farell (St. Ursula Academy, LaGrange, Ill.) and senior Rachel Lenke (Prospect HS, Mt. Prospect, Ill.) are also battling for playing time.
Senior Morgan Olsen (Downers Grove North HS, Woodridge, Ill.) is the lone starter returning on defense. Junior tri-captain Maggie Hoscheit (St. Charles East HS, St. Charles, Ill.) and junior Merrill Clayton (Legacy HS, Westminster, Colo.) have both logged game experience and sophomores Keri Skotnicki (Waubonsie Valley HS, Aurora, Ill.) and Kimberly Grimmer (Downers Grove South HS, Woodridge, Ill.) have looked good in the pre-season. Freshman Stef Hamaker (Rockford Boylan Catholic HS, Caledonia, Ill.) could be used here as well.
There are some big shoes to fill at goalkeeper as All-American Kayla Radloff graduated after being a four year starter. Senior Bridget McDermott (Prospect HS, Mt. Prospect, Ill.) and freshman Meredith Chew (Paradise Valley HS, Phoenix, Ariz.) are battling for the position.
"We have been focusing on being more aggressive in our approach this season," said Mejia who has led the Vikings to the NCAA Division III tournament four times since 2005. "We want a unit that will attack more. In the past we have been known as a team that plays hard defense and we certainly don't want to stray from that. However, we have been trying to put on more pressure from the offensive end and I think that will pay off for us in the long run."