August 16, 2012
Consistency will be key for men's golf in 2012-13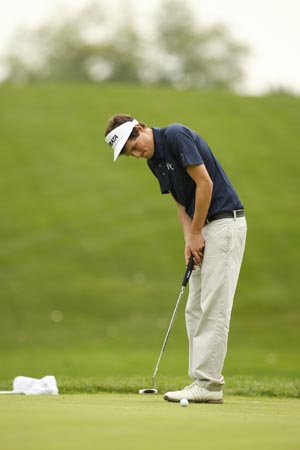 Jeff Paustian will be the lone senior on the Vikings in 2012-13. He was third on the team last year in stroke average.
After completing his first season as the head coach of the Augustana men's golf team, Paul Del Vecchio is looking forward to building on the progress his young team made in 2011-12. The Vikings used four freshmen in the lineup for the majority of the season and Del Vecchio figures that experience will factor in as the 2012-13 season looms.
"I think last year we started to build a foundation with the young players getting tossed into battle right away," said Del Vecchio. "They got forced into the lineup and it took them a while to adjust to the level of competition. I think they settled down quite a bit during the spring season."
After a slow start in the fall, the Vikings showed some progress in the spring and Del Vecchio hopes that the momentum will carry over.
The quartet of sophomores who played quite a bit last year consists of Max Channon (Wheaton-Warrenville South HS, Wheaton, Ill.), Jake Groselak (Lemont HS, Lemont, Ill.), Josh Kukla (Zion Benton HS, Winthrop Harbor, Ill.) and Grant Murphy (Dunlap HS, Peoria, Ill.).
All four of those players saw action in at least 17 rounds last year. Groselak ended up as the team leader in terms of lowest stroke average with a mark of 81.5 with 1,875 strokes in 23 rounds and a low score of 77. He had one top-five and one top-10 finish as a freshman. Murphy was second on the Vikings in low average at 82.2 with 1,891 strokes in 23 rounds and a low score of 73. Channon played in 17 rounds last year and averaged 84.4 with a low of 75 and one top-10 finish while Kukla was in 19 rounds with an average of 88.4 and a best score of 74.
Jeff Paustian (Geneva HS, Geneva, Ill.) is the lone senior on the team and he had a fine spring after a slow start in the fall. He played in 19 rounds and averaged 83.1 with a low score of 74.
Two freshmen could make their way into the lineup before long. David Ferlmann (Peoria Notre Dame HS, Dunlap, Ill.) and Kody Damewood (Monmouth-Roseville HS, Monmouth, Ill.) both have the potential to contribute right away.
Junior Dave Cook (United Township HS, Silvis, Ill.) is a transfer from Black Hawk College and he is another who might be able to contribute.
"We lacked consistency last year because at times we showed flashes of being able to compete at the level we are trying to reach," said Del Vecchio. "Hopefully being a year older will make a difference. We will focus on that in the early portion of the season.