October 2010



Vampires, chatting babies and Rube Goldberg machine
A few weeks ago, communication & marketing sent an email to employees, students and alumni, seeking their million-dollar ideas (to be rewarded with a hundred dollars) for a possible short Augustana movie trailer. We received dozens of original ideas—ranging from nostalgic to market-slick to zany—and from these we chose three.
Congratulations go to Jeff Chin '11 for his idea to elicit the help of the physics club to build an elaborate Rube Goldberg machine on campus. (For an example of such a momentum-building, cause-and-effect mechanism, remember the game "Mousetrap.") Jeff Coussens of the theatre department also wins for his idea to video babies side-by-side in carriers, discussing their futures as Augustana students and graduates. Congratulations also to reference librarian Amanda Makula for her idea to do an Augustana spoof on the current vampire craze in literature and pop culture.
If while crossing campus lately you've spotted a video crew and actors, some bearing fangs, it's because we're pursuing Amanda's idea first, just in time for Halloween. Next weekend look for the video on YouTube, where we'll eventually post all three as they're completed.
Directed by Jeff Coussens, the vampire video's talented cast includes, in order of appearance: Ellen Hay, Ian Harrington, Darrin Good, Karen Petersen, Richard Priggie, Kent Barnds and Steve Bahls in speaking roles. Special appearances are made by Jaron Gaier '12 and Augie Acres volunteers, Larry Peterson at the chapel organ, and Megan Quinn's evening sculpture class. The video features Samantha Bestvina '13, Matthew Kerr '13 and Anna Tunnicliff '13 as three of Augustana's undead.
Longfellow students get artsy at Augie
Thanks to the generosity of a donor who wishes to remain anonymous, 45 students from Longfellow Liberal Arts School have received free tuition to 12 Kaleidoscope art classes at Augustana this fall.
"Many of these children have never come to a Kaleidoscope class before, so we're very excited," says art professor Rowen Schussheim-Anderson, who founded the children's art program in 1982 in response to art instruction cutbacks in Rock Island-Milan elementary schools.
Longfellow and Augustana College created a partnership last year to bring a liberal-arts focused program into the district curriculum for the school. The Kaleidoscope arrangement brings Longfellow students to campus, which is one of the partnership's goals. "The children come to our art studio, work with Augustana students and learn from instructors who are professional artists," Rowen says. "It's a great opportunity for them to become more familiar and more comfortable with our campus."
Marketing the free-tuition art classes became a senior project for Emily Sharratt '11, a communication studies major with a minor in art. She distributed letters in English and Spanish to Longfellow parents and brought art projects to the school to generate excitement among the children. Rowen is pleased with the Longfellow participation and hopes to continue the tuition-free classes this winter by securing other donations or grants.
"With art, children learn new skills and ways of expressing themselves that they may not learn when studying other subjects," she explains. "In so many subjects, there is just one right answer. In art, the creative component is emphasized, and there is no right way and wrong way. They are encouraged to develop creative skills, even critical thinking skills as we talk about each other's work."
At the end of the fall session, the Longfellow students' Kaleidoscope creations will be displayed at their school.

Field Notes
Field Notes illustrates different kinds of experiential learning that take us places off campus. In this issue, Jason Peters writes on the student and faculty trip to the annual Prairie Festival at The Land Institute in Salina, Kansas.

Agrarians have always been interested in the question of how Nature farms. But no matter what they tell us—that Nature prefers perennial polycultures to the vast annual monocultures we currently have, or that she prefers to pasture animals rather than raise them in confinement—it is difficult not to hear the theological undertones in what they say: Nature works by death and resurrection.
What lives dies, and what dies lives again. The result of this cycle is fertility. It is good news.
"What is a farm," asked Emerson, "but a mute gospel?"
As one who worries about soil erosion and aquifer depletion and what these mean for the future of eating, I try to assuage my fears by getting students to worry with me. Worrying loves company. You might say that together we get worked up about the theology of farming.
And that's why almost every year we go to The Land Institute, in Salina, Kansas, where for three decades Dr. Wes Jackson has been leading the effort to buck the agribusiness trend and farm as Nature farms.
We pile into college vans with our tents and sleeping bags and off we go to the annual Prairie Festival, which always starts with a barn dance Friday night and always ends with a speech by Jackson himself on Sunday. In between we eat local foods, meet other worried people, and hear several other speakers. This year they included two Augustana favorites: Wendell Berry and Scott Russell Sanders. And we had with us Darrin Good, professor of biology, who, true to his name, proved to be good company—and a generous benefactor as well.
At night we sit by a fire, and at length the guitars come out, and then the singing begins, and soon other campers join our fire.
For by now Augustana students have a reputation to live up to in Kansas. No one has as much fun worrying about the land as we evangelists of the soil do.
One advantage of a liberal arts education is that it teaches you to think about whence you came and whither you will go. "I bequeath myself to the dirt to grow from the grass I love," said Whitman. "If you want me again look for me under your bootsoles."

View a web album of photos from the Prairie Festival trip created by photographer Veronica Smith '12.
New Face on Campus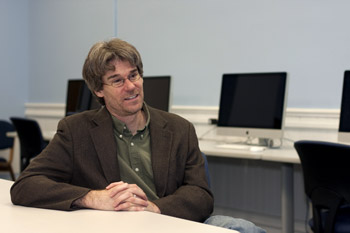 Kelvin Mason, assistant professor of art
A.O.C.A., Ontario College of Art
B.A., University of Guelph, Ontario
M.F.A., University of Arizona
Kelvin Mason moved here expecting to be involved in a community, and that's exactly what happened. Both Kelvin and his wife Heather Schneider—she's from Baltimore and he's from Ontario, Canada—were eager to move to the area, away from the hustle and bustle of city life (most recently Naperville, where Kelvin taught at North Central College). "There are always people around here—other students, colleagues, members of the community—doing things and hanging out. That's the community we were looking for in our move."
Besides teaching in the art department as part of the faculty for the new graphic design major, Kelvin has projects of his own in the works. "The biggest thing I've finished recently is the animated sequences for a feature-length film called 'Terrorflieger.' It's a documentary about the experiences of an eight-year-old boy in Germany during the bombing of Dresden in WWII. I spent almost a year making 3-D computer models of B-17 bombers so we could blow them up and shoot them down digitally instead of having to use real scale models."
In the summer, Kelvin works at the Pilchuck Glass School in Washington State, helping the artists in residence as the print studio coordinator. His ties to our area began long before he came to Augustana—the renowned glass-blowing school was started by famous glass artist Dale Chihuly, John Henry Hauberg, Jr. (son of Rock Island notable John Henry Hauberg), and his wife Anne Gould Hauberg.
From the Cabinet
Steve Bahls, President

"…the ultimate good desired is better reached by free trade in ideas [and] the best test of truth is the power of the thought to get itself accepted in the competition of the market…"
When Oliver Wendell Holmes, Jr., offered his dissenting opinion in Abrams v. United States (1919), he very effectively described the "marketplace of ideas" that should, ideally, serve as the forum for discussing any important issue.
The tradition of learning through a marketplace of ideas is increasingly important at Augustana. Each of us has valuable contributions to make to Augustana's future. As part of our strategic planning process, we hope the marketplace of ideas will help shape plans to strengthen Augustana during these changing and challenging times.
The marketplace of ideas cannot be effective unless the college creates a "safe place" for ideas, even those ideas outside of the mainstream. Elements necessary to create such a place include respect for one another, a culture that respects critical and creative thinking even when it challenges the status quo, and a recognition that no individual can profit to the inordinate cost of another. Ideas in this marketplace should be tested by the strength of the arguments supporting the idea, as opposed to whether the ideas are in the best interest of narrow constituencies.
I am grateful that Augustana College is made of up so many individuals who by their actions and dedication merit and deserve the respect of the entire community. As we defer to the "marketplace of ideas" in finding expressions of "the ultimate good" for our college, it's my confident hope that the marketplace of ideas will help us find ways to help a changing student body continue to grow in mind, spirit and body.

Seen and Heard
"One of the tragedies of climate change is that we did not find out until 20 years ago what carbon dioxide did. So this entire industry grew up with a business model that allowed it to put carbon dioxide into the atmosphere for free."— Bill McKibben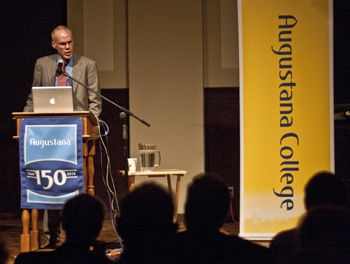 The endowed Ellwood F. Curtis Family Lecture in Public Affairs sponsored environmentalist Bill McKibben, who spoke on climate change Monday night in Wallenberg Hall.

Acknowledge is published by the Office of Communication and Marketing. Contact Beth Roberts, editor. Photos in this issue were contributed by Maren Mathisen '12 and Corynn Hanson '11 of the Augustana Photo Bureau, and the web album by Veronica Smith '12. To see the calendar of upcoming Augustana events, go to www.augustana.edu/calendar.