September 2010
The copper is here!
Bright color against a blue sky is a sign of fall, and this year you'll see it on the roof of Old Main. Just yesterday the first load of copper arrived for the roof panels, and Dennis Hittle, director of facilities services, reports that decorative items such as the bollards and finial for the dome will arrive next. (Try saying "coppery finial on top of the cupola" five times, fast.)
In the past two weeks, crews have installed the cupola floor structural supports, and started work on the floor joists and decking. New ladders also are in place within the dome. The majority of the tuckpointing on the outside of building is finally complete, and you'll see workers washing those areas.
While the faded verdigris of the dome will soon be replaced with new pre-patina copper, the mystique of its dim (and, for most of us, distant) interior will remain. Construction workers have noticed the years of signatures lining its walls—signs of past intruders who rose through the heights of Old Main to feel closer to the heart of campus, or just to show off and tell the story.

Composition conference is right on cue
More than 50 composers will visit campus October 1-2 to participate in a Society of Composers, Inc. (SCI) regional conference, which will culminate in two evening concerts of original works performed by Augustana students and faculty.
The timing of the conference seems right on cue. Augustana recently added composition as an area of concentration for music performance majors. "To my knowledge, Augustana has never hosted an SCI conference, and I think this speaks highly of the developing music community on campus," says Dr. David Davies, professor of music and conference host.
With a total of seven concerts scheduled, audience members will have a chance to immerse themselves in music they have never heard. Among the 50-plus featured compositions will be traditional acoustic works, electronic works and electro-acoustic works.
"The pieces range from works that are more familiar in their use of tonal traditions to works that have very little to do with tonality as we usually understand it," David says. "The composer of each of the presented works will be on campus for two days, making Augustana College the center of the new music community in the Midwest for that period."
The 7:30 p.m. concert on October 1 in Centennial Hall will feature the Augustana Choir, Symphonic Band and Symphony Orchestra. Multiple ensembles of students and faculty, including the college's clarinet choir, will perform at the 8 p.m. October 2 concert in Wallenberg Hall. Each concert will showcase the work of six contemporary composers. The performances are free and open to everyone.
Field Notes
Field Notes illustrates different kinds of experiential learning that take us places off campus. In this issue, Augustana Photo Bureau photographer Veronica Smith '12 presents a slideshow of her term in Ghana of last spring, with commentary accompanying the photos.
In the Works
Director of Human Resources Laura Ford shares the second in a perennial series of information and wisdom pertaining to being an employee at Augustana College.
The Augustana Health Care Plan is up and running with the vast majority of employees choosing to enroll in our new plan. By now, you should have received your new insurance card as well as a debit card if you enrolled in the Flexible Spending Account benefit. In the next few months, we will launch an HR web page that will house detailed information on employee benefits, as well as our new handbook. Until then, here are just a few tips on how you can reduce your health care costs:
1. Utilize preventative care. If you haven't had a check-up in a while, make an appointment and be sure to ask your provider to code this as a "wellness" or "preventative" check-up so that all expenses will be covered except for your $20 co-pay.
2. Ask for generic drugs. While not all drugs have a generic equivalent, those that do will have a $10 co-pay rather than $30 or $50 for non-generics.
3. Try pill splitting. Butler Benefit Service will be happy to provide a pill splitter if you are on an eligible medication.
4. Call ahead for an in-network provider and/or low-cost provider. Call Butler Benefit Service at 327-2200 for assistance in finding an in-network provider. They also will be happy to provide pricing information if it's available for items such as mammograms, colonoscopies, etc., to help you make an informed choice.
5. Plan ahead for next year's FSA deductions. With our new debit card system, setting aside pre-tax dollars for health care and dependent care expenses is easier than ever. Keep careful track of your expenses this year so you are ready to confidently set aside the correct amount for next year.

New Face on Campus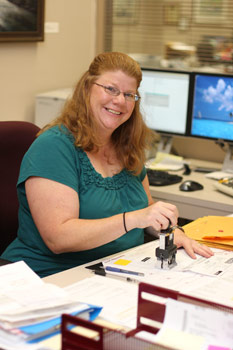 Lisa Sears '91, accounts payable supervisor
B.A. Augustana, accounting and business administration/marketing

"I'm so excited and glad to be back!" says Lisa Sears of her position at Augustana. Formerly a staff accountant at Barjan in Rock Island, Lisa was elated when she heard about the position, as she was seeking a change. Lisa remembers fondly her time at Augustana and felt coming back to her alma mater as an employee was an excellent opportunity to give back to something that made such a large impact in her life—she wants to be a part of that in the lives of current students.
Having grown up in Moline, Lisa currently resides in Geneseo with her husband and son. Her top hobby right now? Watching 13-year-old Gage run cross country and play soccer. Cross country is through school, but soccer is a traveling club sport that keeps them plenty busy on the weekends. In her spare time, Lisa and her husband are car aficionados—they love attending car shows and taking long drives. Their last one was with some friends up to Wisconsin, and they can't wait to take in the fall foliage, right around the corner.
[Editor's note: Read Augie News later today for news of two appointments in Career Development within the Community Engagement Center.]
Augustana Family News
As promised, there are babies, anniversaries and, of course, summer weddings for this issue. But first, David Dehnel (political science) shares the news that his daughter, Allison Canik Dehnel, graduated summa cum laude from the University of Illinois this spring and is starting graduate school in entomology at the University of Wisconsin.
Denise Verhaeghe (advancement) and her husband Rob welcomed baby Aaron on May 19. Now that he's four months old, Aaron is nearly sitting up and enjoys laughing at his eight-year-old sister, Abby.
Aaron Kivisto, son of Susan and Peter Kivisto (sociology), married Katie Little from Fairfax, Virginia (which, by coincidence, is the county where Aaron was born). The marriage took place in Leesburg, Virginia, on June 12, which happened to be Susan and Peter's 37th wedding anniversary. Both Aaron and Katie are Ph.D. candidates in clinical psychology at the University of Tennessee. This year they are doing their internships and residing in Islin, New Jersey. Katie's internship is at Penn Medical Center in Philadelphia, while Aaron is working at Bellevue Hospital in New York City.
Rich and Janet Stodd (music) welcomed their first granddaughter, Meghan Grace Kozakis, on June 15. Meghan's proud parents are Erin and Michael Kozakis of Schaumburg, Illinois.
On June 19, Joanna Link '07, daughter of David and Darlene Link (business office), married Kevin Johnson at Grandview Baptist Church in Davenport.
John and Ritva Williams (religion) became grandparents for the first time on August 4, with the safe arrival of Cole Williams. Cole lives in Ottawa, Canada, with his parents Adam Williams and Anne Muir-Williams.
Lendol Calder (history) and Kathy Knight Calder celebrated 20 years of marriage this week, on September 15.
Seen & Heard
Salsa Magic, the interactive Latin Dance Party!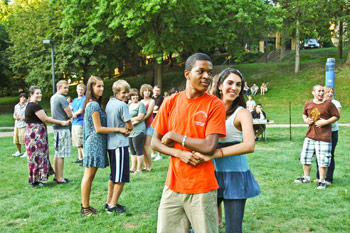 Dancing with Salsa Magic on Sunday evening after the first week of classes.
Acknowledge is published by the Office of Communication and Marketing. Contact Beth Roberts, editor. Photos in this issue were contributed by John Cairns '12, Corynn Hanson '11, Maren Mathisen '12 and Veronica Smith '12 of the Augustana Photo Bureau. To see the calendar of upcoming Augustana events, go to www.augustana.edu/calendar.