May 2010
Next week: Depopulate the Parking Lot
By Kai Swanson*


According to research conducted by Reuben Heine's Geography 373 G.I.S. course
, if all Augustana employees drove their vehicles to work more than two million pounds of carbon dioxide would enter the atmosphere every year. That's based on pinpointing the locations of all employees' homes, calculating distances, and factoring an average 25 miles per gallon for the aggregate 2.7 million miles of driving it would entail.
Mark Vincent, psychology professor and conscientious commuter, is part of a group on campus hoping to spread the word about
QC in Motion Week
, an initiative aimed at encouraging people to walk, bike, carpool or use mass transit as means of promoting healthy living and protecting the environment. (See the
alternative transit forum
set up by Shawn Beattie in ITS.)
Together with the Sustainability Committee and the President's Office, Mark is asking employees to try alternatives to their cars throughout next week, with a special emphasis on Tuesday, May 18, when the goal is to "Depopulate the Parking Lot." Anyone who leaves the car at home (or shares a ride with a colleague) is welcome to join the celebration at 11:30 a.m. next Tuesday by the big sycamore at the foot of the Slough.
"Commuting by bike or bus takes a bit of courage the first time, especially if you are traveling a substantial distance," Mark says. "But it's easier than you think. I strongly suggest finding a friend to commute with the first time or two. And if you have questions (like 'how do you put bikes on the front of the busesfi') just ask one of the many commuters on campus. I'd be glad to help."
Among those with longstanding commitments to conscientious commuting are Bob Tallitsch (biology) and Van Symons (history; see Jaeke Awards, below). Both of them bike to work, year 'round.
"I have been averaging slightly more than 2,000 miles per year, just in commuting," says Bob, who's been at it for six years now. "In addition to the relaxation, fun and physical benefits, I have saved almost $3,000 in gas money and car repairs, based on the federal mileage reimbursement rate."
For Van, it's been 31 years of commuting on two sturdy bikes—a "bottom of the line" Peugeot and an "ancient" Schwinn. "I calculate that I've biked over 40,000 miles using these two bikes, and given that neither costs me more than $200 this is pretty inexpensive transportation. More importantly, biking trims my body, soothes my mind, and exposes me to the changing seasons and varied wildlife along the Mississippi. I hope that my life never fails to include biking."
*Winner of the 2010 Distinguished Community Service Award given by the Rock Island Rotary (Editor's note)
The winners of this year's Jaeke Awards
Administration—Susan Kramer
Susan Kramer started working in Augustana's education department as a secretary in 2002, and in 2006 was promoted to administrative assistant. Susan has the uncanny ability to solve problems across a broad spectrum—for students seeking her help throughout the day, for new faculty stumped by policy requirements, for the department that appreciates her flawless work ethic and innovative thinking, and for the college that has benefited from her technical expertise with Datatel. Susan has been named both the "hub" and the "wheel" of the education department, but however the metaphor is applied, her colleagues agree she keeps the department rolling.
Dining Services—Brenda Turner
Brenda Turner started working as a dishwasher in the College Center dining hall in 2006, and in 2007 was promoted to storekeeper. In her new role she has taken on many responsibilities, from maintaining inventory of products at the College Center to delivering food and dining supplies around campus. Along with her admirable efficiency, Brenda has the ability to communicate clearly and respectfully about tasks, making her a tremendous source of help and motivation for everyone with whom she works.
Facilities Services—Kenny Lee
Kenny Lee has been working the third shift as an Augustana security officer for more than 15 years. He was promoted to Security Officer Lead in 2001, and is still the night owl who takes great pride in protecting our campus. When a student is locked out of a car or stuck in the snow, Kenny immediately and cheerfully assists. When a faculty member is working late hours, Kenny puts in extra building checks while they are in the office. If any of us needs an escort to our parked car at night, Kenny Lee is the one to call—and be prepared to explain what you are doing out so late.
Faculty—Van Symons
Van Symons began teaching in Augustana's history department in 1978, and today he is a history professor who holds the William A. Freistat Chair for Studies in World Peace. Van has played a key role in
ASIANetwork
—a consortium of more than 170 North American colleges expanding teaching and research about Asia—since the consortium was founded in 1992. In doing so, he has expanded the reputation of Augustana College nationally and internationally, fostered student-faculty collaboration, enriched our curriculum and enhanced our commitment to diversity. To quote a colleague, "Van truly is a leader on many levels, and one who combines efficiency with vision, scholarly excellence with compassionate humanity."
Office Personnel—Joyce Taylor
Joyce Taylor began working at Augustana as a part-time secretary in the computer center in 1995. She moved to full-time Secretary III in the development office, and has since been promoted to Secretary IV in that office, now called the Office of Advancement. Joyce's leadership abilities stem from her firm and friendly personality; she represents Augustana well with an easygoing style for colleagues across campus and alumni across the miles. Joyce particularly shines at homecoming, family weekend and other alumni events that bring her "kids" home.
Field Notes
Field Notes
illustrates different kinds of experiential learning that take us places off campus. In this issue, Jason Koontz (biology) writes on Augustana students' capability as international learners.
We've returned to Dublin, where our term started in March. Many of us have culture shock coming back to the capital city after spending the majority of our time in the west of Ireland. We're staying
an lár
, Irish for "city center," right across the street from Christchurch cathedral. When we first arrived in Dublin we stayed in a neighborhood to the south and west, by design to introduce our students to a novel form of transportation: walking. It was a 30-minute walk
an lár
then.
This is my first Augustana international term. I wasn't really sure what to expect. I didn't know what it would be like to be surrounded by students at all times, and was worried about my new prep. Quite simply, our students have been amazing. While we got to know each other a little during the winter-term prep seminar, I have really gotten to know our 38 very well while traveling, and I'd do it all over again. Every day I see them demonstrate the kind, generous and good-hearted people that they are—whether it's by sticking together when going out at night, organizing hikes up mountains or taking surf lessons. They really impress me with the way they look out for each other. I have heard of conversations they've had with hotel staff, other travelers or locals on the street. They dispel the "ugly American" stereotype and make me proud.
The students also jumped in with both feet for the service projects I organized this term. We planted trees outside of Dublin and removed invasive rhododendron from a section of Killarney National Park. They've hiked up mountains, through bogs, and have been pelted by rain, hail and wind. Many self-described city kids have begun to develop an appreciation for the natural world and have gained the confidence to try new things—one of the qualities our international terms aspire to instill in our students.
I now have experienced why so many faculty enjoy international teaching. Yes, it's more work than teaching on-campus. Flexibility was one of our themes for the term as we entered each new town and found accommodations for our classroom space. And I'm really tired after dinner, crashing much earlier than I usually do back home. But I know I can count on our students to do the right thing and take full advantage of experiencing a new culture.
New Face on Campus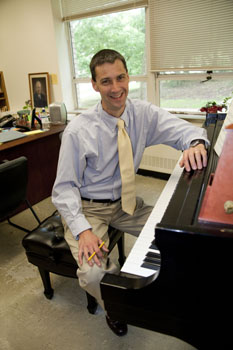 Charles Schmidt, visiting instructor in music
B.A. and M.A., University of Missouri–Kansas City
Ph.D., Michigan State
Originally from St. Louis, Charles (or Charlie, as many people call him) refuses to become a Cubs fan simply because he moved to an area near Chicago. In a few days, however, Charlie and his family will welcome a two-year-old German Shepherd-mix named "Wrigley" into their lives. "I told my kids that the name may have to change…. I'm not going to be a Cubs fan."
Charlie's older siblings started teaching him piano when he was five years old, and by seven he was in lessons with a teacher. Although his sisters didn't like piano lessons, Charlie loved it and hasn't looked back since. Last August he moved to the Quad Cities from Lamoni, Iowa, where he was teaching at Graceland University. At Augustana, Charlie teaches the Art of Listening and a musicianship class, as well as piano lessons to beginning piano students and music majors. Although an accomplished pianist himself, he says it is fun to teach someone from the beginning—they have an unexplored world in front of them.
Charlie's family—his wife Alyssa, sons Jacob (13) and Russell (10), five-year-old daughter Kirsten and, soon, Wrigley—can't wait to explore the Quad Cities this summer. At the top of their list are the Niabi Zoo, the farmer's market and the River Bandits (they are, after all, a St. Louis Cardinals affiliate). Charlie, besides being a huge Cardinals fan, is also a hockey fan. He's excited there's a Quad Cities minor league team to support. Perhaps Charlie, a floor hockey player, will play with the other hockey enthusiasts on campus. Well, after he learns to ice skate, of course.
From the Cabinet
Steve Bahls, President
It's one of the quirks of our life together as a college that just when the world around us is bursting with newness and growth, we enter our season of endings. Classes, terms, sports seasons, papers and projects come to an end, along with very important chapters in friendships, as graduation means a sizable group within our community moves on to something else.
But life at a college is cyclical, so every ending brings with it the start of something new. As our seniors graduate, new doors open. For some, careers close—though I firmly believe vocations continue even as retirement begins.
Soon enough, we'll set our sights on what's next, as we begin conversations about strategic planning. For now, though, my training as an attorney compels me to offer a summation. This has been a remarkable year at Augustana College. We have launched new programs at a time when many colleges have been confined to retrenchment. We have worked together to build next year's first-year enrollment and keep the college financially sound despite continuing pressures from the global economy. We have begun the implementation of Augie Choice, and are only beginning to see the impact this pioneering initiative will have on our students' learning experiences.
There's much more to add, but the end of my allotted space is closing in fast. I will note that each item begins with the same word: "we." Together, we make Augustana a stronger institution for all of its students, and on their behalf, I thank you.
Augustana family news: 12 grads and a granddaughter
Political science major
Nick Camlin
, son of Wade and Dawn Camlin (advancement), will graduate from Augustana this weekend and then turn his focus to the Rock Island County Board election in November.
Hannah Estes
, daughter of Gina Livingston '90 and William Estes (athletics), is graduating from Moline Senior High School and will join her sister Katelyn at Augustana next year.
Unlike his classmate Hannah, and despite his own parents—Chris and Laura Ford (HR)—graduating from Augustana in 1986, in a desperate act of rebellion
Aaron Ford
is graduating from Moline High School and heading to Luther College. Laura says she only hopes this is the worst sort of rebellion they experience with Aaron.
Eric and Diane Gehn (Tredway Library) have two seniors graduating from Rockridge High School this year. One is their daughter
Kaitlyn Gehn
, who will attend Western Illinois University/Western Illinois School of Music to pursue her music education degree; the other is their foreign exchange student
Celia Preuhs
from Annecy, France, who will return to her home country in June to complete her high school requirements there.
Kayle Gryp
, daughter of Gary and Nancy Gryp (business office) is graduating from Alleman High School and plans to major in biology and education at Monmouth College this fall.
Jeanine Link
, daughter of David and Darlene Link (business office), will graduate from Luther College with majors in education and vocal performance. This fall Jeanine will be student-teaching in Pine Island, Minnesota.
The twin daughters of David '82 and Sara Maccabee (president's office),
Elyse and Eryn Maccabee
, will graduate from United Township High School in June. Elyse plans to attend DePaul University, where she will be an honors student in the College of Digital Media. Eryn will be in the honors program at Augustana, majoring in English and Creative Writing.
Johanna Neil
'04, daughter of Mary Neil (music), will graduate this weekend from the University of Illinois Veterinarian School. On June 1 Johanna will join a veterinary practice in Valparaiso, Indiana.
Steve and Rowen Schussheim-Anderson's (art) daughter
Sydney Anderson
is graduating this weekend from Syracuse University with honors as a member of Sigma Iota Rho, the international honor society. Sydney majored in international relations with a concentration in Middle East studies and intercultural communication, and she will soon be teaching English in Ecuador.
Next month, Beth Vandemore's (advancement office) daughter
Maggie Wiborg
'09 will begin her studies at The Graduate School of Library and Information Science at the University of Illinois at Urbana-Champaign.
Steve and Jane Bahls
are pleased to announce the birth of their second granddaughter,
Asha 和平 Bahls
. Asha, her sister Kirana, and their parents Tim Bahls and Magda Widjaja live in Santa Barbara, California.
Seen and Heard
"I'm kinda busy right now. I'm breaking a world record."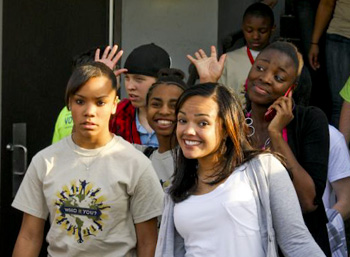 One of 2,694 people was overheard taking a phone call at the Augustana-Whitey's World Record Breaking Attempt held April 20 on Ericson Field.
This is the 35th issue of
Acknowledge
, and the last for the 2009-10 academic year. Thank you to the contributing writers, designer and photographers in the Office of Communication and Marketing: Marla Alvarado Neuerburg, Kamy Beattie, Debbie Blaylock, Leslie DuPree, Eric Page, Kurt and Lana Tucker, and members of the Augustana Photo Bureau. Thanks as well to all Augustana faculty and staff who contributed feature stories, poems, images and interviews throughout the year.
Photos in this issue were taken by Jason Koontz and Marla Alvarado Neuerburg, Grace Drenth '13 and John Cairns '12 of the Augustana Photo Bureau. To see the calendar of upcoming Augustana events, go to
www.augustana.edu/calendar
.