April 2010
Spring Fling at the Center for Speech, Language, and Hearing … and Dancing
By Dana Gustafson '11
Last Friday, the communication sciences and disorders student group put on a dance for our pre-teen and teenage clients and their siblings. Most of the clients who come to our clinic have language, speech or other disorders that may cause them to feel uncomfortable attending the prom or any dance at their school—or they may never even have that opportunity. At our dance, we provided them a comfortable place to hang out for a night with their peers, our student clinicians and supervisors.
The night started off with the girls coming to the clinic early for "spa time" (
see related story
). They had their hair, makeup and nails done by our student clinicians, and then changed into their dresses before heading to the Carriage House for the dance. At the start of the dance, all of the clients played a get-to-know-you game so they could meet each other before learning dances like the Chicken Dance and the Cha-Cha Slide. There were lots of snacks, a karaoke machine, a limbo contest and a place set up for them to get their pictures taken.
It was great to see our clients interact with each other and with all of us, about 40 all together. Because our clients have communication disorders, they weren't very vocal about how they felt about it. But you could see it on their faces that they were having a really fun time, felt special to be dressed up and enjoyed the fact that they were there. To see for yourself, please view our
slideshow
of this year's Spring Fling.
Finest Under 40 Words: the second annual short poem challenge
To acknowledge National Poetry Month, faculty and staff across campus share their original poems.
Organ Player
My heart to ease that of those
those who know mine well enough
well enough to seek the light
the light of words to ease
easing that of those
those who know my heart
—Eric Rowell, advancement
Celadon
Toxic copper-mine run-off turns
Celadon green—
Appearing taffy-like, edible.
Whispers from the mouth of a woman
With celadon eyes
Become poetry.
An ancient Japanese bowl,
Dug from the dirt,
Its celadon glaze gasping in the sun.
—John Deason, art
Old Poet's Rhyme
Dry springs make arid beds.
No source flows forever,
But should the rains come again in the mountains,
Heads of waters far away
May wash down to us
And some cool morning
Wet our beds again.
—David Hill, philosophy
Sensation Expounded
Complete fear was faced as life's offer astounded.
Many hearts raced as life's friendship surrounded.
Goals were replaced as life's options abounded.
Anxiety based on life's weakness unfounded.
Complete peace embraced as her "I do" resounded.
—Dan Conway, business administration
Live…
There are no accidents
Everything has a season
Don't fret about life's challenges
Everything happens for a reason.
No obstacle too high
No valley too low
Don't look back
Forward you must go.
Trust… Believe
have Faith,
Achieve.
—Nichole Payney, theatre arts
Instrumental
Dwelling in the body, there's too much thoughtless air.
Down a path to a clear headstone lives the life of the mind.
Love's the birthmark on the brain, a song-shaped stain.
Or, orchestrated shocks that make the heart beat back.
—Beth Roberts, communication & marketing
Field Notes
Field Notes
illustrates different kinds of experiential learning that take us places off campus. In this issue, Todd Cleveland (history) sends his greetings and a report from the spring term in West Africa.
Greetings from West Africa—and more precisely, from Ghana. In case you might not know, it's absurdly hot and humid here. Thankfully, we arrived as both the heat and humidity peaked—yet another character-building opportunity. When we're not busy building character, however, we're all actively learning about Ghana's past and present, while also contemplating its future. The students receive a steady diet of African art, history, literature and music, and are, of course, learning much more than we could ever teach them by venturing out on their own into one of the urban landscapes into which we've guided them.
Ghana is a wonderful place and has a number of qualities that render it distinctive. Embedded in a region notorious for various forms of tension, conflict and corruption, Ghana insulates itself from these unenviable features of its neighbors and seems to have put its own turbulent past to rest—all with a smile (and a mention of God), I might add. One need only ply the streets and markets of Ghana to begin to absorb and understand its character(s).
While students engage in these types of seemingly mundane, yet acutely insightful, experiences, we have been augmenting them with a variety of field trips, guest lectures, cultural performances and even a visit with a paramount chief and a panel of elders. Upcoming events include: drumming performances; a journey deep into the "belly of the earth" as part of a visit to an active gold mine; a safari to view elephants, etc., in northern Ghana; and a series of hands-on art workshops.
Before too long, we'll make the transition from Anglophone Ghana to Francophone Senegal, at which point some faculty members will dust off little-used French skills while others will linguistically dazzle; similarly, it offers those students fluent in French the opportunity to show up their professors (keeping in mind, of course, who determines their grades). Senegal also offers a reprieve from the heat and humidity, though it will hardly be frigid. Ultimately, we all look forward to returning home … just not too soon!
New Faces on Campus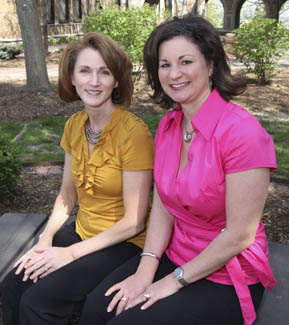 Jamie Adleman '97 McKenzie
B.A., sociology, Augustana College
Career Advisor in the Career Center
Jennifer Moon
B.A., marketing and communication (1994), Eastern Illinois University,
Secretary, Student Counseling Services, Office of Diversity Services
For two of the friendliest people you'll want to meet, look on the second floor of Founders Hall. Both Jamie Adleman '97 McKenzie (at left in photo) and Jennifer Moon recently decided it was time to re-enter the workplace after working as stay-at-home moms for several years. They say the Augustana community couldn't have been more welcoming, and they are thrilled to be here.
As a career advisor, Jamie works one-on-one with students interested in improving their résumés, strengthening cover letters and developing job-hunting strategies. She describes this as the "flip-side" of her earlier career in human resources at HON Industries in Muscatine. "I was hiring people before, and now I'm helping students find jobs," Jamie says. "Students often struggle to build up their résumés, and I know what employers are looking for."
Jennifer's duties are project-driven, and until recently, she was working for not two, but three offices in Founders. "Every day is different, and I feel like I'm helping students and those I'm working with, which I really like," she says. Multi-tasking is nothing new for Jennifer, who has children ages 4, 8 and 10.
Gardening is a favorite pastime for Jennifer, while Jamie enjoys bicycling and is learning how to play the piano with her 7-year-old daughter.
From the Cabinet
Kent Barnds, Vice President of Enrollment, Communication and Planning
April is always a bittersweet time for me. At one level, I love all that spring brings—blooming trees and spring flowers and a glimpse of great days ahead. However, it also brings great uncertainty in the world of higher education. This is a time of year where the favored question is "how are the numbersfi" Everyone wants to know how the class is shaping up and whether we will have the numbers we need next year to accomplish our goals, financial and programmatic.
While I sometimes pretend to be agitated by the question, the truth is I never get tired of answering it. I enjoy that people are interested and engaged. In addition, each time I am asked "how are the numbersfi" I can remind myself it's not really, or not only, the numbers that matter—it's each of the students who makes up one of those numbers.
This year during the month of April, in an effort to remind myself and others that "the numbers" are really talented students who help shape our community in many ways, we decided to profile members of the incoming class. I invite you to meet a few members of the
Class of 2014
. The Augustana
Facebook group
for 2014 prospects is up to 600 members, as of today. I think as you learn more about them you will share my view that "the numbers" look pretty darn good right now.
P.S. I'd also like to remind the campus community of two fast-approaching events in honor of Augustana's sesquicentennial year: the multiple-ensemble
Festival Concert at Orchestra Hall, Chicago Symphony Center
, this Sunday, April 18; and Augustana's
attempt to break a world record
with our very own Whitey's ice cream flavor, Augustana Viking Pride, on Tuesday, April 20.
Seen and Heard
"We'll have a better watering system in place soon, but for now you can just fill up those buckets at the College Center."— Garry Griffith, dining services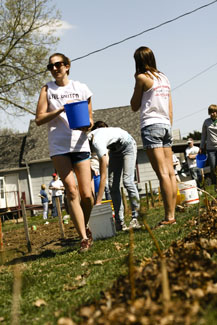 Many Augustana students, faculty and other college employees met at Augie Acres, the college's community garden, to help plough, plant and water on Saturday, April 10. Jim Johansen of Wesley Acres Produce and Garry Griffith of Augustana's dining services—leaders in the college's Farm2Fork program—advised volunteers and heralded the start of the growing season with a barbeque.
Acknowledge
is published by the Office of Communication and Marketing. Contact
Beth Roberts
, editor. Photos in this issue were contributed by Rowen Schussheim-Anderson, Marla Alvarado Neuerburg, and Augustana Photo Bureau members Dana Gustafson '11, Corynn Hanson '11 and Mark Marogil '12. To see the calendar of upcoming Augustana events, go to
www.augustana.edu/calendar
.