March 2010
A 150th scoop of Viking Pride
Joseph Aumuller has won
Whitey's/Augie's sesquicentennial ice cream flavor-naming contest with the name Augustana Viking Pride, given proudly to a peanut butter ice cream with Oreo and fudge swirl. Joseph—a freshman at Moline High School—is a huge Whitey's fan, according to his mother Karen Aumuller of the communication sciences and disorders department. Given his flavor's choice of name, Joseph also must be a Viking fan.
Our thanks go to Whitey's owners Jeff '72 and Jon '79 Tunberg, to the half-a-dozen taste-testers from the campus community, to the 13 flavor-name finalists, and to the more than 100 contest participants.
Now get ready to try Whitey's newest ice cream—Augustana Viking Pride—at a campus-wide launch on Tuesday, April 20. Watch for more details, coming soon.
On the road to Orchestra Hall
The triple-ensemble concert
at Orchestra Hall in Symphony Center, Chicago—that's the event to catch this spring of our 150th year. But if you'd rather not navigate the city traffic yourself, join other fans on Augustana's special charter coach. The bus leaves the Centennial Hall parking lot promptly at 11 a.m. on April 18 for the 3 p.m. performances by the Augustana Choir, Augustana Symphony Orchestra and Augustana Symphonic Band at Orchestra Hall.
The round-trip bus tickets are $25 for students and $35 for all others. While Augustana students should purchase their coach tickets in person at the ticket office in Bergendoff Hall, all other Augustana patrons may
purchase bus seats on the college's website
. For tickets to the performance, please purchase from the
Chicago Symphony Orchestra website
or call (312) 294-3000.
Field Notes
Field Notes
illustrates different kinds of experiential learning that take us places off campus. In this issue, Dara Wegman-Geedey sends notes about the recent Augustana JETS (Joining Education Through Service) trip to Nicaragua.
JETS has now completed five medical missions trips to Nicaragua—one each spring and summer since 2008. About 22-25 students participate each time: most are pre-health professions majors, but our first business major went along this spring. A few alumni have joined us on these last two trips so current students see that Augie folks pursue learning and service projects long after graduation. We keep expanding the program to include projects like fiestas at an elder home and orphanage—and this past trip included a guided tour through the public hospital in Granada. We also were delighted to have local dentist Dr. Muna Strasser (wife of Jeff Strasser in geology) bring her hygienist and dental assistant to Nicaragua for a week of dental clinics.
To give you a bit of the flavor from our trip, I share the following from email notes I sent semi-regularly to students' parents:
February 25
Yesterday's clinic was held in a very remote barrio of Leon called Sanjon (sounds like San-hone)—which means "Big Ditch"— but it was so dry and dusty that I'm not sure how it got its name! It is the dry season here in Nicaragua, so perhaps the ditch is more obvious during the rainy season. The medical clinic saw around 180 patients (including home visits for people who can't get to the clinic site), and the dental staff saw 32 patients…. The people there were so appreciative—some had never seen a dentist their entire life and they were so gracious that they gathered us in a big circle and, through an interpreter, thanked us for our work and for bringing them medicines and dental help. Then they asked God to bless us and told us that they hoped this wouldn't be the last time we came to see them.
Ask your student to share pictures of the Sanjon clinics, complete with chickens and dogs … and some of the most gregarious pigs that snuffled about for food. The pigs wear a sort of harness on their necks made of three sticks—a short one under the chin, the other two nailed to the ends of that one and crossed in an X above the pig's head. We imagined it served as a barrier so the pigs wouldn't end up cut by the barbed wire fencing—but this morning I am wondering if it also makes it easier to catch a pig…. There is also the remote possibility that they are "dowsing pigs," since the sticks bob above their heads as they run about on tiptoe—reminiscent of the twitching of a "water witch's" wand when a dowser is supposedly close to water!
February 28
I am so sorry that I didn't get an email out yesterday—we have a fairly busy schedule each day and didn't hear about the earthquake in Chile until late last night after the internet cafes had closed. Suffice it to say all is well. We had a bit of rain last night, unheard of in this dry season (summer) in Nicaragua. If you
take a peek at this map
you'll see Granada is next to Lake Colcibolca but not connected to the ocean, so no large waves happened here. We were about a half-hour from the Pacific coast when near Leon, but we are over an hour from the coast here in Granada, so tsunami effects would be minimal compared to the coastal towns.
March 1
We [met] an Augustana alumnus, Rafael Estrada, for dinner here at his home in Granada…. He and his family live in Managua, but he has an old (300 years old!) family residence here that he will eventually turn into a bed and breakfast…. Rafael has invited us over for pizza and a chat about possibilities for future internships in Granada. He is willing to let us use his home for free when we are here, but we are thinking about developing other programs (maybe like the Augustana Australia term during the last five weeks of winter term each year), and Rafael wants to get input from our students. So off we go—and shhh! Don't tell Tara, but I had Rafael get a cake since it's her 22nd birthday. We hope she's surprised!
New Face on Campus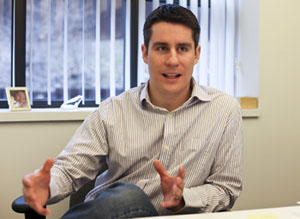 Tim Muir
,
Assistant Professor of Biology
B.A., Kalamazoo College
M.S. and Ph.D., Miami University (Ohio)
Biology's Tim Muir remembers well the day he defended his dissertation last June before an audience that included his one-month-old son, Liam. "He'd been so critical of my work before, but he didn't cry at all during my defense," Tim proudly notes.
What followed sounds like a scene from a Chevy Chase film: Tim and his wife, Heather, pack their belongings for what should be a seven-hour drive from Oxford, Ohio, to Rock Island. "Two cats, one baby, two pet turtles and 65 turtle eggs were in the back seat," Tim says. The drive had to go smoothly (literally) because if turtle eggs rotate, the embryos die. But everyone likes a happy ending, and all survived the 11-hour road trip—even Tim and Heather.
In his first year at Augustana, Tim is teaching courses in physiology and cell biology. As an ecological physiologist, he has focused his research on how cold-blooded animals respond to and survive extreme environmental stresses. Much of his graduate work centered on the ways hibernating frogs conserve energy during the winter when they do not eat. This would suggest Tim was an avid frog catcher and salamander hunter while growing up in Michigan. Not so. "That's why I have a legitimate child-like interest in all of this … because I didn't do it as a kid," he explains.
It's not that he didn't enjoy being outside and playing sports as a kid. In fact, when it became clear he wouldn't be able to play football at the University of Michigan, he chose Kalamazoo College where he knew he could play. "It didn't take me long to realize that going to a smaller school was one of the best decisions I ever made," Tim says. "And that's what I tell my students. Even if they don't realize now what great opportunities they're getting here, they will … and I want to be a part of their experience."
In the Works
Director of Human Resources Laura Ford
shares the first in a perennial series of information and wisdom pertaining to being an employee at Augustana College. Watch for Laura's periodic features in
Acknowledge.

It is not necessary to change. Survival is not mandatory. —W. Edwards Deming
Whether you've worked at Augustana for nine years or nine weeks (as I have), you've no doubt experienced some change in your job. Sometimes the change lurking around the corner is unpredictable. Our ability as an organization to quickly adapt to challenges is certainly one of the keys to our successful history spanning 150 years.
Managing ever-changing responsibilities is important, yet it's healthy once in a while to just take stock of where we are at present. One HR initiative you'll hear about in the months ahead is the creation of consistent and updated job descriptions for all employees. These new descriptions will outline the most important and essential components of each job, and also identify necessary physical requirements. It's my hope that we can create an updated document that clarifies expectations for employees across campus.
This "foundational" project will then allow us to build further, with training and development activities to increase our skills as well as a more robust performance feedback process. Once we clarify basic expectations with the job description, a new performance feedback tool could be the next step to generate discussion on areas where better efficiency or effectiveness can impact the college in a positive way.
In the spirit of change acceptance, you'll note that all new job descriptions will include an expectation of "other duties as assigned" to reflect the changing nature of each position here at Augustana. Each job within the college will continue to adapt so that we can meet the evolving needs of our students, focusing on our 150-year-old mission of educating students for a diverse and changing world.
I'll look forward to working with each of you as we take on this ambitious project.
Please email me
with any questions, and watch the website for an updated HR site in the future.
Seen and Heard
"Fashion me a new shirt to wear,
All of mine are unclean.
Fix up for my back a new cloth to bear,
Mine has become dirtied."
— Lyrics by Jaron Gaier '12, performed by the Sassy Pomegranates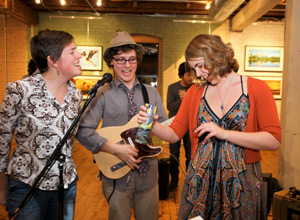 The Augustana student rock/folk/blues/bluegrass/beat poetry band Sassy Pomegranates performed at Augustana Sights and Sounds, an Augustana Photo Bureau exhibition sponsored by communication and marketing as well as the admissions office, and held at Bucktown Center for the Arts in February.
Acknowledge
is published by the Office of Communication and Marketing.
Contact Beth Roberts
, editor. Photos in this issue were contributed by Dara Wegman-Geedey, Marla Alvarado Neuerburg and Maren Mathisen '12 of the Augustana Photo Bureau. To see the calendar of upcoming Augustana events, go to
www.augustana.edu/calendar
.