February 2010
Is the MFA the new MBA?
Beginning this fall
, students at Augustana may major in creative writing, a program emphasizing creative as well as critical thinking. Once considered a somewhat impractical course of study for students who want to support themselves one day, the ability to write and think creatively is in strong demand today, according to the senior editor at HarvardBusiness.org, Katherine Bell.
"A few years ago I quit my job managing a web company and went to grad school to study fiction writing," she writes. "It was supposed to be a complete break from my real-life career. But when I returned to my day job, I realized my MFA [Master of Fine Arts] had been a pretty good management-training course."
In her blog
, she lists four lessons "an MBA might learn from an MFA":
1. How to take criticism.
2. What motivates people.
3. How to engage your audience.
4. When to let go of good ideas.
"She [Katherine Bell] writes that MFA programs have become much more competitive than MBA programs, so it stands to reason that the degree is more valuable," says Kelly Daniels of Augustana's English department and a core faculty member in creative writing. "With our connection to the University of Iowa's Writing Workshop as well as other resources, an Augie creative writing major is well prepared to get into an MFA program."
Kelly adds that this new major isn't only for students who plan to study creative writing in graduate school. A creative writing major is ideal for combining with other majors, including business administration. "I imagine that a young person with some business training supplemented by a grounding in storytelling and the sensitivity to language learned by reading and writing poetry would be much more competitive on the job market than someone with business skills only."
A voice for hockey at Augustana
Voice and opera professor John Pfautz
is busy making last-minute phone calls and emailing parents before leaving for Augustana's West Africa international term in early March. The preparation is all for a good cause, but it isn't about his plans to teach nearly 40 students the influential role music plays in the lives and culture of the African people. Rather it's about his love for hockey, and desire to see the sport come to Augustana as a club team.
His excitement for hockey started at the age of 10 as a back-up goalie (he couldn't skate yet), and continues three or four times per week when he plays at the QC Sports Center in Davenport. "In fifth grade I moved to a town where everybody played hockey," says John. He now plays forward and when people find out, they're always surprised. "They tend to think that music people are less involved in those types of activities. I'm quite an aggressive hockey player."
John finds similarities between playing hockey and his work as a musician. "Both require mental preparation and maintaining focus on the goal that matters." And differences: "Hockey is physically exhausting. When you complete a game or race, you know that physically you have put all that you have into it. In college teaching, when do you stop preparing for a lecture? After a lecture, lesson or rehearsal, I often wonder how I could have done better at engaging the students with the subject matter. In sport, there is instant gratification. In teaching, gratification more often comes much later, if at all."
During his 23 years at Augustana, John has surveyed the student body for interest in starting a team. He hopes with a coach hired, and four or five current Augie players committed, this will be the year for bringing club hockey to our campus and community.
Field Notes
Field Notes
illustrates different kinds of experiential learning that take us places off campus. In this issue, English professor Paul Olsen sends a personal essay on the magic of Holden Village, where he spent winter term along with two other Augustana professors, 19 Augustana students, and a "village" of others including students from Luther College and Wartburg Seminary.
With a week to go in Christmas break, we boarded a train in Chicago heading west for
Holden Village
, an old mining town turned retreat center in the Cascade Mountains of Washington. We packed books and boots, bought showshoes, left cell phones behind, and joked about building the best snow-fort. Heading for this isolated village with no access to computers or email, no TVs, and where mountain lions and marmots are more prevalent than video games, the long train ride acquainted us with the Euchre and Scrabble talents of our fellow travelers.
Arriving in Washington two days later, we boarded the only access to Holden, a ferry taking us three hours north on the fjord-like Lake Chelan to a dock where we packed into buses long-ago barged in to carry staff, volunteers and guests who want to experience the magic. On the first switchbacks, snow barely covered the roads, but an hour later we stepped out into 200 inches. Snow-packed paths led down into first-floor doorways, and roof avalanche piles in places were 15 feet high.
The entire village welcomed us with drums and hugs and hot soup, and after settling in we headed for the orientation meant to emphasize two Holden truths: first, we all were now "village owners" who would help sort garbage, wash dishes, shovel entryways and share nine-hour shifts stoking the big furnaces; and, second, avalanche awareness was no joke, whether we were cross-country skiing or walking around the caution-taped buildings that could suddenly drop enough snow to move a 10-ton truck sideways across the street.
Eagerly we made Holden Village ours. The surprise that "Dish Team is fun" matched the fascination with the recycling process. Holden makes its own electricity and purifies its water, all from one of the streams that flows through the village. In the winter the river runs slowly, so electricity is at a premium: we left hair dryers home; we let our clothes dry on racks; turning off the bathroom light became routine.
And our classes continued, with a more intimate understanding of what makes a community live out values of justice, peace and love. In Norman McClean's
Young Men and Fire
, one survivor of a forest fire that killed 13 smoke jumpers says, "the universe she is a bitch," and we engage in discussion of divine will, existential absurdity and personal responsibility. But the same author develops his famous metaphor of "A River," demonstrating that through the selfishness, the hate that drives people to unthinkable injustices … some force of goodness, of love if you will, exists. Indeed, a "river runs through it," and each individual in the community becomes responsible to be that river.
Unconditional hospitality, justice and self-worth are part of the covenant of Holden Village. Nationality and religion are not divisive. Neither are age, race, gender, sexuality, talents or intelligence. Holden was a retreat to consider questions, doubts and faith. The whole magical term was a time to consider the age-old question, "how, then, do I livefi" All of us in the community—whether we cleaned bathrooms, taught, cooked, or repaired roofs; whether we hiked miles, or learned to knit a hat or throw a clay pot—will now be better at celebrating uniqueness as well as diversity.
It wasn't just the snow at Holden that was magic.
New Face on Campus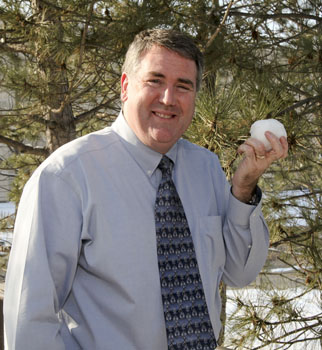 Scott Cason, Assistant Vice President of Communication and Marketing
B.A., marketing, Miami University–Ohio
M.A., teaching, Otterbein College
Scott Cason and his family have lived for the past several years in Tucson, Arizona, so it's no wonder he's happy holding a snowball in his bare hands. Scott says his family, including his wife Renee and their children Jacquie (18), Andrew (17), Brendan (13) and Meghan (11), all view their move from the desert to the Midwest as "a big adventure."
Even though Jacquie will finish out her senior year at her Tucson high school, she will make the drive with her mom and siblings at the end of the month just to see what the family's new home is like. After all, that's where she'll be going during breaks next year, when she'll be a freshman on a volleyball scholarship at the University of Texas–El Paso. "It feels like she's flying the nest months before she has to," Scott admits.
Before accepting the position at Augustana, Scott was the director of marketing and communications at the University of Arizona, and then a consultant with the enrollment management firm Noel-Levitz. A colleague with that firm who resides in Davenport first told Scott about the Quad Cities. Until then, his impression of the area and Augustana was formed by the quarterback of his hometown team, the Cincinnati Bengals. "'It's Ken Anderson, from little Augustana College!' That was Phil Samp, the radio voice of the Bengals in the 70s. I can hear him right now," Scott recalls.
But "little Augustana" is in a big river town—or towns—and for a man who grew up in River City, Cincinnati, it's exciting to be living on a river again. That and four seasons are a big attraction for his family. "Do you have flowering dogwoods herefi" he asks. "I'm looking forward to those. And fall."
From the Cabinet
Jeff Abernathy and Margaret Farrar
Six years after we introduced the
AGES program
, what do we know about student learning in general education at Augustana? First, our students are increasingly satisfied with the program. The concerns they had early on are largely absent today. And the best news to come out of our assessment of the liberal studies first-year program is that we've been intentional about learning goals for our students and that we've seen significant improvement in key areas of academic achievement.
For example, we began the AGES program with the goal that our students would do more academic writing during their first year. Our assessment findings show that we are accomplishing that: first-year students are now producing multiple drafts of papers, integrating information from multiple sources for their papers, and writing longer papers more frequently than they were seven years ago. Similarly, more students are doing oral presentations in their classes than was the case seven years ago. Perhaps most significantly, our first-year students make significant gains in their moral reasoning, critical thinking and socially responsible leadership abilities when compared to students at many other small colleges.
However, despite a fairly explicit focus on diversity issues, our first-year students are less likely than students at other schools to have serious discussions with students of a different race or ethnicity than their own. Further, our students are less likely than others to engage in serious discussions with people who have different religious or political beliefs than theirs. Given that we want our students to be able to succeed in a pluralistic world, we need to do a better job of providing them with opportunities to engage in conversations about racial, ethnic, religious and political differences in meaningful ways.
Seen and Heard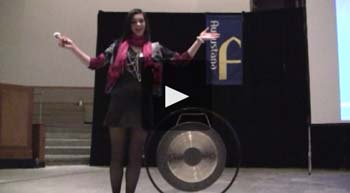 Not to be confused with the Gong Show, activity in the admissions office now includes hitting a gong every time a student commits to Augustana by making a tuition deposit. Sometimes the student is available and willing to bang the gong personally, as was the case during Sunday's Presidential Scholars' Recognition Ceremony.
Acknowledge
is published by the Office of Communication and Marketing.
Contact Beth Roberts
, editor. Photos in this issue were contributed by Marla Alvarado Neuerburg, John Cairns '12 and Maren Mathisen '12 of the Augustana Photo Bureau. Gong video footage is from Sam Schlouch '10, with assistance from web services' Eric Page. To see the calendar of upcoming Augustana events, go to
www.augustana.edu/calendar
.