January 2010
Augustana's Hannan
"This isn't just a children's book, it is much deeper,"
says Bill Hannan, Quad-Cities artist and scene illustrator for the upcoming production of
The Secret Garden
. The musical, this year's product of an annual collaboration between the theatre arts department and Opera@Augustana, opens next weekend.
A teacher for more than 30 years, permanent radio replacement guest, calligrapher, painter, framer, book-binder and illustrator, Bill has made meaningful contributions to campus since the 1960s, when he taught a filmmaking class. Over the years he has taught calligraphy, book-making and illustration workshops at Augustana, and has illustrated faculty books and other projects.
What project has been Bill's favorite from his many years of giving to Augustana? It is always the project he is working on.
For the musical, Jeff Coussens and Adam Parboosingh asked him to contribute his skills by creating digital illustrations that will be used as a computer-generated set. This is no small task. "I have to make a bird fly from one side of the stage to the other, and make it look like it flew," he confides.
The hard work of many comes together in Potter Theatre on January 29, 30 and 31 at 7:30 p.m.; February 5 and 7 at 7:30 p.m., and February 6 at 1:30 p.m.
Head in the stars, yet deep into pulp
If you passed through the John Deere Planetarium
over the holidays, you may have noticed Christmas covers from
Galaxy
magazine on display. These 1950s and '60s science fiction magazines belong to the collection of planetarium director Dr. Lee Carkner. Others can be seen in his office. He collects horror and fantasy magazines, too, but science fiction is his chief interest. "I kind of collect selectively, sometimes around odd themes." (Hint: The magazines displayed in his office have a common thread, if you can spot it.)
Lee's love for science, science fiction and the stars began far back in childhood. "My mother claims it's because she watched the moon landing when she was pregnant with me," he says. "I never really stopped."
After a childhood and adolescence spent reading science fiction, he became especially interested in the older material. Sci-fi publishing after World War II was a low-budget affair. Most magazines, at 5 or 10 cents a copy, were printed on cheap paper, thus the nickname "pulp" magazine. No one at the time ever thought people would still be interested 60 years later, Lee says. Most pulp magazines were thrown away.
Star Trek or Star Wars? Though he likes both, he leans toward Star Wars because the movies were so popular when he was growing up. His 5-year-old son Grant also likes Star Wars. Asked if he plans to pass on his collection to Grant, Lee laughs. "We have a ways to go. He doesn't know how to read right now."
He adds, "You know, George Lucas read a lot of pulp magazines as a kid."
Field Notes
Field Notes
illustrates different kinds of experiential learning that take us places off campus. In this issue we're doing something new: sophomore Maren Mathisen of the Augustana Photo Bureau presents
a photo gallery of images and notes
from her fall term in Latin America.
Good taste in celebrations
An update on Augustana's sesquicentennial Whitey's
ice cream flavor-naming contest…. Yesterday morning, a lucky six members of the Augustana community trekked to Jeff '72 and Jon '79 Tunberg's flavor laboratory in Moline to sample 10 flavors created by the ice cream professionals, and test 13 flavor-name finalists selected from nearly 100 entries submitted by alumni, faculty, staff and students in December. Taste-testers included Dean of Students (and renowned ice cream
connoisseuse
) Evelyn Campbell, Professor of Chemistry Mary Ellen Biggin,
Observer
Editor-in-Chief Katherine Keafer, SGA President Grant Jones, Director of Alumni Relations Kelly Noack, Director of Student Activities Ken Brill, and Public Relations Director Kamy Beattie.
The finalists and their flavor-name entries are:
Chris Hedlin – Cold Main
Kim Hedlin – Blueberry and Gold
Linda Roy – Blue N Gold
Linda Roy – Alma Mater
Jon Hurty – Augustana Almond Delight
Joseph Aumuller – Viking Pride
Ana Loane and Dana Swanson – Belltower Bliss
Beth Roberts – Viking Chip
Jessica Uhlir – Blue and Gold Rocky Island Road
Amy Bagley '99 – On the Rocky Shore
Tom Pappas '77 – Founder's Fudge
Meghan Cooley – Choclastana
Michelle Ruf – Augustana Blubana
The winning contestant will receive a $50 gift certificate for Whitey's—enough ice cream perhaps to last throughout the 150th year. The rest of us can look forward to trying our sesquicentennial flavor at upcoming campus events and seeing it among the flavors arrayed at our local Whitey's ice cream shop.
New Face on Campus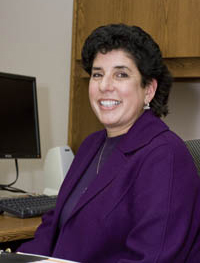 Laura Ford, Director of Human Resources
B.A., English and political science, Augustana College
As of Monday—her first day on the job—the "coalition of silence" already had been established. Laura Ford, now on campus as the new director in Human Resources, Lori Roderick of the Office of Advancement and Kai Swanson, all from the Class of 1986, agreed not to share any stories about each other from their days on campus.
With the deal sealed, the former consultant is looking forward to working with a team again and being able to see the impact of her work in the long term. For the past 16 years, Laura served as the principal partner for New Avenues Inc., a local business consulting firm specializing in Human Resources, customized client solutions, training and development. "Since I was self-employed for so long, it was really important for me to come to a place that had a mission, and a mission that I believe in," she says.
An avid reader whose former job involved extensive travel, Laura is quite attached to her Kindle reader. Her biggest fear is getting stuck on a plane without something good to read, so the Kindle is the answer to that. How many Kindle books does she own? Close to 150.
Laura and her husband, Chris Ford '86, live in Moline with their two teenage sons. Both Laura and Chris are familiar faces around Carver as they are huge Viking basketball fans, and Chris provides webcasts for Augustana's basketball games. They met during the summer of their first and second years on campus while working in the library, and dated off and on—mostly on—during their Augustana days.
From the Cabinet
Paul Pearson, Vice President of Business and Finance
I am thrilled to proclaim loud and proud that Phase I of the Old Main project has begun! The Board of Trustees approved the project in October and, after an architectural firm search, it is moving full speed ahead.
BLDD Architects of Decatur, Illinois, has been awarded the contract to lead the planning and development stage, as well as the management of the construction phase. If the firm name is familiar to you, it may be because they partnered with Augustana as the lead architects on the Emmy Carlsson Evald Hall project. Mays Consulting of Delaware, Ohio—active on our campus since the late 1990s—also has been selected as a prominent partner.
Director of Facilities Services Dennis Hittle will be the project team leader. Dennis garnered some experience working with Sharon Cramer, now retired from facilities services, on the award-winning conversion of Evald Hall from a residence hall into an academic building.
Succinctly stated, Phase I of the Old Main project is "all things exterior." The iconic building has been evaluated thoroughly and will receive attention from the cupola spire down through the foundation. BLDD will prepare bid documents for the project with an anticipated bid date of April 1, 2010. If all goes as expected, in May the Board of Trustees will receive a recommendation from the administration on the awarding of a general construction contract.
Scaffolding and cranes could show up as early as late May, with the construction phase of the project likely to take nine months. At the conclusion of Phase I, we expect, among many other improvements, the cupola and dome to be clad in copper; the roof to have a standing seam break metal treatment instead of shingles; the building to be entirely tuck-pointed and waterproofed; and, potentially, all of the windows replaced. The window question is still up in the air, as it were, as this may be a more effective activity for the overall renovation project's Phase II or Phase III: east and west wing vertical interior renovations.
The total Old Main project (Phases I-III) may require a $13 million resource commitment from the college. The Office of Advancement continues its focused efforts to raise funds for this critical project related to our 2005 strategic plan.
Seen and Heard
"That meant that the meaning of a life as a Christian intellectual was that you had to keep asking questions, and then you sought for answers, and those answers often enough provoked further questions—so that the life of the mind was an endless cycle of questioning and answering…. That is, as you know, the way that modern science operates, and it is also the way in which any Christian person who wishes to listen to the fullness of the human story needs to operate as well."— Dr. Thomas Tredway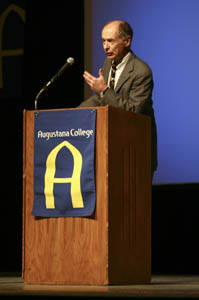 President Emeritus Tom Tredway was the featured speaker at the Founders Convocation—the college's first public event celebrating its sesquicentennial anniversary—on January 14 in Centennial Hall. The subject of Tredway's presentation concerned context and change at Augustana College during the years covered in his recently published history of Augustana,
Coming of Age: A History of Augustana College, 1935–1975.
Acknowledge
is published by the Office of Communication and Marketing. Contact
Beth Roberts
, editor. Photos in this issue were contributed by John Cairns '12, Corynn Hanson '11, Maren Mathisen '12 and Veronica Smith '12 of the Augustana Photo Bureau. View original photos by Augustana Photo Bureau members and enjoy music performed by Augustana musicians on Friday, January 29 from 6–9 p.m. at Augustana Sights and Sounds in the Bucktown Center for the Arts, Davenport. To see the calendar of upcoming Augustana events, go to
www.augustana.edu/calendar
.