December 2009
The real value in road trips like these
—By Eric Page
It was a quiet locker room before the Augustana men's basketball team took the court at Spokane's McCarthey Athletic Center, where the Vikings took on Division I power Gonzaga on December 9. The players were tense, but excited, as they sat and waited for coach Grey Giovanine to deliver his pre-game speech.
After going over personnel matchups and strategy, as all coaches do, Coach G wrote his final message to the guys on the board: "Stay together. Compete. Have fun."
Two hours later, after suffering a 79-40 loss, there was no doubt inside that same locker room that the Vikings had stayed together, competed and had the time of their lives. The players told reporters that the road trip and playing in front of 6,000 basketball-crazed fans was the experience of a lifetime. Coach G said it was a great experience for a young team, an opportunity to grow and come together. That's the real value in road trips like these, the stuff that happens off the court, the team building that goes on behind the scenes.
When you spend 31 hours traveling with each other in a three-day period, as the Vikings did, you get to know things about each other that you don't learn in practice. You get to know your teammates' families and friends who are along on the trip. You start to appreciate where they came from and what they have to offer the team. It's a special thing, and it was clear when the Vikings returned to a snowy campus that they were more of a team than when they left.
Field Notes
Field Notes
illustrates different kinds of experiential learning that take us places off campus. In this issue, wife and husband volunteers Kamy and Shawn Beattie compare notes from their respective, holiday-jittery kindergarten and fifth-grade groups at Longfellow Liberal Arts School.
During a recent volunteer visit to Longfellow Liberal Arts, we asked the children we spend time with what they liked about the holidays. Their answers remind us of what makes the season so special and memorable. The first set of answers to each question is from kindergarteners, and the second set from fifth-graders.
What are you looking forward to this holiday season?
"Presents."
"Help my mom with Christmas stuff, decorating the house."
"I want a PS2 and the game 'Kirby' because I lost it."
-----------------------------
"Presents."
"I'm going to visit Mexico with my mom, so I'm really excited."
"My aunts and uncles coming to our house, because they live far away."
"I think I know what I'm getting, so I'm excited about that."
"My sister keeps trying to convince our mom to let her open a present early. She doesn't give up."
What are you thankful for?

"My favorite color is blue, what is your favorite color?"

----------------------------

"Presents."

"Family and friends."

"Getting to see everyone again."


How does your family celebrate?

"Put the angel on the top and the wings turn different colors."

"Can we play another game now?"

"My sister keeps begging for a PS2 and I tell her 'Hold-up! We'll get it at Christmas.'"

-------------------------

"Presents."

"We eat a big meal at our grandmother's house. It's really yummy."

"We all hang out together and do stuff."

The young minds offer some perspective about the complicated world we live in: Presents are great for any occasion and family are a blessing for all to enjoy.




New Face on Campus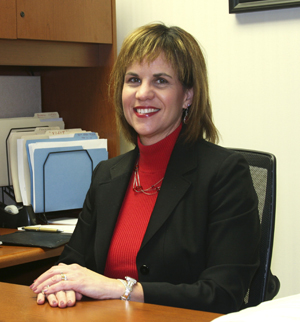 Sara Maccabee

Executive secretary, Office of the President

B.A., English, University of Iowa
M.A., teaching (English, secondary education), University of Iowa

What do you do when your mom follows you to college? Eryn Maccabee was already a member of the Class of 2014 when her mom, Sara Maccabee, was hired for a campus position—executive secretary to President Bahls, no less.

Sara hopes Eryn feels inclined to stop by her office every now and then once she begins classes here next fall, but in the meantime, Sara is busy making the transition from the financial world to an academic environment.

Sara comes to Augustana from QCR Holdings, Inc., where she was executive administrative assistant to CEO Doug Hultquist '77, former chair of the Augustana Board of Trustees. Considering that Augustana is Doug's "second favorite place to be," Sara already knew everyone in the president's office, which has made her transition easier.

She was interested in coming to Augustana because although she learned a great deal about banking during the past five years, she feels a campus community is a better fit for her. "I'm looking forward to participating in what's offered on campus," Sara says. "I'm astounded by everything that's going on. It's a bit like being in college again."

An East Moline resident, Sara enjoys running to stay fit. With our recent temperatures, you may see her at the track in PepsiCo—simply another benefit of working at Augustana.


From the Cabinet

W. Kent Barnds, Vice President of Enrollment and Communication

This time of year always makes me think of trains. To this day we place the "O" Gauge Lionel Train I received when I was eight beneath our tree. And then I recall growing up in a train town, and traveling by train during my time in Spain.

In my hometown in western Nebraska, we frequently got stuck at a crossing waiting for a long coal train from Wyoming or a train carrying sugar beets to be processed. I recall the rhythm as they went over the tracks, and the whistles as the engines approached the various crossings in my hometown of Gering.

When I studied in Spain, I had my first experience with passenger rail, which introduced an entirely new concept of trains. Each passenger car held people of different races, classes and ages, and each had his or her own story. Travel was luxurious when I had reserved a seat. However, many times I delayed too long and was forced to hunt for a seat or settle for standing room. I remember the accompanying uncertainty, the walk from car to car, opening and closing doors in my search.

Several years ago I read Nebraska native and former U.S. Poet Laureate Ted Kooser's Local Wonders: Season in the Bohemian Alps (2003), in which he describes "life as a long walk forward through the crowded cars of a passenger train…." His train metaphor resonates with me, especially as I think about the end of the year and look forward to 2010. Kooser describes the "…windy, perilous passage between each car and the next… crossing through the wind and noise, we more keenly feel the train rock our legs…." This passage may describe where we've been as a community in the last year as we've faced economic uncertainty, made difficult budget decisions and entered new territory with new programs.

I hope 2009 marks the end of the "perilous passage," and that the next year awaits us more like the train car Kooser describes later in his piece: a car "warm and bright, and you take a deep breath and unbutton your coat and wipe your glasses. People on either side, so generous with their friendship, turn up their faces to you, and you warm your hands in theirs."

I think this community, which has made some difficult decisions, has drawn together and affirmed its mission. We have earned entrance to a new "car brightly lit, fresh flowers in vases on the tables, green meadows beyond the windows and lots of people who together—stranger, acquaintance and friend—turn toward you and, smiling broadly, lift their glasses."

Here's to a great 2010 for Augustana College.


Seen and Heard

"I had to find a way to love who I was, and that's a hard thing to do when everyone is telling you … you shouldn't."— Cyrus Zargar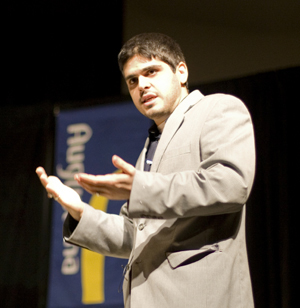 Cyrus Zargar, assistant professor of religion, delivered the December 10 convocation examining contemporary Iranian society and culture.


Acknowledge is published by the Office of Communication and Marketing. Contact Beth Roberts, editor. Photos in this issue were contributed by Eric Page and Marla Alvarado Neuerburg, John Cairns '12, Grace Drenth '13 and Corynn Hanson '11 of the Augustana Photo Bureau. To see the calendar of upcoming Augustana events, go to www.augustana.edu/calendar.