November 2009
The Great Teapot
by Jane Bahls
At a breakfast in the geology department over Homecoming weekend, I overheard Myron "Mike" Price, class of 1961, laughing about his capers as a student. One time, he said, he and his buddy Denny Olsen turned the dome of Old Main into a teapot. He admitted to being rather well lubricated when they mounted the stairs to the dome, climbed out a window and tied on a big handle and spout. I congratulated him for the accomplishment, saying I'd read about that "phrig" seven years ago when Steve and I were first learning about Augustana. He was surprised to learn there was a photo.
But when we tracked down the photo and sent it to the Prices at their home in Colorado, Mike replied that this was not the one he'd put up. "It's a much better construction," he said. "My recollection was that our pot blew sideways before much notice was taken."
Librarian Sarah Horowitz cleared up the confusion. Turns out that the original teapot dome, erected November 14, 1955 (see photo above), was the brainchild of Roald Fryxell, second son of geology professor Fritiof Fryxell, along with his fellow PUGs and the OSOs. An experienced mountaineer, Fryxell evidently climbed up the outside of Old Main to raise the wood and cardboard handle and spout. Photos of the giant teapot, visible for miles, appeared in Chicago newspapers.
Today's students may have surpassed their predecessors in community service, international travel and other things that matter, but we just don't see that caliber of prank any more.
Does it seem newsworthy? Share it.
A small group of writers/editors
eagerly anticipates news from folks around campus. What's news, you ask? There are obvious examples, related to high achievement or innovative practices, but there also may be simpler human-interest stories, happenstances that make you stop and think, "That's worth telling more people." If that happens to you, send it to
sharenews@augustana.edu
.
Field Notes
Field Notes
illustrates the kinds of experiential learning that take us places off campus. In this issue, Professor of German Kim Vivian considers differences in former East German cities such as Berlin and Wittenberg, before and after the fall of the Berlin Wall. Kim directed the college's new study program in Wittenberg, Germany, during the fall term.
In the 1970s, while an undergraduate and later a graduate student at the University of Göttingen in then West Germany, I took two trips to former East Germany, the ironically named German Democratic Republic. These trips in themselves were fascinating, with long stops and searches at the border, with state-assigned "tour guides" sometimes giving you state propaganda. In early November, in such famous towns as Weimar, Leipzig and Wittenberg, things looked bleak, with some rubble still left from WWII, with dense smoke from burning coal clouding the sky, with grayish buildings, and people in grayish clothing. The food in the state-assigned hotel was often not appealing, and a trip to the state-run grocery store revealed many empty shelves and little fresh food. My best memory of the food was a stand where the famous Thüringer Bratwurst could be cheaply purchased, and it was delicious, and a savior. On my second trip, now as a vegetarian, even that source of food was unavailable to me.
So it was with great interest that in the summer of 2008, nearly 20 years after the fall of the Berlin Wall, I undertook a short journey to Wittenberg to see about establishing a study program there. How things had changed! Drab gray Wittenberg had been restored to a Renaissance jewel, its marketplace with statues of Luther and Melanchthon and its long, bustling pedestrian avenue a welcoming site.
Now I am back in Wittenberg, this time as director of the program. I was naturally very interested to talk with some natives about their "country" before 1979 and after. The 50-something bus driver who picked the group up in Berlin set the tone: "Oh, things weren't so bad back then. Everyone had a job, health care, could travel, etc." Of course, the places he mentioned were all in the east zone: Budapest, Prague, etc. Some others I spoke with agreed with him, with nuances, while others disagreed, some mildly, some passionately. It appears that the older the speaker, the less bad it seemed back then. But there was some denial, denial of what I said I saw in the 1970s. "It wasn't like that," one person said. Another just stared at me, conversation over. So I wonder: what was it like? Like what I briefly saw, or like what their memories have retained? Politically, Germany is no longer divided, but in one significant way former East Germany still is.
New Face on Campus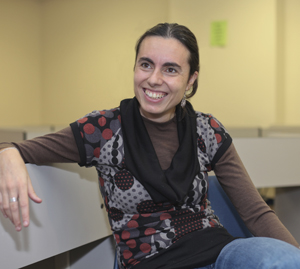 Araceli Masterson-Algar, assistant professor of Spanish
B.A., philosophy, Miami University, Oxford, Ohio
M.S., teaching and teacher education, University of Arizona
M.S., Latin American studies, University of Arizona
Ph.D., border studies, University of Arizona
For someone who makes it a point to get involved in her community, it's not surprising Dr. Araceli Masterson-Algar is already working with the board of directors at Moline's Casa Guanajuato, a cultural and community center for members of the Latino community. She is designing ways to involve more Augustana students in the Latino and Mexican-American communities in the Quad Cities, both through research and community work. Araceli also lectured at the Putnam Museum and worked with students and Dr. Ana Borderia-García on a cultural display at the recent exhibit for the Day of the Dead.
A passionate teacher who began her career teaching middle school, Araceli tells her students on the first day they will be put "on the spot" in her class, and they must be willing to make mistakes and find humor in their mistakes. And similar to training in sports and music, learning a language demands constant work. "You must be ready to be engaged every day because you build on what you're learning," she explains. "You cannot suddenly go out and practice a sport for 14 hours before a big game and expect success. It's the same with learning Spanish."
Originally from Córdoba, a city in the southern province of Andalusia, Spain, Araceli worked and studied in sunny Tucson, Ariz., the past nine years. She's had no trouble meeting new people here in the Quad Cities but is uncertain about the oncoming winter. Her survival plan includes spiked shoes for the ice (as she doesn't own a car and walks everywhere she can) and frequent visits to Carver to fend off the winter blahs.
From the Cabinet
Richard Priggie, College Chaplain
If the only prayer you said in your whole life was, "thank you," that would suffice.


—Meister Eckhart
Give thanks in all circumstances.


—1 Thessalonians 5:18
Garrison Keillor tells of a Lake Wobegon farmer who comes in for lunch one day to find his wife on the floor, dead from an apparent heart attack. After calling 911, he kneels down beside her and tells her out loud, "Thank you." And again, "Thank you." And again. When the paramedics arrive, they find him in the same posture, repeatedly reciting the same words, "Thank you."
One hopes the farmer had expressed thanks to his wife before that moment! In the same way, one hopes we are regular in saying thank you to one another as colleagues and friends and in expressing a more comprehensive thank you for the gift of being able to make a difference in the lives of so many young people through our work at the college.
We are to celebrate together next Tuesday the achievement and growth of our students in these past months. Celebration may well seem extravagant in the midst of a lean time for many of us and for our country and world. Perhaps, though, thanksgiving is more important this year than ever. Thanksgiving is related to hope. It is kin to humility and forgiveness. It instills gratitude.
In the midst of life as at the time of death, the proper posture is to kneel, and the proper prayer is "Thank you."
Augustana Family News
Although
Jane Tiedge
(Office of International Programs) hoped her new grandson would make his appearance in time for our October issue of
Acknowledge
, she's happy to report that Dylan Edward Stephenson was born October 19 to daughter Emily and Phil Stephenson. Baby Dylan has another Augustana family connection, as Deb VanSpeybroeck (student counseling) is his father Phil's aunt.
Seen and Heard
"Don't focus on the crowd. Don't focus on the other team. Just focus on the ball."
— overhead from Augie coaches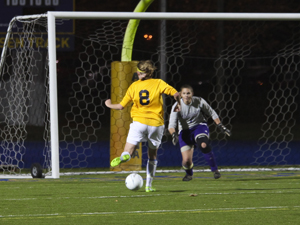 Augustana's fifth-ranked women's soccer team beat Albion 2-1 on Saturday. Augustana will host the first two rounds of the NCAA Sweet 16 tournament this weekend, beginning with a 5 p.m. game Friday against Calvin College.

Acknowledge
is published by the Office of Communication and Marketing. Contact
Beth Roberts
, editor. Photos in this issue were contributed by Augustana Special Collections, Kim Vivian, Marla Alvarado Neuerburg, and Dana Gustafson '11 and Matt Marogil '10 of the Augustana Photo Bureau. To see the calendar of upcoming Augustana events, go to
www.augustana.edu/calendar
.