September 2009
Share the story
A small group of editors
, involving staff in communication and marketing and web services, have found an easy way to gather your stories for sharing with the world—especially those we want to hear, or who want to know, all the good reasons they should pay attention to Augustana. It's the simplest, most expedient form of communiqué: email.
Want to tell us the latest success in your department? Go to
sharenews@augustana.edu
. Care to divulge the name of a student to watch as he hits his stride? Go to
sharenews@augustana.edu
. Have you recently heard from a graduate who's doing some very interesting things in the world? Ditto. Got a new concept for taking your specialization further, or a new problem to solve? You get the idea.
Your work in the classroom, office and field—and the experiences of the students and graduates you know—are essential to the story of Augustana. After you tell your advisee, your assistant, your spouse or best friend,
share the news
with the rest.
Leading a team effort in a tough time
The media headlines
of collapsed banks, lost jobs and a burst housing bubble have given way to a federal government call for health care reform and the latest fight between Jon and Kate Gosselin. However, the effects of the financial crisis that started more than a year ago are what some members of the Augustana community deal with on a daily basis.
The staff of the financial assistance office work quietly within Seminary Hall, but their effort in bringing in the class of 2013, like that of the admissions office, was monumental. Sue Standley, associate vice president of enrollment and director of financial assistance, and Dave Myatt, senior associate director of financial assistance, saw their work shift as the crisis began to affect the families of Augustana students.
"We started getting three to four students a day fill out special circumstances forms," recalls Sue. The forms signal a significant change within the financial situation of a student's family.
Despite the challenges of working long hours, serving both the prospective and current student population and jumping through all the state and federal government regulations, Dave says the work is rewarding. "We work with families who are struggling to find some relief, and it is gratifying to me to help them navigate the financial situation. The Immediate Scholarship Support fund made a tremendous impact for the students."
Sue, Dave or any member of the office would point to colleagues across campus who helped them through the ups and downs of last year. "It is a team effort," says Sue.
An effort that culminated in 2,100 assistance packages for prospective students and more than $31 million support from Augustana this year.
Field Notes
Field Notes
illustrates different kinds of experiential learning that take us places off campus. This summer, Katrina Jensen '11 traveled to Singapore and Thailand, working with children through a volunteer program that allowed her to develop and practice her skills in her major fields: psychology and communication sciences and disorders. In this entry she dwells on the present moment, an important tenet of Buddhist philosophy.
I'm going to guess that most Augustana students did not have the chance to talk to a Buddhist monk in Thailand this summer. That's a real shame because I had this unique opportunity during the month I spent there teaching English, and I think I've come out the better for it. One of my tour guides eloquently expressed this sentiment of Buddhism: "You can't change what happened in the past, and you can't control what happens in the future. All that matters is right now!" I had heard this kind of thing before, so I initially dismissed it as cliché, idealistic and impractical.
However, upon further consideration, I realized that perhaps this message has some merit. After all, how many times have I dwelt on a past conversation or been overwhelmed by all the things I have to do before next term, next Friday or even 4:00 today? I realized how often I get caught up in the past or the future while neglecting to appreciate the miracles occurring around me all the time. When was the last time I noticed a beautiful flower or the feel of sunshine on my face? How often do I really listen to a friend without thinking about what I'm going to say next? When do I spend time counting my blessings?
I think we might do well to learn from the Buddhists, who practice meditation to clear their minds of excess thoughts and become aware only of what they are doing that very second. When we appreciate and absorb ourselves in the present moment, our memories become more meaningful and our future holds more promise. Although I'm not suggesting that we burn our daily planners or sell our family photo albums, we might do well to take a little extra time each day to appreciate the here and now.
New Face on Campus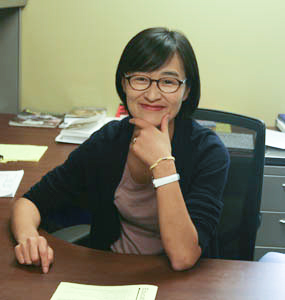 Dr. Sohyun An, assistant professor of education
Ph.D., University of Wisconsin-Madison
Last year, Sohyun An was living in Atlanta, finishing her doctoral thesis and caring for her family. Life moves quickly sometimes and today Sohyun is an assistant professor of education at Augustana eagerly awaiting the return of her 2-year-old daughter Jacqueline from South Korea. Jacqueline is staying with grandparents for a few months while her mom acclimates to a new job and new location. Skype video calling helps Sohyun keep in touch with Jacqueline, and also with her husband Jean Kwun. Jean is an instructor and researcher at Emory University in Atlanta.
Sohyun and Jean met in college and were married in South Korea. She taught social studies in middle and high school in her home country before entering the doctoral program at the University of Wisconsin-Madison. She and Jean lived in Madison for six years while working on their doctorates.
At UW-Madison, Sohyun supervised pre-service teachers. She also helped Korean American youth learn the Korean language. In her dissertation research, Sohyun investigated how Asian-American students learn and understand U.S. history and how their socio-cultural backgrounds affect their ideas and experiences of citizenship.
As a new member of the team, Sohyun greatly appreciates the warm welcome she has received from her department colleagues, which she says has made her transition easier than expected. The internet too has been a wonderful lifeline as it allows her to connect with her family and friends around the globe, especially one little girl in South Korea.
From the Cabinet
Steve Bahls, president
As the new academic year begins, it occurs to me that we, as a community, have been so focused on the financial indicators that gauge our fiscal well-being that we might lose sight of some other, equally important measures. Based on results of the annual National Survey of Student Engagement, Augustana has recorded significant gains over the past three years on key indicators that speak to our quality.
The survey offered comparative data on the responses of first-year and senior students in both 2006 and 2009. Among seniors, the results show gains under the following headings: Active and Collaborative Learning, Supportive Campus Environment, and Enriching Educational Experiences—the last of these reflecting a remarkable 20 percent gain in positive responses, which I take to be a sign of the profound impact we are having on our students. Among first-years, improvements were recorded in the active/collaborative learning and supportive campus environment categories as well, but also in two others, tracking the level of academic challenge and the quality of student-faculty interaction. Ninety-four percent of first-year students in the most recent survey had a favorable impression of Augustana.
In sum, even as the financial dials continue to settle, the quality dials are pointing up. The fact that these are so closely tied to the work of colleagues across campus makes me deeply grateful. Thank you for all that you do in advancing Augustana College.
Augustana Family News
As we hustle through the last days of summer, there should be no surprise the last three months brought a lot of family growth to the Augustana community.
There were weddings and anniversaries: On June 2, Dave and
Joanne Walker
(registrar's office) celebrated their 25th wedding anniversary with a surprise party thrown by close family and friends. Joanne and Dave were married at Gloria Dei Presbyterian Church in Rock Island and have resided in Reynolds, Illinois, for all 25 years. On August 15,
Brad Isbell
'07 (ITS) married Jenna Svatos '09 at Prospect Park in Moline. And just this past Saturday, September 12, Cathie and
Fred Whiteside
's son Michael '03 married Karen Becker at our own Ascension Chapel.
Two grandmothers in the registrar's office welcomed new grandchildren this spring and summer:
Mary Ann Gant
is proud grandmother to a 10th grandchild, Lance Edvin Dodson, born August 24 to Joy and Keegan '02 Dodson. Tim and
Susan Granet
have two new grandbabies: Aidan Michael Lynch, born May 4 to Angela '01 and Adam Lynch and welcomed by sister Isabel; and Kateri Alice King, born June 5 to Jill '04 and Azariah King and welcomed by sister Naomi.
Diane Carnithan
'95 (admissions office) and her husband Dave also have a new granddaughter, Stella Beatrice Choi, who shares her birthday with Grandma Diane. Stella was born on June 12 to Jennifer Carnithan Choi and Michael Choi, both '96, in Washington, D.C.
New Augustana parents include Michael '05 and
Alexandra Wenz
'05 (business office), who welcomed their baby son Luke on May 24. On June 23, Catherine and
Jason Singer
(biology) welcomed their daughter Calliandra Claire.
Seen and Heard
"My best advice for future journalists is to just start writing. Just do it."
— Reporter and columnist Eleanor Clift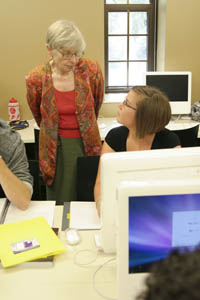 Earlier this month, celebrated political journalist Eleanor Clift gave a public lecture on campus to celebrate Augustana's new major in multimedia journalism and mass communication. As a Woodrow Wilson Visiting Fellow, she also visited journalism and political science classes.Acknowledge
is published by the Office of Communication and Marketing. Contact
Beth Roberts
, editor. Photos in this issue were contributed by Katrina Jensen '11, as well as Dana Gustafson '11, Corynn Hanson '11 and Veronica Smith '12 of the Augustana Photo Bureau. To see the calendar of upcoming Augustana events, go to
www.augustana.edu/calendar
.