April 2009
This is our 25th issue of
Acknowledge,
and we're celebrating by doing things a bit differently. The first two stories hearken back to earlier issues, and in place of a couple of regular features we're publishing several original poems written by Augustana faculty and staff. This is a nod to National Poetry Month, and we are tremendously impressed by the variety of talent across campus, where poetry is clearly alive and well.

I'd like to thank the
Acknowledge
writers, planners and photographers past and present: the Augustana Photo Bureau, Marla Alvarado-Neuerburg, Kamy Beattie, Barbara Bradac, Debbie Blaylock, Leslie DuPree, Beth Nordby, Eric Page, Kurt Tucker and Kirby Winn.
What should we read? (part one)
November 2007
The Frieze Lecture Series, sponsored by Augustana College and the Rock Island Public Library, ended its 10th anniversary season with two lectures on the practical yet compelling question, "What should we readfi" The lecturers, professor emeritus of English Dr. Roald Tweet and associate professor of English Dr. Laura Greene, addressed the value of the inquiry and headiness of the pursuit, and also answered the question.
Before a large and well-acquainted audience in the library's community room on November 1, Roald Tweet sat on the edge of the stage and proposed the issue of the classic book and the well-read, well-rounded reader. He began with a brief history of the Western literary canon, a secular version of the religious canon—the Koran and the 66 books of the Bible. The early canon was a compendium of books written by authors such as Shakespeare, Shelley and Keats—those greats whose "job was to purify rough souls" in the American school system—and didn't include those muscular, sensual authors Whitman or Melville, let alone women and minorities. That's why the canon, described by Tweet as "bogus," all but disappeared between the 1960s-90s. In its place we have a mind-boggling array of excellent books, both old and new classics, written by people all over the world.
Tweet does rather miss "the good old boys," and maintains it's now impossible to be a truly well-rounded reader. But the great variety of options still prompts the question, "What should we readfi" His answer is to read what challenges us, to stretch the imagination, heart and mind, and consider ourselves, as readers, part of the creation process. If "a great writer is ahead of his time," as he says, then readers should search out those books that bring them right to the edge. "We will never catch up to Hawthorne or Lessing," says Tweet, but one can "read a book that really brings it out of you. Good literature is a beginning, not an end."
To read a poem widely considered a favorite of many, yet stranger than we may think, read
"The Road Not Taken"
by Robert Frost. This poem ended Tweet's lecture and will prepare you for part two of this series, in the
December issue
of
Acknowledge
.
"60 Minutes" gives 12 to Partners in Health
May 2008
One of Augustana's favorite success stories was told to a national audience on "60 Minutes" earlier this month. Dr. David Walton, the '98 Augustana grad who works in Dr. Paul Farmer's Partners in Health organization, was featured prominently in a
12-minute segment on Partners in Health
in the May 4 edition of the long-running CBS news program.
"I look at you, 31 years old, medical degree from Harvard, could make a gazillion dollars back in the States, and you're in Haiti. What do you get out of itfi' Reporter Byron Pitts asks Walton.
"There's nothing I'd rather be doing with my life," Walton says. "Absolutely nothing."
The "60 Minutes" crew then accompanied Walton on a walk up a narrow mountainside trail to call on a 10-year-old patient whose living conditions are representative of the poverty he encounters daily in his work in rural Haiti. "I can't imagine turning my back on something like this," Walton tells the reporter. "Maybe some people can, but I can't and I won't. This is my life's work."
Walton spoke about that work last year when he visited Augustana's campus to present a community convocation on his work with
Partners in Health
. His visit also included a reception at the Center for Vocational Reflection and a display of photographs he had taken in Haiti.
Walton routinely makes himself available to reporters covering the organization's life-saving work. In addition to the segment on "60 Minutes," he also was profiled in a June 2007
Chicago Tribune
feature.
Field Notes
Field Notes
illustrates different kinds of experiential learning that take us places off campus. In this issue, Heather Holland '09 writes on her spring break trip—her final spring break at Augustana.
Imagine you are driving down a recently paved road. On your right is the Gulf of Mexico, the ocean sparkling in the idyllic warmth. The beach's almost-white sand and new boardwalk appear pristine. On your left, however, is an odd sight. Giant, newly built hotels and houses alternate with broken foundations of former buildings.
This is where I spent the first week of spring break—southern Mississippi. Three and a half years after Hurricane Katrina, the Gulf Coast is still rebuilding. I traveled to Mississippi on the campus ministries spring break service trip with 42 other Augustana students, three parents and Pastor Priggie. Our misson? Volunteering to rebuild homes for a week. Our accommodations were at Camp Victor in Ocean Springs, a former factory to house Katrina relief volunteers.
Augie groups worked on projects ranging from demolishing a flood-damaged home, to creating unique art for a hospice program, to hanging and finishing drywall. We raked yards, sorted piles of debris, and did carpentry work. My crew of eight helped rebuild a one-story home for a family in Pascagoula. Since Katrina, the family of four has been living in a tiny Federal Emergency Management Agency trailer in the front yard of their house. Our crew sanded drywall, applied plaster, and painted the walls and ceiling of their remodeled home.
I was surprised how much I learned about basic home construction that week, but perhaps the real revelation was the family's story. Hearing James, the father, talk about returning after the hurricane evacuation and seeing refrigerators floating through the streets was eye-opening. He worked to rebuild the home until his doctors said he could no longer do intensive labor due to a heart condition. As we worked, James was constantly in and out, asking if there was anything he could get for us. My heart and mind were inspired hearing him talk about his wife, two young sons, and hopes for their new house and future.
I went back to camp dead tired each night, wanting to just crawl to the shower, get the drywall dust out of my hair and sleep until the 6 a.m. "lights on." Yet I learned much that week that can't be replicated in a classroom. I learned that compassion needs to go to work, roll up its sleeves and get messy. Compassion also needs to listen to the stories of victims, because their case may not be what you initially think. In today's world, this working love and compassion make all the difference. And in giving our time and energy, we receive something else back.
New Faces on Campus
New faces from the past three years…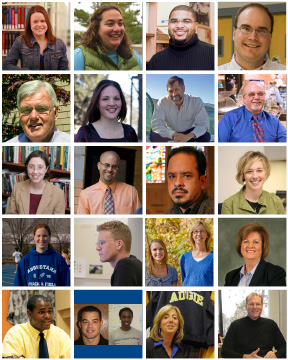 Finest under forty words: the short poem challenge
Motion
Anchored or adrift
Or propelled or under tow?
By chance or by choice?
(Do I even knowfi)
—Susan Kramer, education
Endtimes
When the Sun shall expand, and the great Ocean dies,
When blues become black and greens become red,
Let it die full of Life! Let its murmurs and sighs
Give the drama a meaning. Let it not, Lord, die dead.
—David Hill, philosophy
On Inheriting David Goodwin's Books
Five hours went, three behind my steering wheel, two among David's books.
Back home, in gathering dusk, I make room for these "good ones," all mine now,
on dusty, crowded shelves: his lectures, laughs, retirement plans. His lonely ashes.
—Peter Xiao, art
Bouquet
If one is rhinoceros, why
Then two must be rhinoceri--
Or rhinoceroses,
With thorns on their noses.
A bouquet just came thundering by.
—Ruth Symons, music
An American in Greece
Walk past these ruins
with your years,
and long for
your own kingdom
back home.
Praise yourself lucky
that you still exist,
and when,
down from the Acropolis,
dust whirls,
pretend
it's not your own.
—Kim Vivian, German
The Poet Dying Young at Babi Yar
A fool proclaims there is no God
An ancient hope survives in smoke
And wisdom walks the woods at dawn.
—Bohdan Dziadyk, biology
Butterfly (for Olivia in her 13th summer)
Still. Resting. Becoming.
Stirring only when you want to.
But once aloft,
You are pushed by winds I can't see
Off to places I can't go.
I will watch you while I can.
—Kai Swanson, president's office
Spring at Augustana
For our silent, colorful, peaceful bomb we await…

eagerly anticipating, remembering, longing…

intense blossom fragrances, sweet and pure

our secret slough, our secret paths, our secret gardens

bloom!

yes, God has touched this place again!

—Shawn Beattie, ITS
Seen and Heard
"I'm about 130 pages into the fourth draft of this book. I have got to get it right before I release it—or it releases me." — Jason Lewis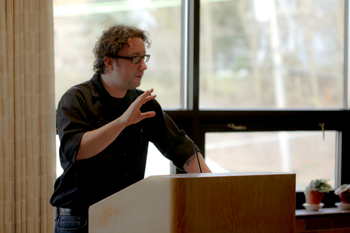 On Tuesday, April 14, poet Dora Malech and fiction writer Jason Lewis, both Augustana Fellows teaching in the English department this year, gave readings of their work to an audience gathered in the Wilson Center.
Acknowledge
is published by the Office of Communication and Marketing. Contact
Beth Roberts
, editor. Photos in this issue were contributed by Bryan Innes '12, Maren Mathisen '12 and Matt Peters '11 of the Augustana Photo Bureau. To see the calendar of upcoming Augustana events, go to
www.augustana.edu/calendar
.