March 2009
Friends at the table: Duane Swanson and Viking baseball
—By Dave Wrath
It was, we all agreed, a very special moment. The Augustana baseball team was basking in the glow of a 16-5 victory over Carroll on Thursday, March 12 in Fort Myers, Florida. That was the first of four games on a "mini" spring break trip for veteran head coach Greg Wallace's crew. Eventually the trip would end on Sunday with three wins in the four games played, and the Blue & Gold would fly back on Sunday night with a glossy 11-3 record for the year.
While the win was nice, it was another triumph that made the moment special. Following the game, the team cleaned up and headed over to a country club in Fort Myers with the unlikely moniker of Fiddlesticks. There they were treated to a wonderful dinner as the guests of Duane Swanson '61.
Duane Swanson's name is well known at his alma mater. His financial contributions have allowed us to build Swanson Stadium/Brunner Field, and recently his generosity provided the impetus for Swanson Commons. His leadership on the Board of Trustees is legendary and Augustana has benefited greatly from his friendship.
The dinner at Fiddlesticks has become a special tradition. Mr. Swanson has been treating the players, coaches and parents to this feast for nearly a decade. This night, however, was unique. Mr. Swanson has been struggling with some health issues and recently had part of his right leg amputated. He had been hospitalized and it was not until that afternoon that he confirmed he could make it to the dinner.
The entourage was seated in the dining room when he arrived. Greg Wallace pushed his wheelchair into the room, and the smile on Mr. Swanson's face lit us all up. He greeted us with joy and expressed his admiration for the success the team had achieved. He spoke of his love for those of us in the room. He did not dwell on the twist of fate that took one of his legs and has threatened the other one. His message was upbeat, positive and inspiring. A quick glance around the room made it clear his message was heard.
Duane Swanson cherishes his relationship with Augustana and his memories of the institution that holds a special place in his heart. It was rewarding to be in the room that night as he articulated those feelings.
Have guitar, will travel
A shift in the academic calendar is paving the road
to Chicago for several classical guitar students this weekend. Augustana guitar instructor and ensemble director Randy Pobanz will take four music and non-music majors to the Mid-America Guitar Ensemble Festival at Roosevelt University to participate in workshops, perform as an ensemble and connect with other student guitarists. Thanks to the new academic calendar, the festival no longer falls during the college's spring break.
Randy started teaching at Augustana in 1985. He says the classical guitar program that began with about eight or nine students has grown to as many as 25, depending on the term. He credits some of the growth to high school programs, private lessons and technology.
"YouTube and other internet sites allow students to view and listen to a wide variety of music," he says. "Guitar needs a pre-college exposure to grow and to raise the playing level of students who will be entering college guitar programs."
Ensemble members include Sebastian Garcia '11 of Hinsdale, Illinois; Sean Ryan '09 of Colona, Illinois; Michael Siadak '09 of Dillon, Colorado, and Kenneth Slocum '09 of LeClaire, Iowa. In Chicago the ensemble will perform a concert and participate in several festival events including a master class with world-renowned guitar duo, The Katona Twins.
The Augustana Guitar Ensemble also will play a campus concert on Wednesday, April 15 at 8 p.m. in Wallenberg Hall, featuring music from the Renaissance to the 20th century.
Field Notes
Field Notes
illustrates different kinds of experiential learning that take us places off campus. In this issue, David Crowe tells of the college's recently completed, first-ever international term in Vietnam, where he taught a course on Vietnamese literature.
It's difficult to describe modern Vietnam. A day traveling the Mekong Delta could hardly feel stranger, as your boat nudges aside floating weeds in increasingly narrow jungle tributaries. At lunch in a jungle hut you listen to cooks clubbing fish as you eat your own—deep-fried, torn up and combined with delta-washed herbs in fresh spring rolls. You get a taste of commercial life when you visit coconut candy-making businesses along the shore, smelling of the burning rice chaff used for fuel. Yet when the bus returns to Saigon (only about a dozen communist functionaries call it Ho Chi Minh City) you find yourself in a thoroughly Western neighborhood, your main challenge the choice of dinner: tapas, Indian curry, Italian pasta or a burger. The legacy of French and American economies lingers strongly in urban Vietnam, especially in central Saigon but also in Hue and, now, even Hanoi.
One of my favorite moments occurred at the Cu Chi tunnels, the network of hundreds of miles of tunnels that allowed the Viet Cong to harass American troops for years and eventually allowed insurgents to launch the Tet Offensive of 1968. When you arrive you walk a large entry tunnel, the kind (as one student pointed out) you might walk to enter Disneyland or a water park. Once inside the Cu Chi jungle terrain you find guides in the forest green NVA uniforms and automobile-tire Ho Chi Minh sandals of forty years ago. These guides show tourists the hidden entryways to guerrilla tunnels, and eventually allow you into a dark, suffocating hundred yards or so. Then the kicker: Against a crudely painted backdrop mural—in which American soldiers are shown spouting blood, falling into and impaled on booby traps—the guides proudly explain the function of about a dozen actual spike-filled booby traps on display. The contrast between the guide's pride in Vietnamese ingenuity and our students' stunned silence—after all, they had just read a body of literature about the intense suffering of both American and Vietnamese soldiers and citizens during the war—was striking.
Later, some students fired actual AK47 and M16 assault rifles for a dollar a bullet (before our director could stop them from contributing to the Vietnamese economy in this way), while other students worried about whether this was appropriate on a battlefield where men and women had died. The moral questions and powerful feelings we addressed in the Cu Chi tunnels made the visit a genuine learning experience.
New Face on Campus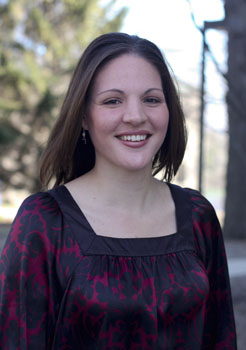 Lisa Farinelli
, assistant professor of speech communication
B.S., agricultural business and journalism, California State University, Chico
M.A., Ph.D., human communication, Arizona State University
When asked about any surprises during her first year of teaching at Augustana, Lisa Farinelli doesn't hesitate. "I'm impressed with the sense of responsibility on part of the students—and also by their thinking beyond themselves. They look for ways to serve others and their community, and I have to say from my experience, this is not typical of most college students."
As the faculty advisor for the new Acts of Kindness Club, Lisa works with organizer Hannah Boyce and other students interested in giving back in little ways to those on campus. Some examples include scraping the windshields of professors' cars in the winter and serving hot chocolate during finals week. (For someone who has always lived in sunny, warm climates, Lisa can't think of a better "favor" than having someone scrape her windshield when it's below zero.)
Lisa, who taught for six years while a graduate student, says she also is impressed by the college's strong emphasis on helping students find their calling in life, which is not what she's seen at other schools. "Augustana recognizes each student as a whole person, instead of simply teaching them new skills and pushing them out the door," she says.
An avid walker, hiker and bicyclist, Lisa is looking forward to discovering what the Quad Cities offers in the way of hiking trails and bike paths. And today looks like a good day to start.
From the Cabinet
Paul Pearson, Vice President of Business and Finance
St. Patrick's Day evokes thoughts of a pot of gold at the end of the rainbow, and for a finance guy, how apropos. Many might close their eyes and imagine how someone in my position is constantly engaged in a quest for the elusive treasure or difference-making idea—one that is tantalizingly close, yet just out of reach.
I will not take this opportunity to throw another log on the economic discussion bonfire. We have already been bombarded by pundits' position papers aplenty relative to our arrival in this troubling land of lost endowments and fierce enrollment battles. Generally, these include advice on how we might best make our way to a new survival paradigm: one devoid of many of the comforting vestiges of "the good old days."
Even so, it may come as a surprise to many of you to hear me proclaim the expedition for our pot of gold has been successfully completed. Further, and happily, no travel expenses were incurred. The treasure is not spendable cash; it won't even show up on our balance sheet. Yet it is precious nonetheless. Our pot of gold is the collective positive spirit of community and goodwill demonstrated so frequently at Augustana. It is defined by the care and consideration we freely give to our fellow community members as we grapple with these times of economic duress together. As it boils down to so often, it is about the people. I cannot fathom and I do not aspire to become part of a different college community: it would be too great a compromise.
So, on this St. Patrick's Day, I would like to express my appreciation to all at Augustana for contributing more than their fair share to our collective pot-o-gold.
Augustana Family News
David Davies
(music) and his wife Carrie welcomed their third child, Clara Joy Davies, into the family on February 17. Their son Ashton (4) and daughter Emma (2) seem to have differing opinions about their new sister. While Ashton has explained that he "loves Clara more than anyone else in the whole world," Emma enjoys poking Clara until she cries and then exclaiming, "Baby crying! Baby crying!"
Samanta Schmelzer
(Spanish) and her husband Christopher welcomed their baby daughter Sabrina Schmelzer-Echevarría on February 28. Samanta's mother traveled from her native country of Mexico for the event. When baby Sabrina is old enough to better focus on her world, she'll be able to see her Quad Cities hometown as a scenic view through the 11-floor condo where her family lives.
You are invited to help celebrate
Don Wooten's
80th birthday at a Founder's Day Open House on Saturday, March 28 from 10 a.m. to noon at WVIK. It's the first Saturday of WVIK's on-air membership campaign, so Don's studio guests for his show "Saturday Morning Live!—Portions Recorded" will be Bill Hannan and Roald Tweet. Quad Cities Poet Laureate Dale Haake also will stop by to read a poem he created for the occasion. Visitors also may share handwritten birthday wishes (cards provided) to be collected by WVIK and bound together by artist Bill Hannan for presentation to Don at a later date. We have a goal of 80 handwritten wishes for the book, dubbed the "80 Wishes for Don's 80th." RSVPs are not necessary, but if you would like a card for the "80 Wishes" book mailed to you to fill out and return, please contact
Sonita Oldfield-Carlson
.
Seen and Heard
"When reason and conscience and individual experience inform morality, that puts us in a bit of a minority position."— The Rev. Roger Butts, pastor at the Unitarian Church, Davenport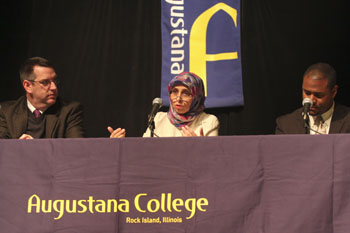 "Culture Wars," a panel discussion coordinated as part of the first-year liberal studies 103 class, was the first convocation of spring term, held March 12 in Centennial Hall. Panelists included leaders from three faith traditions: Talia Alvi (Islam), Mark Anderson (Pentecostal Church of God) and Roger Butts (Unitarian Universalism). Mariano Magalhães was the moderator.
Acknowledge
is published by the Office of Communication and Marketing. Contact
Beth Roberts
, editor. Photos in this issue were contributed by photographer Chris Shinn as well as Maren Mathisen '12, Matt Peters '11 and Dalsem Yang '09 of the Augustana Photo Bureau. To see the calendar of upcoming Augustana events, go to
www.augustana.edu/calendar
.