January 2009
Augie photojournalist records great moment in history
Matt Peters '11
"Forty-four Americans have now taken the presidential office." Once Barack Obama stepped onto the inaugural podium, the 2 million people before him burst into cheer. Only when he began to express these first words did the crowd begin to silence. During this silence, Obama went on to give what will become one of the most famous inaugural speeches in American history.
Throughout his speech, the crowd resonated jubilant cheers from the Lincoln Memorial all the way up to the steps of the Capitol Building. With every roar, a sea of American flags waved over each individual, creating a magical scene of happiness, history and relief. The fact that I was there, standing on the National Mall amidst a million other Obama-maniacs, made the day even more meaningful.
Through all of my journalist experiences, this one was the most exciting. For those watching the historical event on television, the event may have lasted only 20 minutes. But for those who woke up at 3 a.m. (or who did not sleep at all) and walked to the National Mall in search of the perfect spot to view, it lasted longer than 10 hours. From 4 a.m. to 1 p.m., 2 million people waited for Obama through toe-freezing, nose-dripping, sleep-inducing cold. All sacrificed sleep, breakfast, and comfort to see one man. Why did world citizens travel thousands of miles to see one man? Why did the person standing next to me for 10 hours cover himself in Obama pins and shirts? Why did I show up, even with a slight fever and a sore throat, for this one man?
Obama answered this question the minute his words echoed out of the speakers during his inaugural address. He talked of health care, unity, economics, race and the Middle East. The reason why this massive, historical crowd appeared outside of the Capitol Building was to witness history and listen to a man who promises a united America and world through his anticipated leadership.
A 15-hour car ride later, I am still saying the trip was worth it. In fact, the trip was probably one of the most exciting of my life and I hope it remains one of the most exciting moments in American history.
See two of Matt's photos of the inauguration at the top of this newsletter.
Web Guild expands its domain
Augustana Web Authors Guild
made a big investment in future Vikings this month by establishing the Entrepreneurial Leadership Scholarship. Current Web Guild president Tim Shearouse '09, former president Shaun Callighan '08 and Doug Tschopp, faculty advisor and director of marketing, chose to set up the endowed fund with proceeds from the organization to fulfill a vision cast nearly ten years ago by founding group members.
Students started the organization with the goal of offering discounted web design for non-profit organizations and free seminars to the Augustana community. Today, the organization is a corporation that works with more than 150 clients on web skills training, professional web design and extensive web-oriented resources.
According to Doug, "The scholarship creation really speaks to the successes of the students who run the organization and the unique structure of the Web Guild. I'm pleased to see this dream become a reality."
The scholarship will be awarded to students with interests in entrepreneurial ventures who enroll at Augustana in either 2009 or 2010. According to president Tim Shearouse, "I hope the scholarship will encourage budding entrepreneurs to step up to leadership positions, look toward the community, and seek mutually beneficial partnerships that can fund their group while providing a service."
Field Notes
Field Notes
illustrates different kinds of experiential learning that take us places off campus. In this issue, Peter Kivisto speaks on students' experience of the richly historical and diverse city of London during the 2008 fall term in Europe.
When Augustana's students settled in London for a five-week stay during the most recent iteration of the college's oldest and largest international study program, they found themselves residing in Kensington, a wealthy neighborhood in the western end of the city center—a bastion of the Tory party. It's a borough of the city rich with history. As the abundance of blue plaques on buildings attests, it was the former home of many of its luminaries.
To give some sense of the felt presence of that history, as students headed out of class each day, they passed the former home of John Stuart Mill, and as they turned the corner, they walked by the flat once occupied by T.S. Eliot. When they made their pilgrimage to Portobello Market in the adjoining Notting Hill, they not only saw George Orwell's old home, but savored the irony of a CCTV camera located right outside of it.
London, home to around 14 million, is at once a global city and a city of neighborhoods. Getting students out of the tourist orbit, that part of city that could be the theme park satirized in Julian Barnes'
England, England
, and into some of the city's neighborhoods is part of the goal of our program. To that end, equipped with some background of various places and spaces, students were sent out to explore a number of localities: Brixton, Southall, Golders Green and Dalston Market.
One of the favorites is Brick Lane, home these days to the Bangladeshi community. Though still a poor locality, the area has become something akin to Chinatown, as Balti restaurants do a brisk trade with denizens of the city at large. Indeed, the place has become so trendy that a large entrance sign proclaims you are entering the hip environs of "Banglatown."
However, when students pay attention, they see quite another world beneath that glitter. They see it when they watch men of all ages entering and leaving the mosque at the corner of Fournier Street and Brick Lane. They see it when they observe veiled women briskly escorting children to school or to some after-school activity. They see it in the eyes of merchants struggling to make a living selling leather goods. If really attentive, they might see people that remind them of the principal characters in Monica Ali's novel,
Brick Lane
. Dig deeper and they begin to see that before Bangladeshis moved into the area, it was home to earlier waves of immigrants—more recently Jews and before them the Huguenots, including those who lived and operated their weaving machines at 19 Princelet Street, now a museum celebrating the diversity of the place.
New Face on Campus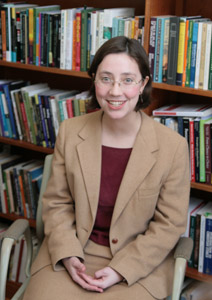 Laura Hartman, assistant professor of religion
B.A., religious studies, Indiana University–Bloomington
M.A., Ph.D., religious studies, University of Virginia–Charlottesville


How Christians Should Consume
. That's the working title of first-year professor Laura Hartman's first book, for which she's entertaining offers from two publishers. It's not a look at why our society's current level of consumption is so out of control or the range of choices so absurd. Rather, it's a study of consumption—the flow of physical materials through our lives, such as what we eat, wear, use and put in storage units that rent for ridiculous amounts of money—and what Christian ethics has to say about it. "There are resources in the Christian tradition to help us know how to consume," she says.
A self-described "relaxed vegetarian," Laura tries to curb her personal consumption. She laughs when asked about the rumor that she shares a car with someone. "It would be more accurate to say I don't own a car," she says, adding that she lives only three blocks from campus. An avid Metro bus rider, bicyclist and walker, she borrows a neighbor's car maybe once a month.
The Kentucky native doesn't mind all the recent snow but certainly appreciates those who shovel their sidewalks. She is thrilled to be at Augustana and has enjoyed teaching medical ethics and sexual ethics this year. "Students love ethics courses because the material can be applied, and it's relevant to them," she explains. Laura is looking forward to teaching environmental ethics, her area of specialty, next year.
"Students are hungry for guidance and ideas in this area," she says. "They are the next generation inheriting a groaning planet, and they want to know what to do about it."
From the Cabinet
Evelyn Campbell, Dean and Vice President of Student Services
We are all aware that the job market is tighter than it has been in years…. Therefore, to give our seniors every opportunity to obtain a good position, please encourage them to take advantage of all of the resources we have on campus: discussing options and opportunities with you and other members of your department; meeting with staff and attending programs in the Career Center; working with the CVR; completing an internship; and networking with relatives and friends in their field of interest. Now, more than ever, we must equip our students with the skills necessary to conduct a successful job search, and we need the entire community to make that happen. We appreciate your help.
Augustana Family News
Darrin Good
'87 (biology) and his wife Diana Hill '89 Good celebrated their 20th anniversary on November 18. In fine Augustana tradition, they shared a Bell Tower kiss while in college and were married in Ascension Chapel. Their best man was Craig Bowron '87 and the maid of honor was Jennifer Richwine '89.
Mindi Mull
and
Ian Harrington
(both psychology) have welcomed a son, William Owen Harrington, born on December 14. Big sister Ava is so happy to have a baby brother.
Adam Kaul
(anthropology) and his wife Rebecca Rice celebrated their 10-year wedding anniversary on December 18. A heavy blizzard on that day in northern Minnesota a decade ago, much like the one of our recent December 18, made an exciting backdrop for their wedding.
2009 quickly become a celebration year for the Hyser family.
Chuck
(education) and
Ruth Ann
Hyser
(Tredway Library) joyfully announce the marriage of their daughter Annaliesse to Joshua Nassiri on January 2 in San Diego. Annaliesse is completing her MBA at Harvard and Josh is a Navy physician. Annaliesse's three older brothers (David '95, Andy and Matt '00) were her bridesmen, and all showed their sister a balanced combination of affection, pride and teasing.
Diane Behrens
(copy center) is the proud grandmother of Owen Alvin Behrens, born on January 5. Owen is the son of Jeffrey '00 and Jodie Corey '98 Behrens.
The sister of Professor Emerita of English
Dorothy Parkander
'46, Ruth Parkander Clokey '44, died on December 28 in Southern California. Ruth was the co-creator and producer of the 35-years-running television series "The Gumby Show," featuring animated clay characters Gumby and Pokey created by her former husband Art Clokey. Ruth Clokey also co-produced the animated television series "
Davey and Goliath
" with the Evangelical Lutheran Church in America.
On January 8,
Mary Ann Gant
(registrar's office) welcomed her ninth grandchild, Dylan Jonathan, son of Larry '00 and Nicole (Pehle '00) Gant, and brother to Joshua Michael Gant. Baby Dylan had surgery 10 hours after he was born, to repair a previously detected bowel blockage. He has progressed so well that he's already returned home—weeks earlier than doctors had predicted.
If you would like to include a note in the memory booklet for the family of
Richard Anderson
, beloved professor emeritus of geology, who died January 8 in Champaign–Urbana, please send your note to Gail Parsons, Swenson Hall of Geosciences 102, or email her at gailparsons@augustana.edu. We hope to have the booklet compiled to present to the Anderson family by the time of the memorial service to be held at Augustana on Saturday, March 21, at 3 p.m.
Seen and Heard
"That's what this evening is all about. Dr. King had a dream and he didn't let any man hinder that dream."— Mark Anderson
Mark Anderson, assistant dean of students and director of the office of diversity services, was one of several speakers and performers at the Lift Every Voice! Community Celebration in honor of Martin Luther King Jr., held in Centennial Hall on January 17.
Acknowledge
is published by the Office of Communication and Marketing. Contact
Beth Roberts
, editor. Photos in this issue were contributed by Matt Peters '11, Corynn Hanson '11 and Dalsem Yang '09 of the Augustana Photo Bureau. To view an exhibition of photographs by the Augustana Photo Bureau, attend the opening reception for Augustana Sights and Sounds on Friday, January 30, from 6-9 p.m. at the
Bucktown Center for the Arts
in downtown Davenport. The exhibition will run from January 30-February 26. To see the calendar of upcoming Augustana events, go to
www.augustana.edu/calendar
.