February 2009
Way to go Metro
Transit operator Steve Richards
spends his days masterfully maneuvering a Metro bus through the Illinois Quad Cities. A new passenger to route 60 might mistake it for a family reunion rather than a bus carrying a full load of customers.
The Quad-Cities native and Metro driver of 34 years says his career has taken a lot of turns, including new routes and a variety of hours, but it always comes back to the passengers. "I like the people. They offered me management positions in years past, but I want to be out and about with the people—not confined to an office," Steve says. His passengers are quick to agree. "I've known him since I was a kid, and I'm 36 now," says Audrey of Rock Island. "I can't ask for a better bus driver. He'll make you laugh."
Steve encourages any Augustana student, faculty or staff member to give riding Metro a try. "Get your feet wet. Plan your route or just ask a bus driver."
The Augustana ID serves as a pass for all members of the college community to ride the Metro in the Illinois Quad Cities. To learn more about riding Metro or planning a trip, log on to
www.gogreenmetro.com
.
Learning anatomy: better in 3-Dfi
Two Augustana biology faculty
members are embarking on a three-year investigative journey into the world of 3-D imaging and the teaching of human anatomy, thanks to a $150,000 National Science Foundation (NSF) grant.
Bob Tallitsch and Allison Beck, along with two colleagues from St. Ambrose University, will put on their detective hats this fall to explore whether computer-assisted instruction can influence how a student learns the concepts and 3-D relationships inherent in understanding the anatomy of the human body.
The two schools will conduct a three-year study that will compare student learning in a "typical" human anatomy course and one that involves computer-assisted instruction. Bob and Allison expect to see the first results in the 2010 spring term. Go to
Bob's homepage
for more information on the NSF grant and details of their study.
Field Notes
Field Notes
illustrates different kinds of experiential learning that take us places off campus. In this issue, Eric Rowell '93 of the development office sends a short essay on what he learned witnessing President Obama's inauguration ceremony in Washington, D.C., last month, which he attended along with his wife, Amy. (Incidentally, Eric's former colleague and basketball buddy from Chicago, Arne Duncan, is President Obama's newly appointed Secretary of Education.
)
I stood among the great throng on the National Mall when Barack Hussein Obama was sworn into the office of President of the United States on Tuesday, January 20, 2009. Prior to that moment I had always known I was an American. But without ever seeing a different sort of face gracing our currency or the office walls of official buildings, and being the hue of so many of America's civil victims, that feeling was never completely "finished."
To understand, perhaps I should compare to pregnancy. Ask any woman who has completed a term and she will tell you certainly there is a difference between knowing you are pregnant at 12 weeks and feeling you are pregnant a week from the due date. They are two entirely different experiences.
And I believe my sentiment to be echoed by millions of dark-skinned Mississippians, Kansans, Texans, Iowans, and so on who for hundreds of years have inhabited North America. No part of our painful American past shall be erased by the election of a dark-skinned Hawaiian—the sting of it still remaining within the elderly who lived it, or those brought up by the generations that lived it, or those unable as yet to feel inclusion within recent progress because of the lingering effects of
-isms
. But now I feel it.
Following the pronouncement, just as I had been doing since arriving so early to claim an unfettered view of the Capitol (we were at least a mile in back, just feet from the Washington Monument), I waved and waved my little flag on the Mall. It was then I realized the Declaration of Independence, The Constitution and the Bill of Rights, each viewed for the first time within the majestic rotunda of the National Archives, were more than just simple documents establishing the country my nearest ancestors and I were born within. After hearing those words, "So help me, God," and seeing that grand city, and waving that flag with the approximately 1.8 million fellow Americans of every belief and blemish, I know, I feel, I believe with every fiber of my being, that I have always been and forever will be an American.
New Face on Campus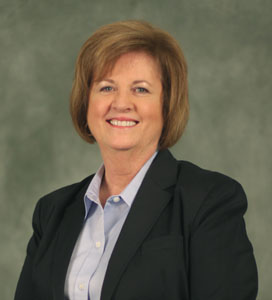 Lynn Jackson, vice president for development

B.S., public administration, Western Michigan University
Yes, the last phase of an ambitious fundraising campaign is always the toughest. And we all know the economy is not in good shape. Yet according to Lynn Jackson, the college's recently hired vice president for development, there's certainly no need to wave a white flag.
"I'm a realist, but also an optimist," Lynn says. "The key is being there during good times and not so good times. We're still meeting with people and talking about the wonderful programs we have here—and of course, our very special students. Despite the economy, people will give to things that are important to their heart, things they care about."
Lynn comes to Augustana with 25 years of experience in liberal arts education and banking, most recently serving as the vice president for college advancement at Lycoming College in Williamsport, Pa.
The warm welcome she's received from the Augustana community has been wonderful, she says. General Counsel Sarah Johnson offered her an opportunity to house-sit her grandparents' home in Bettendorf, for which she's truly grateful. Others have driven her around the Quad Cities, pointing out the best restaurants and other favorite spots.
This has made being away from her husband, Larry, and her two dogs, Tiggie and Sparky, a little easier. A self-described animal lover, Lynn also enjoys reading mystery novels, dabbling in antiques, golfing, entertaining and traveling. Spain and Ireland are two countries she would like to visit again. In the United States, she's partial to the waterfront community of Westport, Mass., where her best friend has a summer home, and of course Seattle, Wash., where her son, Garren, lives.
Once she and Larry sell their house in Williamsport, they will seriously begin looking for a home in the Quad Cities. Lynn knows it's not the best time to sell, but she's confident the right person will come along. After all, she's both a realist and an optimist.
From the Cabinet
Steve Bahls, President
In honor of Presidents' Day, I thought you might enjoy this piece sent to me by John Norton, one of the leaders of the Augustana Historical Society. It's a comment by Gustafva Magnusson Esbjörn, the wife of Augustana's first president, Lars Paul Esbjörn, about their experiences at Illinois State University, and Esbjörn's early contact with Abraham Lincoln. This was included in an article by Mrs. K.T. Anderson titled "Some Reminiscences of Pioneer Rock Island Women," appearing in
Proceedings of the Illinois State Historical Society, vol. 17, 1912, pp. 75-76.
"My husband had been called to teach only the Swedish language and certain theological subjects, but when he arrived at Springfield [in 1858], he found that he was expected to teach various other subjects as well … principally natural sciences. It was this fact no doubt which brought him into personal contact with the most interesting figure in American history—Abraham Lincoln, who at that time had his home in Springfield.
Mr. Lincoln's son Robert was sent to the university at which my husband taught. The young man, however, did not make his mark as a brilliant student, nor was his industry and regular attendance remarkable. He was as much interested in the exciting political discussions going on at that time that he even left Springfield and followed some of the stump speakers around from town to town instead of attending to his school duties.
It seems it was my husband's duty to inform the young man's father of these delinquencies on the part of the boy, and the result was that one day we had a call from the elder Lincoln. He entered my husband's study and spent some time with him to see what could be done to get Bob to attend classes regularly again. Whether they touched on other subjects during the interview I cannot say, nor do I know whether there was any subsequent improvement in the young man's school record.
The students lived in private houses and had little boarding clubs of their own. I remember baking bread for some of them to help them along. Of course most if not all of them were as poor as poor could be in this world's goods…."
In closing, this explains why the stained glass window in the Founders Hall staircase includes "Springfield 1858-1860" along with Augustana's three locations – Chicago 1860-1863, Paxton 1863-1875, Rock Island 1875-.
Augustana Family News
Last Friday, admissions shared the good news of the birth of Charles Abraham Cooley, born 2:22 p.m. on February 12 to Luke '00 and
Meghan Kelly '99 Cooley
(admissions). But what you may not have noticed is that baby Cooley shares names with two others born 200 years ago on that same day: Charles Darwin and Abraham Lincoln. See the February 13
Quad-Cities Online Dispatch Argus
for details and a cute photo of the Cooley family.
Seen and Heard
"Don't ask her what she thought she was doing
Turning a child's eyes
Away from history
And toward that place all human aching starts."
— Li-Young Lee reading from his poem "Self-Help for Fellow Refugees," from his new collection
Behind My Eyes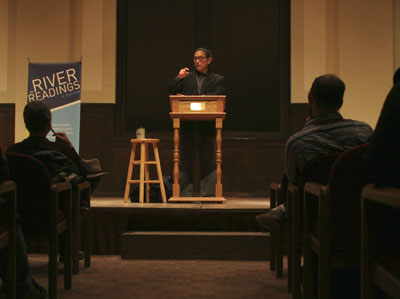 Chicago-based poet Li-Young Lee read from his work in Wallenberg Hall on January 29, sponsored by
The River Readings at Augustana.
Lee was born in Indonesia in 1950 to Chinese parents living in exile. In this poem, the writer is a child stopped by his mother from witnessing the arrest of his father. Acknowledge
is published by the Office of Communication and Marketing.
Contact Beth Roberts
, editor. Photos in this issue were contributed by Marla Alvarado Neuerburg, Corynn Hanson '11, Maren Mathisen '12 and Matt Peters '11 of the Augustana Photo Bureau. To see the calendar of upcoming Augustana events, go to
www.augustana.edu/calendar
.