December 2006
Bishop Hanson on the Six Vocations of a Lutheran College
Lutheran colleges should be a center
of moral deliberation and discernment for the church and society, said the
Rev. Mark S. Hanson
, presiding bishop of the Evangelical Lutheran Church in America (ELCA), during his visit to campus last month. In addition to meeting about 20 students for lunch, Bishop Hanson met with faculty and administrators in Ascension Chapel to speak on issues affecting the church and to discuss what he called the six vocations of a Lutheran college.
Speaking to an audience of about 50, Bishop Hanson said the 28 colleges and universities related to the ELCA are called to…
… be communities of faith formation in an increasingly pluralistic society;
… be a center of moral deliberation and discernment;
… continually call the church to be a reforming church;
… be a bastion of intellectualism in an anti-intellectual faith-world;
… be communities of vocational preparation in a culture dominated by jobs and careers, and
… go beyond preparing leaders for the future by exercising institutional leadership today.
Bishop Hanson expressed his satisfaction with "
The Five Faith Commitments of Augustana College
," saying the document serves as a model for how other colleges and universities might begin their own discernment on what it means to be in relationship with the ELCA.
In his dual roles as the ELCA's presiding bishop and as president of the Lutheran World Federation (LWF), Bishop Hanson regularly travels throughout the nation and the world on behalf of the 66 million Lutherans who are members of the LWF's 140 member churches. Upon leaving campus he was bound for a meeting in Geneva via the Quad City International Airport.
The Science of Sentimentality
Holiday Traditions Have Roots in Astronomy


During the bustle of the holiday season, you probably don't stop to wonder why you're draping garland and hanging wreaths. They look pretty. Isn't that reason enough? You might be surprised to hear that the glossy garland leaves, shiny holly berries and circular wreaths were probably originally displayed as symbols of the sun.
Dr. Lee Carkner, who conducts the annual
Season of Light
show at the John Deere Planetarium, explains that people throughout history have celebrated this time of year as a time of rebirth and renewal, pointing out that, in absence of a definitive date for Jesus' birth, the Romans may have chosen to celebrate the Christian "Birth of the Son" near the astronomical "Rebirth of the Sun" after the short days of December.
During this month of limited daylight, people the world over have found ways to bring light into the darkness. "While we string up Christmas lights, the ancient Celts lit large bonfires on hilltops to encourage the sun," Carkner says, encouraging all of us to think about those whose traditions we still follow today.
Field Notes
Field Notes
illustrates different kinds of experiential learning that take place on campus (and take us places off campus). In this issue, Kerstin O'Connor and Christina Peterson (both '07) write of their experiences with the landscape and language during Augustana's 2006 summer program in the village of Grebbestad on the west coast of Sweden. In the photo band at the top of this issue, Kerstin is on the far left and Christina to her right.
June 7 (Christina)
. We took a ferry from Strömstad to the Koster Islands, the most beautiful I have ever seen. We rode bikes to Sweden's westernmost church and had a picnic lunch the kitchen ladies had packed for us: tiny sandwiches, juice boxes, cinnamon buns and coffee. We climbed to the top of the mountain. Water surrounded us—the archipelago on the west and water to the mainland on the east. Woods below. No bugs. Singing birds. Peace. We rode around the island, through countless stands of overgrown lilac bushes, fields of countryside, farms, soccer fields and humble, well-kept cottages.
June 9 (Kerstin)
. Today Paul and I left Grebbestad and the others to go to our cousin Henric's graduation party in Jönköping. Once we got to the station in Göteborg, we were on our own… I was nervous about finding family members I hadn't seen since 1993, and spent most of the ride watching the people and the countryside. I love the opportunity of being on the train. It's fun to try to understand what people are saying. Sometimes I understand completely, other times I feel completely lost….
… It was slightly awkward at first with 40 Swedes in the house, but I managed to keep up in much of the conversation. Occasionally people my age could speak some English or help me out when I needed a word or phrase, but with the older people we had to use strictly Swedish. It was fun and intimidating at the same time. After a long night of conversation with wonderful family members, I was excited about what they had planned for us that weekend, but I was also exhausted!
June 21 (Christina)
. We sought shelter beneath the thick brush to wait for the rain to pass… anxious to get hiking. We trespassed through a horse pen to get to the water, passing a few tiny red fishing houses on the way down. With low cliffs of rock on either side and the sea's expanse ahead, we had an open lookout on the water. I was nervous climbing the rock face but the view I knew I would have kept me going. Rock layers, caverns and nooks led down to a flatter area where the waves pulverized the rocks. At times the waves were blue, green and frothy… seemed so relaxing and pretty. When a "harmless" breaker almost swept us into the sea, we decided not to push our luck and hiked our soaked bodies back up to safety.
New Faces on Campus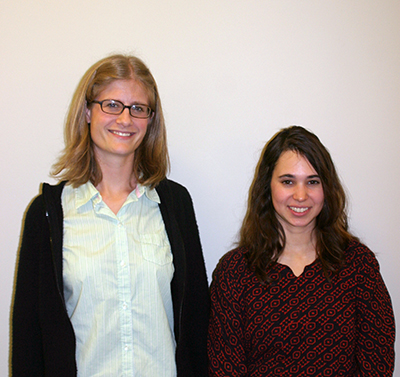 Kaethe Schwehn
B.A. English, Gustavus Adolphus College
M.F.A. Poetry, University of Montana
M.F.A. Creative Writing (Poetry), Iowa Writers' Workshop
Anjali Sachdeva
B.A. English, Yale University
M.F.A. Creative Writing (Fiction), Iowa Writers' Workshop
Kaethe Schwehn and Anjali Sachdeva first met in 2004 when they signed up to live with three other writers in a communal farmhouse in the middle of an Iowa cornfield. All the housemates were graduate students in the Iowa Writers' Workshop at the time. Today Schwehn and Sachdeva not only share an apartment in Iowa City but also carpool with three other Augustana employees. Both teach courses in college writing and literature to first-year students, and Schwehn also teaches poetry. They also enjoy working with students in the college's After Hours creative writing sessions.
The one-hour commute lends itself to sleeping, grading papers, listening to National Public Radio, and chatting about work or more personal matters, Schwehn says. So far, only heavy fog has slowed down the Iowa City commuters. "The commute's not bad because we get to share it," Sachdeva says. "If I was driving by myself, it would be a lot different."
From the Cabinet
Pastor Richard W. Priggie, "An Alternative Christmas"
In the best known of the scriptural Christmas stories, Saint Luke is at pains to set the birth of Jesus in the context of political power in his age. When Jesus was born, Augustus, Quirinius and Herod ruled the land. While we are tempted to read right on by these historical "footnotes," they were important to Saint Luke. They prepare us for the stark contrast between the ostentatious glory of their rulers and Jesus' simple birth.
The Peruvian priest Gustavo Gutierrez helps us understand this contrast:
"The Son of God was born into a little people, a nation of little importance by comparison with the great powers of the time. Furthermore, he took flesh among the poor in a marginal area—namely, Galilee; he lived with the poor and emerged from among them to inaugurate a kingdom of love and justice. That is why many have trouble recognizing him. The God who became flesh in Jesus is the hidden God of whom the prophets speak to us. Jesus shows himself to be such precisely in the measure that he is present via those who are the absent, anonymous people of history—those who are not the controllers of history, namely, the mighty, the socially acceptable, 'the wise and the learned.'" (Matthew 11:25)
At an institution of "higher education" like Augustana, we are invited at Christmas to learn that true education is more
descent
than
ascent
. It is expecting to find Christ not among the "controllers of history" but among the poor and marginalized. It is descending to the places where anonymous people are those who can best teach us hope and trust.
That celebrating Christmas among the poor seems like a radical alternative to our usual merry-making does not make it any less true to the biblical story, or any less urgent for our college, our communities and our world.
"A Call to Action" Campaign Update
Al DeSimone, Vice President for Development
We are nearing $900,000 in gifts and pledges from various members of the campus community. My colleagues and I are grateful to the 127 faculty, administrators and staff who have stepped forward to support Augustana's mission as a liberal arts college. Thank you for making this an even better place for our students.
Augustana Family News
Assistant controller
Diane McCann's
son Lance Corporal Michael McCann will spend Christmas in Iraq with the Marines. He was deployed in September for his second tour of duty, and is scheduled to return home in April.
Ken Wheeler
, new assistant director in Admissions and coordinator of multicultural recruitment, married Jane McDermott, whom he met while they were both at Luther College, on August 5 at St. John Vianney Parish in Bettendorf. Jane is a health/physical education teacher at Pleasant Valley Junior High in LeClaire.
There's something in the water at Olin, according to
Shawn Beattie
. Three ITS professionals were married within three weeks—two of them only an hour apart. Shawn married Kamy Dearborn, an executive producer at WQAD, at 1 p.m. on October 21. At 2 p.m.
Kevin Whitemore
tied the knot with Rebecca Tracy, and three weeks earlier, you recall, Beth Weber became Beth Whitty when she married Kevin Whitty (not to be confused with Kevin Whitemore).
New grandmas
Sally Cobert
in the library and
Susan Granet
in the registrar's office have full bragging rights. Last June Susan's daughter Angela Lynch '01 had a baby girl, Isabel Victoria, and her other daughter Jill King '04 is expecting her first child in March. Sally is one ahead: her second grandchild Mason Scott was born to son Scott and Amy Zaiser Cobert (both '99) just last month. Sally's first grandchild Lillian Olivia, age 2, loves her baby cousin and also waits for a new brother or sister to arrive in January. Lillian's parents are Katie and Bryan '03 Cobert.
Seen and Heard
"Curiosity. It's a great thing. It's where all adventures begin." — Tracy Kidder, author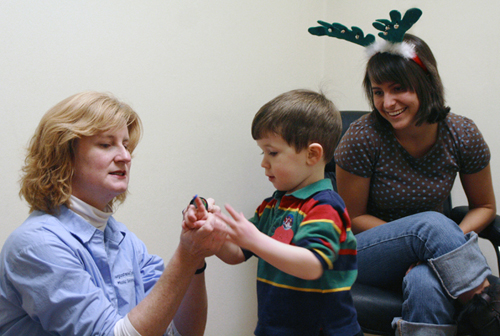 Margaret Ellis and her son Jack at the holiday carnival sponsored by the Center for Communicative Disorders.

Acknowledge
is published by the Office of Communication and Marketing. Contact
Beth Roberts
, editor. Photos in this issue were contributed by Ashley Biess '09, Kelly Morgan '09 and Vytas Vaznelis '07 of the Augustana Photo Bureau, as well as Paul O'Connor '09. To see the calendar of upcoming Augustana events, go to
www.augustana.edu/calendar
.