November 2008
Evelyn Boaden at the Augustana voting trolley, October 27
Overcast skies and chilly temperatures
did not lessen the excitement of those of us who stood in a long line outside Centennial Hall waiting for admission to the voting trolley to cast our early vote for the upcoming historic 2008 Presidential election.
There we stood, young and old, many Augustana students, checking their watches, making sure the long wait would not interfere with meeting their next classes, their young voices like bird songs. Some elderly with wheelchairs and walkers. A baby asleep in a stroller, blissfully unaware that our votes would shape the world he/she would inherit.
Many of us, I know, hoped we would make history by electing our first African-American president, Barack Obama.
Finally the time came when we were admitted into the trolley. Helpful hands reached out to assist those of us whose mobility is limited. Inside, two parallel benches facing each other seated about six people, who were screened by a voting judge to determine eligibility to vote. One at a time we were escorted into the voting area where a kindly man showed me how to use the voting machine, saying cheerfully, "It's easy." It was not only easy, but fun! A computer screen came up with lists of candidates and resolutions. Touching the boxed "X" on the screen made the selection, and touching the word "NEXT" brought up the next screen.
When I had finished voting, and was assisted down the trolley steps, I met another president—Augustana President Steven Bahls, whom I greatly admire. He assured me that in spite of my 95 years of life, I shall vote in two more presidential elections. (My first vote was for F.D. Roosevelt in 1936.) My good friend Kai Swanson escorted me to the warm car where Dr. Dorothy Parkander, my buddy, waited for me.
One of the best days of my life!
Note: Evelyn Boaden is the mother of Dr. Ann Boaden (English).
Field Notes
Field Notes
illustrates different kinds of experiential learning that take us places off campus. In this issue, we hear from Carrie Clark '08, president of the College Republicans of Augustana, and Nicholas Camlin '10, president of the College Democrats of Augustana.
Carrie
,
graduating this fall with majors in philosophy and political science, interned for the Republican Party of Iowa during the recent presidential campaign. She will begin graduate work at John Marshall Law School in Chicago this January.


It all started with one little email. "Come volunteer for the Scott County Republicans! Contact Amanda Sebastian for details," it said. This was in July, when free time was less of a rarity. With the memory of 2006's Illinois losses still fresh in my mind, I signed up to help in Iowa. I became an intern for the Republican Party of Iowa (RPI) when Ms. Sebastian realized I was just crazy enough to dedicate most of my time to the campaign.
Within a few weeks I was entrusted with the canvassing program for all of Scott County, which included recruiting, hiring, training and supervising door-knockers. It was my first managerial experience, and it would not have been successful without the help of many dedicated Augustana College Republicans. I worked with Scott County Republican volunteers, RPI staffers and RNC staffers to make sure things went smoothly. We worked long and hard on various fronts. Rising at 3:30 a.m. to arrive in time to staff a rally in Cedar Rapids was both an adventure and an exhaustion. When Governor Palin shook my hand and thanked me for coming, though, I had a strong sense that every call, every late night, every missed lunch, every 65-hour week, would all be worth it in the end.
And though we weren't victorious ("victory parties" have always seemed ironic to me) it all has been worth it. I've made lasting connections with my fellow campaigners, volunteers and staffers alike. I saw Augie students engage in politics at a level I hadn't previously witnessed. A great group of young Republicans turned out to support the effort, even during week 10. I was grateful to have an opportunity to indulge in one of my passions, politics, before embarking on the other—law school. I sincerely hope that President Obama does well for the nation, but just in case, I'm ready and waiting to campaign for conservatism in 2010.
Nicholas
,
a junior majoring in political science, is on the Rock Island County Democratic Party Central Committee. He worked for Senator Clinton during the primaries and coordinated with the Obama-Biden campaign when they needed volunteers.
America's progress towards a more perfect union has never been illustrated better than during this campaign. We very well could have seen a woman make history as our first president or vice president; instead, we elected our first African-American president, Barack Hussein Obama.
However, the triumph of this campaign belongs not to a party or a politician, but to all the young boys and girls of the United States—whether black, white, mixed, Hispanic, Asian or another—for they now see that in this country they can be anything. The world they will now be living in is one where senseless prejudices and the highest barriers have been broken—a world completely different from what it had been for those who came before them. President-elect Obama, Senator Clinton and Governor Palin have taught us that the long struggle of the abolitionists, the suffragists and the civil rights activists was not in vain and their dream of an America where we judge character, instead of skin color and gender, has come true.
College Democrats, like everyone, are proud Americans, forever grateful for America's promise to all. Now that we have made history, there is much work to be done, and America can only get better.
New Face on Campus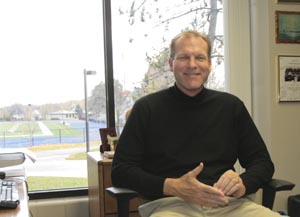 Mike Zapolski

Director of athletics
B.A., journalism (history minor), Pepperdine University
M.A., business, Pepperdine University
Dozens of press passes from his 26 years in collegiate athletics hang on a wall in Mike Zapolski's office. His dream had been to be a sportswriter, but opportunities opened other doors. While still a student at Pepperdine University in 1983, he was hired as the school's sports information director. Sixteen years later, around the time he earned his master's in business, Mike moved into athletic administration at Pepperdine.
Mike is originally from Wheaton, Ill., and his wife Stacey grew up in Dubuque and Burlington in Iowa. A "purposeful decision" to leave California and return to the Midwest to raise their three children brought Mike and Stacey to Anderson, Indiana in 2003, when Mike became director of athletics at Anderson University.
Upon learning of the athletics director's opening at Augustana earlier this year, Mike was interested because of Augustana's "terrific athletic tradition and strong academic profile. I was familiar with the CCIW, and this conference is a heavy hitter."
As the chief administrator for Augustana's athletics department, Mike oversees 21 varsity sports programs that involve 650 student-athletes. His other duties include budgeting, ensuring compliance with NCAA rules, scheduling and fund-raising. "We're a microcosm of the entire college because we interact with everyone on campus—admissions, alumni relations, faculty—and during this fall break, we will work with food service, residential life and security to take care of more than 200 student-athletes who are staying on campus."
But don't think Mike has only sports on his mind. A self-described political junkie, Mike also enjoys discussing religion. Politics and religion, two surefire ingredients for a lively conversation on or off the field.
From the Cabinet
Jeff Abernathy, vice president and dean of the college
How do we know what students learn in all that they do at Augustana, and how do we shape their experiences in response to what we know? Last week our work together as faculty, staff and administrators to craft a transformational learning environment was noted in two national publications.
We all can be proud of the achievements of our students, and no doubt all of us would welcome the opportunity to know more about how our students learn and grow. To give us more information on that question, the Office of Institutional Research has in recent years been administering the National Study of Student Engagement (NSSE), an assessment instrument that has helped us to make substantial changes to the academic program—including AGES and the addition of Senior Inquiry—to benefit our students.
Faculty developed the AGES program in response to assessments, including NSSE data, that suggested our students weren't achieving all that we might have hoped. Now in its fifth year, the program has contributed to a substantial transformation of teaching and learning in general education courses. Last week, the efforts of three faculty colleagues—Tom Bengtson, Charlie Mahaffey and Jason Peters—were highlighted in an
article in USA Today
. All of us in the Augie community are devoted to the kind of transformational learning that takes place in the classes described here.
Augustana also is mentioned in the online edition of the
NSSE 2008 Results: Promoting Engagement for All Students: The Imperative to Look Within
(see page 25). This annual report from the Center for Postsecondary Research at Indiana University (the group that runs NSSE) describes our collective work this way: "Augustana has made substantial efforts to define outcomes and assess its effectiveness in achieving them."
We know we have work to do to effectively use our data on student learning. But these recent publications demonstrate that Augustana faculty, staff and administrators are improving what has always been an outstanding education for our students.
Augustana Family News
Cathy Atkinson
(dean of students office) gave birth to a baby girl, Autumn Ryan, on October 20. Cathy and her husband Mike also have four other children: 16-year-old Teigan, 8-year-old Bailey, and Madison and Riley, both 6.
Sally Cobert
'75 (Tredway library) and her husband Mike welcomed their fourth grandchild, Alexis May, born to Scott '99 and Amy '99 Cobert on October 2. Alexis has a big brother, Mason, who just turned 2, and a golden retriever named Shelby. She also has two cousins—Lillian, 4, and David, 2—who are the children of Bryan '03 and Katie Cobert.
Seen and Heard
"He's often described as a 'dark' writer, and while that may be true, it doesn't do justice to the particular beauty and humor of his vision and style."— Rebecca Wee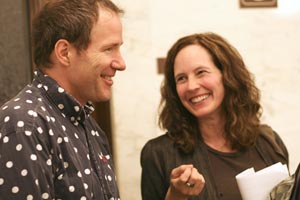 Rebecca Wee (English) introduced the writer Rick Moody, who read in Wallenberg Hall on October 23 as part of the
River Readings at Augustana
literary readings series.Acknowledge
is published by the Office of Communication and Marketing. Contact
Beth Roberts
, editor. Photos in this issue were contributed by Steve Woltmann and Kate Rogers '09, as well as Maren Mathisen '12, Matt Peters '11 and Dalsem Yang '09 of the Augustana Photo Bureau. To see the calendar of upcoming Augustana events, go to
www.augustana.edu/calendar
.