October 2008
Local media shine the spotlight on Augustana Avenue
Quad-City television and newspaper headlines
over the past several weeks have reflected similar stories found in
Newsweek
or
The Wall Street Journal—
that times are tough and the next president has a lot of work ahead.
Over the last three weeks, the communication and marketing office answered an estimated 30-40 phone calls from reporters. More than 20 of the calls resulted in published articles or television interviews on stations. Subjects ranged from the volatility of the Dow Jones, to the presidential race, to a perspective on whether Illinois should ban trans-fat foods from state schools.
Journalists say Augustana is one of the first places they look for an expert. "Augustana has easily accessible, well-informed experts I can rely on when researching a story," says Chris Williams, WQAD-TV anchor and reporter. "Sometimes stories develop quickly and require a fast response. The college has come through for me numerous times and always finds an interesting expert, with character, to add to my story."
The media also likes to talk with Augie students to hear how the next generation is thinking. "They're the economists, politicians, scientists, etc. of the future," says Jackie Chesser,
Dispatch-Argus
newspaper informational editor. "They give us a young, educated person's point of view…. It's always important for the media to give the perspective of several age, education and cultural groups."
Farm to Fork, and back
After beginning a successful program
to bring locally grown food to campus tables, Augustana will bring the cycle full circle. This spring, food waste from our cafeterias will be composted on a nearby organic farm, enriching soil for the fruits and veggies of the future.
The college has leased an acre for the project on the 65-acre farm owned by Jim Johansen, who attended Augustana. He runs Wesley Acres Produce near Milan, supplying fresh produce to Augustana and also selling at local farmers' markets. (
See a video
made by students in Charles Mahaffey's and Jason Peters' fall learning community studying conservation and environmental literature.)
Each day, a truckload of food scraps will be taken to the farm and buried. Augustana Food Services director Garry Griffith estimates the effort will save 80,000 pounds of food waste a year from going to the landfill, or down the garbage disposal. "I am excited because we are really going full circle," he said.
Cafeteria users will have to change their habits slightly. All food waste except meat can be safely composted, so diners will be instructed on how to separate out scraps that aren't usable.
Garry also hopes to convince some local schools to undertake a similar effort. He has spoken to teachers in the Rock Island school district about the program, and wants to enlist Augustana students to give more presentations. He also spoke on the topic at the recent Earth Charter Summit in Davenport.
Leftovers will start moving to the farm in November, Garry hopes. They'll be buried, probably along with manure or plant waste, to decompose in the soil, producing compost in about 180 days.

Field Notes
Field Notes
illustrates different kinds of experiential learning that take us places off campus. In this issue, sophomore Lara Cacciatore reports on exploring the Nebraskan landscape and her newfound major during the summer field course "Fossil Mammals of the Badlands."
One of the most exciting things about being a geology major is the opportunity to travel. Geologists conduct research and field studies all over the world in some of the most interesting places imaginable. I had my first taste of these experiences this past summer, during the annual paleontology trip to Shalimar Ranch.
Shalimar Ranch, owned by Bordy Munson, an Augustana alumnus, is located in the Badlands of northwestern Nebraska. Bordy, one of the nicest people I have ever met, allows Augustana to use his land for classes each summer. We camped on his land and ventured out every day to look for fossils.
The Badlands are such a calm, picturesque place. One can look for miles and miles and see nothing but geologic formations, grass and sky. We would spend anywhere from three to five hours a day out collecting fossils. Imagine walking in the heat with the sun on your back, staring at rocks and dirt for hours on end. That may sound a bit boring at first, but then imagine the excitement you feel when you see a rock that looks just a bit odd. You brush it off with your hand and scrape at it with your chisel or rock hammer, and realize it is a tooth! You spend so much time carefully chipping away at the dirt and rocks that surround it, and you are so excited when it finally comes free. You hold this jawbone in your hand and think about where it came from. The animal this fossil belongs to lived on this earth 35 million years ago. Maybe it belonged to an Oreodont or Mesohippus (ancestor of the horse). Maybe it belonged to a carnivore, or a giant pig.
Regardless of what animal it belonged to, it is part of the fascinating history that North America is able to claim. And one of the best parts of the trip was that we got to keep everything that we found. This was an amazing adventure, one I am sure that no one who has ever experienced will be able to forget.
New Face on Campus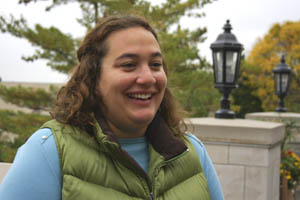 Becca Poock

Community Engagement Coordinator, Center for Vocational Reflection


B.M.E., Wartburg College
M.A., Luther Seminary
First off, Poock is pronounced
poke
, and Becca admits she was reluctant to give up her last name of Martin, which of course everyone can pronounce, when she was married this summer—about three weeks after she joined the Center for Vocational Reflection (CVR) team.
So with a new last name and a new job as CVR's community engagement coordinator, Becca is busy organizing student non-profit internships and coordinating the Fraternity Alumni Network, among other duties. In her role as director of
Augie Choice
, she is involved in discussions on how to best implement this initiative. "I don't think many people realize exactly what this allows students to do," Becca says. "The college is taking a portion of tuition, saving it for the future, and then making it available to students for programs Augustana offers—internships, international study, research. Augustana allows students to dream big, and Augie Choice gives them a way to see it happen."
When she was a high school senior, Becca chose not to attend Augustana because it was only 2½ hours away from her parents in suburban Chicago. So she enrolled at Wartburg in Waverly, Iowa, which was 2½ additional hours away from her parents. But she is no stranger to campus. While in high school, Becca attended the ELCA's Leadership Lab at Augustana for four summers through her church.
Becca's husband, Matthew—and you know the last name—is in the pastoral residency program at St. Paul's Lutheran Church in Davenport. Besides singing in St. Paul's choir, Becca enjoys reading, movies and cooking. "It's therapeutic for me to come home and dive into a recipe," she says. Becca also is a fan of kickboxing. She's interested in hearing from other kickboxing enthusiasts on campus. If she doesn't find a class soon, a punching bag may be at the top of her Christmas list.
From the Cabinet
Campaign update from Al DeSimone
My colleagues and I have been encouraged and humbled by the commitments the college has received for
Authentically Augustana: A Call to Action
. At the end of September we had gifts and pledges of nearly $93 million, which places us two full years ahead of schedule.
We are now beginning the work of reaching out to alumni, parents and other friends through a series of campaign dinners in our key markets across the country. Those who do not attend one of these events will be asked to participate in the campaign through our direct marketing effort. In all cases we will emphasize the importance of renovating Old Main.
Finally, we are grateful to members of the campus community who have supported the campaign. Your gifts, regardless of size, send a powerful message to others about the confidence you have in Augustana and our plans for the future. Thank you.
Augustana Family News
Kai Swanson
(president's office) and his family traveled to Itasca, Illinois, on October 5 for the 50th anniversary celebration of St. Matthew Lutheran Church, a congregation begun by his parents in 1958. Though Richard "Swanie" Swanson is perhaps better known here as a chaplain and administrator at Augustana from 1966 to 1999, this wasn't Swanie's first gig: he was called by the Augustana Synod immediately after his ordination to establish a new congregation in the growing suburban community of Itasca. Many charter members of the congregation welcomed back Kai's family, including his children, Olivia and Evan; his mother, Lorian Sundelius '54 Swanson; brothers Scott '80 and Craig '83; his niece, Deanna Swanson '01 Maguire and nephew Rob Maguire '00; and his cousin, Kris Sundelius '83 Lundine.
Seen and Heard
"When I got reorganized enough to look up at where I'd come from, there was Jarrat holding to his rope and looking over the eave of the roof to see what was left of me. We looked back and forth at each other what seemed a long time, and it was awfully quiet. After while he said, 'Well, are you practicing up for something, or was that itfi'"
— Wendell Berry, reading from his short story "Burley Coulter's Fortunate Fall."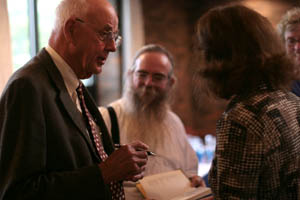 Visiting author Wendell Berry signed copies of his books in the Wilson Center.Acknowledge
is published by the Office of Communication and Marketing. Contact
Beth Roberts
, editor. Photos in this issue were contributed by Ashley Biess '09, Maren Mathisen '12 and Matt Peters '11 of the Augustana Photo Bureau, as well as former student photographer Tim Merchut. To see the calendar of upcoming Augustana events, go to
www.augustana.edu/calendar
.