May 2008
"60 Minutes" gives 12 to Partners in Health
One of Augustana's favorite success stories
was told to a national audience on "60 Minutes" earlier this month. Dr. David Walton, the '98 Augustana grad who works in Dr. Paul Farmer's Partners in Health organization, was featured prominently in a
12-minute segment on Partners in Health
in the May 4 edition of the long-running CBS news program.
"I look at you, 31 years old, medical degree from Harvard, could make a gazillion dollars back in the States, and you're in Haiti. What do you get out of itfi' Reporter Byron Pitts asks Walton.
"There's nothing I'd rather be doing with my life," Walton says. "Absolutely nothing."
The "60 Minutes" crew then accompanied Walton on a walk up a narrow mountainside trail to call on a 10-year-old patient whose living conditions are representative of the poverty he encounters daily in his work in rural Haiti. "I can't imagine turning my back on something like this," Walton tells the reporter. "Maybe some people can, but I can't and I won't. This is my life's work."
Walton spoke about that work last year when he visited Augustana's campus to present a community convocation on his work with
Partners in Health
. His visit also included a reception at the Center for Vocational Reflection and a display of photographs he had taken in Haiti.
Walton routinely makes himself available to reporters covering the organization's life-saving work. In addition to the segment on "60 Minutes," he also was profiled in a June 2007
Chicago Tribune feature
.
CVR initiates Fraternity Alumni Network
Augustana's Center for Vocational Reflection
(CVR) plans to implement a one-on-one networking program between current fraternity students and fraternity alumni, thanks to a grant from the Lilly Endowment through St. John's University.
The Fraternity Alumni Network aims to benefit students in their professional lives as they seek employment, and in their personal lives as they move into new communities, says Christie Anderson, CVR program associate. At the same time, it provides an opportunity for alumni to give back to Augustana by investing in an individual student. Both students and alumni will have a chance to engage in vocational reflection through the program.
In general, schools report that a lower number of males than females participate in vocational reflection programs. "Although the Center effectively reaches males, particularly through our Servant Leader Internship, Senior Inquiry and Athletes Giving Back programs, we are always looking to improve," Anderson says. "Twenty-five percent of the males on campus participate in fraternity groups, and our data indicates that fraternity males are not being reached by the programming the Center already initiates."
Kevin Conte '10 will be the student program coordinator on campus. The program will begin during the 2008-09 academic year.
(Track &) Field Notes
Field Notes
presents notes by Paul Olsen, head men's track & field coach and professor of English, on one of the two recent Augustana victories in the CCIW championship meets.
The first weekend in May added two conference team titles to the Augustana men's and women's teams' highly successful season. The men's team, ranked #1 in the national power rankings and fresh off a team title in Augustana's own Meet of Champions, contended with the #2 team in the nation, North Central. The track philosophies—
the journey is the goal
and
celebrate life
—created an enthusiasm evident everywhere.
Friday in the closely contested 10,000-meter race, the great distance runners from Augustana and North Central battled closely for 2.5 miles before lightning forced officials to stop the race. The storm passed, and 30 minutes later the race started again… from the beginning. Senior Dan Leonard and sophomores Dan Bailey and Chris Zook never whined or winced, but raced almost nine miles before the night was over. The two teams split the point total, and all three Augie racers made the all-time top-10 honor roll in Augustana track.
The next day, those three joined freshman Matt Bowman to again evenly split the points in the 5000-meter race (this time all four made the all-time top-10 for that race). Those points were added to a 1-2 finish in the 3000-meter steeplechase earlier in the day from Brad Holehan and Andy Kubiak. Outscoring North Central in the distance races made it clear Augustana was dominant.
The hurdlers led by national champion Ted McMillan took notice and wrapped up places 1-3-7 in the 400 hurdles and 1-2-4-5-in the 110 high hurdles, while sprinters Evan Holschbach, Mike Lucchetti, Kyle Ekberg and Matt Somers kept pouring it on with significant points in the 100-, 200- and 400-meter races.
But runners weren't the only ones who came to win. The field event men demonstrated the extraordinary balance characteristic of this team, and scored in every event led by conference champion Darin Decker. Ryan Coleman, Pat Hoefle, Tim Whisler and Jeff Lackaff earned high places in every throwing event, and several opposing coaches said, "Augustana came to compete today." Jumpers McMillan, Justin Kossak, Nate Maass and Jason Styzinski also grabbed critical points.
The meet ended with the decathlon 1500 and the mile relay. By now, Augustana held a pretty secure lead, but the enthusiasm of the team as they ran inside the track to cheer for these last racers made you think it was a one-point deficit. Senior Josh Snodgrass and freshman Alex Stake placed 2nd and 3rd in their 10-event competition, and the mile relay, ranked #1 in the nation at the time, outran three other nationally ranked teams to cap one of the best meets in Augustana track history. It was a great journey!
This year's Jaeke Award winners are…
Administration—Nancy Johnson
was hired in June of 1983 and worked as an assistant in college relations. She left Augustana in 1984, and then returned in 1989 as a development associate. In 1990, she was promoted to director of alumni relations. Nancy obtained the position of senior development officer in 1995 and was promoted to assistant vice president for development in 2003.
Facilities Services—Bob Cook
came to Augustana in 1989 as a security guard. In 1992, he took the position of groundskeeper and remained in that position until 1995, when he became the lease-option crew leader. In 1996, Bob moved to the position of project worker in building services, and in 2000 he became a member of the central receiving department, where he has remained these past eight years.
Faculty—S. Fenwick
began her career at Augustana in 1979 as a psychology instructor. In 1980, she was promoted to assistant professor, and in 1994 attained the title of associate professor. Fen became a full professor in the psychology department in 2002.
Food Service—Diane Albrecht
started as a part-time cook in Westerlin Hall at the beginning of the 2000 academic year. In 2002 she was promoted to full-time, and in April of this year Diane became the assistant manager in dining services.
Office Personnel—Sheila Scott
began working for the college in 1980 as a part-time keypunch operator for the computer center. In 1988, she was promoted to the position of payroll assistant/data entry clerk and again in 1999 to the position of payroll supervisor, where she has remained since.
New Face on Campus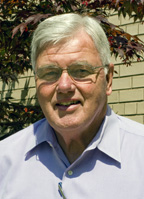 Dennis Hittle

Coordinator, Capital Projects and Environmental Practices
It's no secret that architects and contractors don't always see eye to eye. So what's a person who just happens to be an architect by education and a contractor by trade to do? Dennis Hittle has it figured out. You join a liberal arts community where you're encouraged to look at the world from multiple perspectives.
Dennis joined the college in a part-time capacity in January and says he was met with an open and friendly community. "On December 31, I was an outsider," he says. "But on January 1 I already felt I was part of the family."
Dennis's career began as a bricklayer's apprentice. He then earned his bachelor of arts in architecture from Pacific Western University and went on to serve in various project management and executive roles in the contracting industry, most recently with Russell Construction, where he holds the title of vice president. He also has served as a mediator and arbitrator for various organizations.
His experience in navigating the waters of business relationships serves as a great foundation in his role at Augustana, where he acts as an advisor on construction and "green" initiatives. He also is working to prioritize building maintenance over the next five years.
Dennis is enjoying his part-time status and the time it affords him and his wife, Connie, to work on their home. "She's a master gardener and I'm a hole-digger," he explains.
From the Cabinet
President Steve Bahls
In just a few days, our campus will be a very different place. The physical appearance of Augustana will be largely the same next week as it is this week, but the feel of the place will have changed dramatically. While there are quite a few of us who work through the summer, many colleagues and most of the students will leave here, temporarily, for summer pursuits elsewhere.
Jane, Angela and I will be joining an alumni group that's following the Augustana Choir on its Scandinavian tour. Both the alumni and choir will have the opportunity to visit Augustana's summer program in Grebbestad, Sweden, where they'll find even more itinerant members of our campus community. Other members of our community will be scattered across the globe, engaged in study, work and rest. Wherever they go, the campus awaits their return, whether as students and faculty in the fall, or as alumni some time further in the future.
I would like to thank you for all that you have done to make this campus such a vibrant place. May your summer be filled with growth, discovery and rest. And whether your return to campus is tomorrow, in August, or at some future Homecoming, know that it waits to welcome you back.
Augustana Family News
Retired Augustana professor and administrator
Michael Kirn
died May 2 at the Florida home he shared with his wife, Mary Em Kirn, professor emerita of art history. We include here a
link to his obituary
from the May 8
Argus/Dispatch
, and notes from Liesl Fowler. Liesl first worked with Mike in her role as department chair for health and physical education starting in 1998, and then again in 2004 when she replaced him as registrar (he was the director of records) for the year after he retired and consulted for the college.
"I have known few people who have had the kind heart, powerful spirit and devotion to integrity that Mike possessed. While Mike's personality was that of true gentleman—cordial, polite and professional—those who worked with him knew that his gritty determination to uphold the reputation of the college through a dedication to fair application of procedure was demonstrated in his impassioned expression. His unique ability to balance compassion with policy remains a driving force behind the admiration for his work ethic. He had a deep love of Augustana and the people with whom he worked, and his interest in our lives and the health of the college continued until his death. He will be deeply missed."
Seen and Heard
"Why is it that America seems finally ready to address these problems… I sense it is because your generation thirsts for change, and is no longer willing to wait for my generation to address these issues only one small step at a time.."— President Steve Bahls at the annual Honors Convocation, May 15.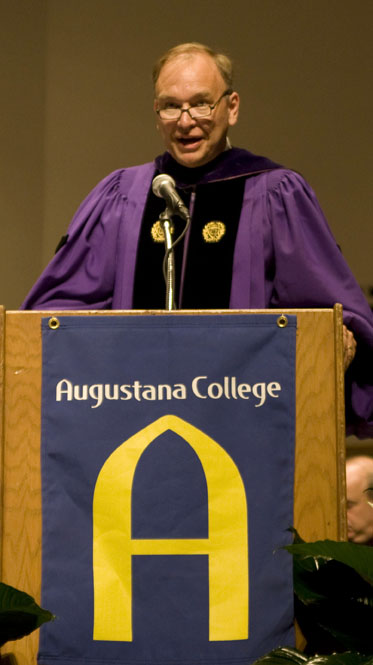 Acknowledge
is published by the Office of Communication and Marketing.
Contact Beth Roberts
, editor. Photos in this issue were contributed by Marla Alvarado Neuerburg, Kelly Morgan '09 and Matt Peters '11 of the Augustana Photo Bureau. To see the calendar of upcoming Augustana events, go to
www.augustana.edu/calendar
.