September 2008
The rising tide of The River Readings at Augustana
Creative writing here is growing
, fueled by a lot of students and their energy, teaching fellows from the neighboring Iowa Writers' Workshop, and the second year of Augustana's own literary series.
The number one goal of The River Readings at Augustana is to enrich students' experience, says Kelly Daniels of the English department, one of the organizers of the series.
The River Readings start this week
with alumna Farah Marklevits on Thursday, September 18.
"It's very exciting. For a college of our size to develop a literary readings series, I just think it's wonderful and it will bring people here who will stimulate the students," says librarian Margi Rogal.
A small committee—Daniels, Marklevits, Rogal and Rebecca Wee—put together the list of writers this year. "We just throw out names of people we know or have read, people we like as readers," says Rogal.
Daniels says suggestions for writers are welcome from the Augustana community and the Quad-Cities community as a whole. Writers often come by connection. This year, for example, Ellen Hay of the speech communication department brought The River Readings and Woodrow Wilson Visiting Fellow Marvin Bell together. The Bettendorf Public Library partnered with The River Readings to schedule poet Li-Young Lee's appearances on- and off-campus.
Rogal says the committee hopes to keep a connection going with the University of Iowa Press by including a writer from its list every year. By coincidence, she said, the first writer in the past two seasons has had an Augustana connection, something the committee also plans to make a tradition.
CSD reaches out to Casa de Guanajuato
Augustana senior Justine King
will graduate this spring from one of the only undergraduate programs in the country that includes a specialized course in Spanish speech-language pathology. For about the last five years, the departments of Spanish and communication sciences and disorders (CSD) have together provided training on working with speech development in bilingual children.
"There are no textbooks for this course," says Barbara Herrarte of the Spanish department. "We're trying to design a program that will benefit the students."
King has a double major in Spanish and CSD and plans to develop a phonetic guide this fall with Spanish-speaking adults in the Casa de Guanajuato community in Moline. "This will give speech-language pathologists normal data to compare with kids who come to the clinic," says King. "I couldn't do this type of research without the support of the Spanish and CSD departments."
The information will be invaluable as the Spanish-speaking population grows. Right now, the state of Illinois says more than 149,000 Latinos live in Rock Island County, and the U.S. Census estimates the population will triple throughout the nation by the year 2050.
King plans to go on to graduate school in Illinois and hopes to continue using her skills as a research assistant.
Field Notes
Field Notes
illustrates different kinds of experiential learning that take us places off campus. In this issue, Jane Bahls reports on traveling to Sweden this summer with an Augustana alumni group whose tour paralleled that of the Augustana Choir.
Augustana College has never forgotten its Swedish heritage. From classes in Swedish to the summer language program in Grebbestad, from smörgåsbords to Santa Lucia, the college carries traditions dating back to its founding by Swedish Lutheran immigrants in 1860. In that spirit, the Augustana Choir toured Sweden in June to help celebrate the 200th birthday of the Reverend Lars Paul Esbjörn, the college's founding president. A diverse group of 40 alumni and friends of the college enjoyed a parallel tour.
The group included alumni from Texas to Michigan to California, including some families of choir members. Steve and I joined the group, along with our high school daughter, Angie. Kai Swanson served as our capable host, along with a friendly Swedish guide, Lena Svedborg.
Imagine hearing the 69-voice choir bursting into breathtaking harmony in the marvelous acoustics of the Karlstad Cathedral, its interior gleaming white and gold. Or singing a moving reflection on the sinking of the Swedish ship Estonia, while a church full of Swedes who remember the disaster listen with rapt attention. Or soaring as one voice into the high gothic vaults of the cathedral of Uppsala on the final night of the tour. It was a foretaste of glory.
Of course it wasn't all concerts. There was laughter on the bus at Kai and Lena's commentary, good conversation over salmon and potatoes, and history coming alive in Pastor Esbjörn's charming little churches. There were gorgeous views of red wooden villages on the shores of a blue lake, shopping sprees in the gift shop full of painted Dala horses, and gasps of amazement at the hundreds of carvings on the recovered wooden warship, Vasa. People reconnected with distant Swedish relatives, rode a slalom down a mountain, strolled through cobblestone streets lined with buildings centuries old, photographed swales of lupine, celebrated birthdays and anniversaries, and kissed under the bell tower in Uppsala (to the puzzlement of our guides).
For these 40 travelers, Augustana's connection to Sweden will always be something vibrant and real.
New Face on Campus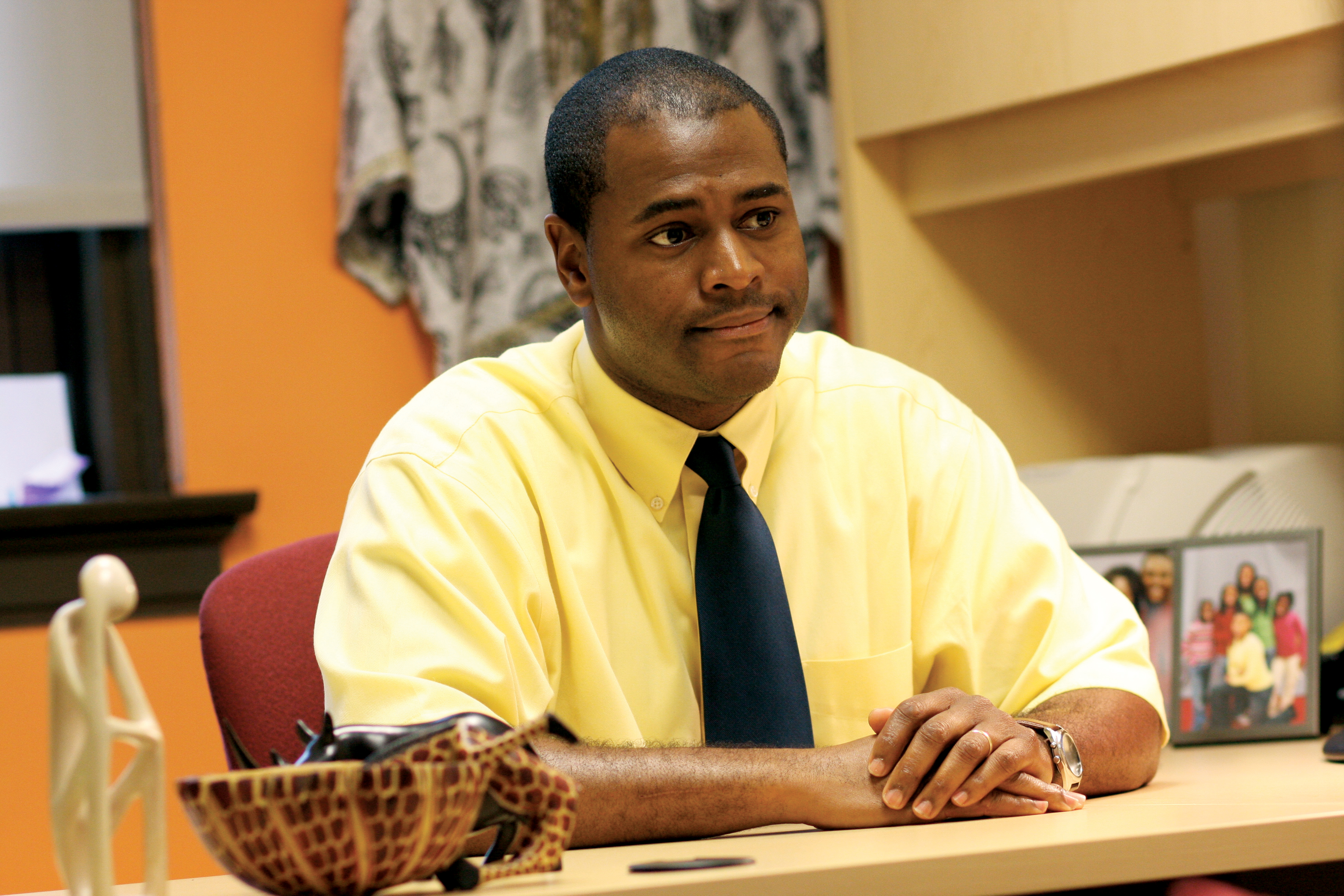 Mark AndersonAssistant Dean of Students, Director of Diversity
B.A., international business studies, Marycrest International University
M.A., education, Marycrest International University
When he was a teenager, Mark Anderson was class president and prom king, and a member of the debate team and track team (all-state honors) at Davenport North High School. Today he's the father of six daughters, ranging from 9-year-old twins to an 18-year-old Augustana student. When asked for advice on how to deal with teenagers, he laughs and offers one word: prayer.
This is familiar territory for Mark. The son of a pastor, Mark took over pastoral duties at Rock Island's Truth Temple, a diverse church family of 100 members, when its pastor—his grandmother—passed away in 2006. He will continue serving Truth Temple as he works to increase diversity within our campus community.
In his new role, Mark is charged with moving the college toward its strategic goal of growing a more diverse campus community, adding diversity programs and supporting students. "It's not about me fighting for diversity," Mark says. "Instead, I see it as creating relationships with people and helping people feel comfortable talking about diversity. That's the place to start."
His office, he wants others to know, is a resource not only for students of color. "We are here to support everyone on campus because, as I see it, everyone offers some diversity and it's to be celebrated."
Wise words from a father of six.
From the Cabinet
Steve Bahls, President of the College
The academic year is off to a strong start. We are refreshed and enriched by our new students, faculty and staff.
One of my favorite times on campus is Family Weekend. At the opening gathering, I like to talk about what makes the Augustana community strong—our shared commitment to providing our students with the best possible education, activities and learning environment. As I am reminding parents about what a great place Augustana is, I am mindful that it is Augustana's faculty and staff who make this place great. Whether it is going the extra mile to encourage our students, carefully preparing meals or keeping this campus beautiful, I am indebted to the 600 people with whom I work for making Augustana a premier liberal arts college.
Let's make the 2009-2010 academic year one of our best!
Augustana Family News
It's been a bountiful summer
of weddings and births, and the Augustana community has much news to share on both counts.
First, the babies! The most recent is Karis Marie, granddaughter of
Elma "Mooch" Gay
(Denkmann) and daughter of Jill and Josh Stoxen. "Karis" is the Greek word for "grace," and she was born on September 11. We have already heard news of the son of
Kirsten Day
(Classics) and Sean Chapman, born on August 29, but now we know his beautiful name: Harper Day Chapman.
Chuck Hyser
(education) and
Ruth Ann Hyser
(Tredway Library) note their family is expanding in wonderful ways with the birth of their second grandchild, William (Will) Andrew to parents Andy and Tina Hyser of Duluth, Minnesota. Will weighed just four pounds, born four weeks early on August 14, but he's healthy and thriving with a will of his own. The previous day,
Melinda Reamy
(purchasing and safety offices) and her husband Allen welcomed their first grandchild, Evelyn Sue, born to Lisa Reamy '02 Mattison and Paul Mattison of the Quad Cities on August 13. Meanwhile, Alyson and
Doug Tschopp
(communication and marketing) welcomed their second and third grandchildren when Fritz Tschopp '03 and his wife Stefanie had their son Lane Paul on May 19, followed by the birth of Lily Alyson to Alysa Tschopp '04 Campbell and her husband Jon on July 26. Finally, hearkening back to midsummer, you may recall that on July 10,
Lisa Seidlitz
(German) and her husband Nick Dobson welcomed Olivia Claire—who still has her strong set of lungs and full head of hair.
August 30 was a big day for Augustana weddings presided over by uncles. On that day, Anne Ghinazzi '06, daughter of Craig and
Connie Ghinazzi
(Tredway Library) married James Preszler at the Unitarian Church in Davenport. Not only did the bride's uncle, the Reverend John DeTaeye of Washington, D.C, perform the ceremony—he further stirred the emotions by providing two cases of champagne. On that same day,
Becca Poock
(CVR) married Pastor Matthew Poock in Story City, Iowa at Riverside Lutheran Bible Camp. The pastor who presided over the wedding, of course, was not Becca's betrothed but her uncle, the Reverend Chuck Koester of Boscobel, Wisconsin.
Finally, a last bit of fun athletic news: an Augustana admissions/academic affairs team composed of
Meghan Cooley
,
Jeff Abernathy
and
Rachel Gustafson's husband Bill
won the co-ed triathlon relay class in the Iowaman Sprint Triathlon held at Scott County Park on September 6. Meghan swam 400 meters in 9:52 min.; Jeff biked 15 miles in 40:02 min.; and Bill ran 3.1 miles in 19:10 min. Augie grads Jeff Paul '02 and Luke Cooley '00 (Meghan's husband) also came in first: Jeff for the overall win, and Luke for the age 30-34 class.
Seen and Heard
"I know I never felt able to do outreach like this as a college student—and though it's a small step, it is at least a step in learning social responsibility."— Dara Wegman-Geedey, associate professor of biology and first-year advisor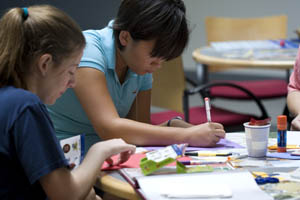 Along with Allison Haskill (speech communication), Dara Wegman-Geedey supervised first-year students as they assembled 20-page scrapbooks for local foster children, one of the self-selected group activities in this year's Fall Connection. Acknowledge
is published by the Office of Communication and Marketing. Contact
Beth Roberts
, editor. Photos in this issue were contributed by Kai Swanson and by Ashley Biess '09 and Amy Pearson '09 of the Augustana Photo Bureau. To see the calendar of upcoming Augustana events, go to
www.augustana.edu/calendar
.