April 2008
Saturdays are for celebrating
Each spring, Augustana hosts Celebration of Learning
, an event featuring poster sessions and presentations given by students to showcase their research. In the past, the event has been held on a weekday, which challenges organizers to find enough open classrooms to accommodate presenters.
For the first time, Celebration of Learning: A Student Research Symposium will take place on a Saturday, May 10, from 10 a.m. to 2 p.m. "Having it on a Saturday will allow us to schedule presentations primarily in the Science and Olin buildings, and more importantly, make it possible for more parents to attend," says Carla Tracy, director of the Thomas Tredway Library and an event organizer, along with resource librarian Anne Earel.
As of the registration deadline last Friday, 112 students had signed up to present their research. Considering the recent growth in enrollment and the college's increasing emphasis on student-led research, Tracy anticipates participation in Celebration of Learning will grow in years in come. Moving the event to the weekend will help support that growth.
New opportunities with new web software
Over the last few months
, more than 100 people in offices across campus have dedicated themselves to learning how to use the college's new content management system (CMS) software, which allows offices to easily update their website content on their own. Now that they've accomplished their goal of moving their information into the system, CMS users are now beginning to take advantage of the software's unique features to help them create truly distinctive websites.
The
Office of Admissions
has already implemented several special features, including the dynamic display of upcoming admissions events on their homepage, a calendar featuring only admissions events pulled directly from the college's master web calendar, current student profiles and several banner ads featuring upcoming visit and scholarship opportunities.
Once the Office of Admissions had decided on programs to which they would draw special attention, they contacted the Office of Communication and Marketing to help them design the graphics for the banner ads they would scatter throughout their site.
"The addition of the calendar and the banner ads to the pages we already had on our site ensures that, no matter how our visitors prefer to navigate, they will find what they're looking for," says Karen Dahlstrom, assistant director of admissions. "And the banner ads really add a lot of visual appeal."
Working closely with communication and marketing, admissions also has mapped out an ongoing schedule for the creation of new features in order to keep their site fresh and current. "With a little planning we now have a variety of options that we can implement ourselves as needed," Dahlstrom says. "Really, with these new features, our website can be whatever we choose to make of it."
Field Notes
Field Notes presents notes by pre-med major Kristin Sentman '08, one of 14 students who traveled to Nicaragua over spring break to provide medical care to the underserved.
March 2: Clinic Day, Granada, Nicaragua
Our first day at the clinic was overwhelming, at first. As we drove up to the community building and a sea of people, I think everyone had the same "what are we doing here" feeling. All over the place were family members chatting, women nursing infants, children and dogs running around, chickens pecking in the dirt, all centered around the small open-air church that was our clinic. At first it was intimidating to interact with patients, between the language barrier and nervousness of being in charge of taking the history and conducting the physical exams. But soon everyone felt comfortable, and it was amazing to hear the patients' stories. For example, there was Maricella, an 18-year-old girl with back pain and headaches due to long hours hunching over in a dimly lit factory. Or Estrellia, the beautiful five-year-old we diagnosed with parasites, who amused everyone by running around the clinic playing with her brother. It felt really good to be able to help, not only by giving medicine, but by educating on ways to improve their health, like proper cooking, using clean water, etc. Hopefully our efforts will help improve the health and wellbeing of all the people we saw today!
March 5: Clinic Day, Managua, Nicaragua
Today was another good, busy day of clinics. We went to a church in one of the poorer parts of Managua, Nicaragua's capital. A lot of the houses looked like the houses on the outskirts of Granada—very open, with children and animals playing outside, people sitting in the shade of their brightly colored homes. More garbage littered the streets here, and there was more smog from the increased population and cars… One of the most amazing stories was of Cornellia, an 88-year-old woman who came in for arthritis pain. She had raised twelve kids by herself after her husband died when she was in her twenties—girls often have children in their early teens. It was humbling to imagine the struggles she must have faced raising that many children in poverty.
March 8: Beach Day, Leon, Nicaragua
Today we spent the day playing in the waves, sand and sun! It was nice to have a day to relax on the beach, watching the waves and searching for crabs along the rocky coast, just to be able to take in the beauty of Nicaragua before heading back home to the States. I knew that going on the JETS program to Nicaragua would open my eyes to many different things, but I did not know exactly what an affirming and life-changing experience it would be. I had known before that I wanted to be a physician, but this experience has opened my eyes to global health issues and reinforced my desire to serve the underserved.
New Faces on Campus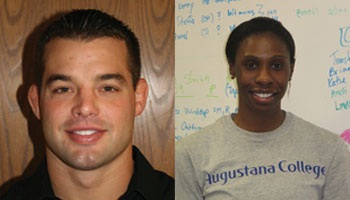 Eric Juergens, head wrestling coach

Janelle Hester, head volleyball coach


A busy year of hiring in the Department of Athletics has been highlighted by the naming of two new coaches who have competed at the highest levels. Eric Juergens (wrestling) and Janelle Hester (volleyball) both enjoyed successful collegiate careers in two of the nation's top NCAA Division I programs and will now look to continue their winning ways as coaches.
Juergens was among the sport's elite during his career as a competitor. Having never lost a matching in high school (144-0 at Maquoketa High School), he won NCAA titles for the University of Iowa in 2000 and 2001. An English major, Juergens was named the Hawkeye's Most Valuable Performer after his senior year, also earning Big Ten Wrestler of the Year honors and Iowa's Male Athlete of the Year award. He served as Augustana's interim head coach in 2007-08, dropping the interim label from his title in March. "I have always wanted the chance to work with dedicated student/athletes who are intent on attaining goals both on the mat and off," says Juergens. "We will be able to accomplish that at a great institution like Augustana."
After serving as a graduate assistant at St. Ambrose University for three seasons, Davenport native Janelle Hester spent last year playing professional volleyball in Europe. While Hester says playing for NOVA KBM Branik in Moribor, Slovenia, was a great experience, she's happy to now focus on building on the success Augustana's volleyball team enjoyed last fall. The three-time All-State player for Davenport Central High School played for the University of Tennessee and twice earned all-conference honors in the Southeastern Conference. She earned her bachelor's degree in early childhood development and is completing a master's degree in social work at SAU this spring. As a new head coach, Hester values the support of her new colleagues in the Carver P.E. Center. "Everyone here has been so helpful. There's a supportive atmosphere here that I really appreciate."
From the Cabinet
Al DeSimone, Vice President for Development
On May 2, the day after we publicly announce
Authentically Augustana: A Call to Action
, the largest fundraising effort in the college's history, we will begin the public phase of our campaign. This will be an important and exciting time in the campaign (and not just because we get to eat a lot of chicken dinners in faraway places).
The public phase of the campaign provides opportunities for our various constituencies to play meaningful roles in implementing the strategic plan. The number of one-on-one meetings with alumni, parents and other friends will intensify, and we will hold several dinners and receptions across the country. Still others in more remote locations will be given the opportunity to contribute through the direct marketing program.
The featured project in our conversations during the public phase will be the renovation of Old Main. For many alumni, Old Main is the architectural icon of Augustana College and a symbol of our commitment to the liberal arts. If the public phase goes well, we may begin work on Old Main in 2010, the college's sesquicentennial year.
Augustana Family News
Steve and Jane Bahls
are proud to announce the birth of their first grandchild, Kirana Wenxin Lynne Bahls, in Madison, Wisconsin. Kirana's parents, Timothy Bahls and Magda Widjaja, will spend the summer in Indonesia and Rock Island, and then move to California, where Magda is starting in a Ph.D. program in math at the University of California–Santa Barbara.
Mike and
Cindy Boultinghouse
(career center) welcomed their second grandson, Cooper Jeffrey Barnes, on April 8. Cooper's big brother is Cade, and his parents are Calley Boultinghouse '98 Barnes and Jeffrey Barnes.
Rick and
Sue Rector
(development) announce the birth of their first grandchild, Addison Marie Werner, who was born April 1. Addison is the daughter of two Augustana grads, Chris and Janna Peterson Werner, both members of the Class of 2003. Sue and Rick look forward to showering the new Augie family with parent and grandparent love.
Katie Reif
'02 (mathematics) married her Augustana College sweetheart Bob Volz '02 on Saturday, April 12. Bob is a resident in orthopedic surgery at the University of Iowa Hospitals and Clinics in Iowa City. For more on Katie, see "New Face on Campus" in the
March issue
of
Acknowledge
.
Seen and Heard
"They can have their cake and read it, too."— Anonymous
"Look, Mommy, a banana dog!" — Cormac Nabhan-Warren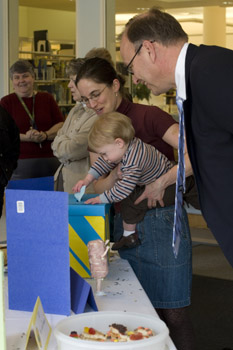 Kristy Nabhan-Warren (religion) and her son Declan place their vote at the Edible Book Festival, while President Steve Bahls looks on. As part of the Year of the Book festivities, contestants in the Edible Book Festival created edible sculptures based on characters or themes from favorite books.Acknowledge
is published by the Office of Communication and Marketing. Contact
Beth Roberts
, editor. Photos in this issue were contributed by Andrew Buelt '09, Marla Alvarado Neuerburg and Kelly Morgan '09 of the Augustana Photo Bureau. For upcoming events, see the
Augustana College calendar
.