March 2008
Students find their place at Augustana
During this time every year
, high school seniors face one of the biggest decisions of their lives, so far—where to go to college. It's a decision made more difficult by wondering what college will be like, and whether they will fit in.
A new initiative from the admissions office seeks to reassure students and help them imagine themselves as part of the Augustana community. Admissions worked with communication and marketing to create
www.augustana.edu/myplace
, a website that invites current students to share through photos and personal stories the opportunities and resources that helped them find their place at Augustana.
"We promise students that we will help them find their 'paths in life' at Augustana, but those are just words," explains Meghan Cooley, director of admissions and recruitment. "The stories and images our students share on MyPlace offer proof that we fulfill that promise."
Launched in January, 100 stories and photos have already been published. Even a couple of high school students who made a connection through campus visits have shared what they've found at Augustana. As of the end of February, nearly 1,500 people had visited the MyPlace site and hundreds of those people repeated their visits.
"The current generation of young adults really responds to personal, emotional messaging," says Lana Jurgens from the Office of Communication and Marketing. "That's why targeted 'microsites' like these are so effective in reaching out to our prospective students."
Tredway honored by Swedish Ambassador
On Monday, March 10
, Sweden's Ambassador to the U.S., Jonas Hafström, came to campus to present the Order of the Polar Star (
Nordstjärneorden
) to Dr. Tom Tredway, president emeritus of Augustana College, in recognition of the many ways he has nurtured Augustana's ties to the homeland of its founders.
Ambassador Hafström, his wife, Eva Hafström, and Swedish Consul General for Chicago Kerstin Lane were all guests at a dinner held in the Wilson Center for Dr. Tredway, who was joined by his wife, Kate Tredway, his daughter, Rebecca, and several friends and former colleagues. President Steve Bahls spoke about his predecessor's role in building up Augustana's international study opportunities in Sweden, and noted the many students from Sweden who came to Augustana during Dr. Tredway's presidency.
President Bahls also noted that the campus enjoyed three royal visits during Tredway's 28-year administration. "Thanks to Dr. Tredway, our ties to Sweden remain strong today, and we look forward to their continued growth this summer as the Augustana Choir presents a concert tour in Sweden," Bahls said.
During his remarks, Ambassador Hafström noted Augustana's upcoming sesquicentennial, and offered to help the college arrange for a visit by Swedish royalty during the anniversary year of 2010. The last royal visit to Rock Island occurred in 1996, when both King Carl XVI Gustaf and Queen Sylvia came to campus.
The medal Ambassador Hafström presented to Dr. Tredway on behalf of the Swedish monarch consists of a white Maltese cross over a gold background. The center of the cross is a blue shield with an inscription referring to the North Star:
Nescit occasum
("it knows no decline").
"The cruelest month" celebrated through Lit Wits
Augustana's year-long literary readings series
will host a pair of readings by poets in April, National Poetry Month. "Lit Wits: Writers Read at Augustana" has so far featured four writers, including last week's reading of a new short story by Elizabeth McCracken. Next month, the focus turns to poetry with visits by William Logan on April 3, and Kerri Webster on April 17, both reading in Wallenberg Hall at 7 p.m.
Hearing an author read from his or her own work is "magical," says Margi Rogal, who is coordinating the series on behalf of the Tredway Library. "When you hear the author, you hear their sensibility and their feeling about the characters." And that's especially true for poetry, adds Rogal, "because it depends so much on inflection, rhythm and the silences between lines."
Logan and Webster are two poets at opposite ends of the career spectrum, Rogal says. Logan published the first of his seven volumes of poetry in 1982 and is both a poet and a critic who has authored four books of (often withering) criticism, including the winner of the 2005 National Book Critics Circle Award for Criticism,
The Undiscovered Country: Poetry in the Age of Tin
. Webster's first poetry collection,
We Do Not Eat Our Hearts Alone
, was published in 2005. A graduate of Indiana University's creative writing M.F.A. program, she is a Writer-in-Residence at Washington University in St. Louis.
These readings will conclude the inaugural year for Lits Wits, which has been sponsored by the Institute for Leadership and Service, the Tredway Library, the English department and the Office of Academic Affairs.
Field Notes
Field Notes presents Ashley Biess '09, one of the principal horn players in the Augustana Symphonic Band, who sends notes from the band's spring break performance tour of the Midwest.
March 3: Oswego, Illinois
On Monday evening, we performed for a large crowd in the school's auditorium. Most of the audience was Oswego High School alumni with no connection to Augustana, but who attended because of the music we would perform—specifically the Barnes' Third Symphony. The story goes that nine years earlier, a teacher from the high school had been killed in a car accident. It was a very emotional time for the students. Around that time, the band students started working on the third and fourth movement of the Barnes symphony, a musical masterpiece about great tragedy that evokes some of the deepest, darkest emotions of the human spirit. Doctor Lambrecht had been doing a clinic with the students to help them play the symphony to the best of their abilities. Many were disappointed that they could only play the second half of the piece. Doc promised two students, in particular, that if they came to Augustana they would get to play the entire symphony. Those two girls were seniors on the ensemble tour this year… and so it was a promise fulfilled. Our audience was excited to hear the symphony in its entirety, and we were equally thrilled to perform it for them.
March 6: Colorado Springs, Colorado
At our first destination in the mountains, we were welcomed by Bethel Lutheran Church. The pastor, an Augustana alumnus, was more than happy to have our band perform for his congregation.
The commander of the Air Force Academy Band, Larry Lange, attended our concert that night. He had been involved with commissioning and recording Barnes' Third Symphony. We later found out he was so impressed with our performance, that the band now has an open invitation to perform at the Air Force Academy any time we choose.
March 7: Breckenridge, Colorado
Only a few hours before arriving in Breckenridge, we had enjoyed the beautiful weather at the Garden of the Gods. Now at an altitude of 10,000 feet, we were walking on top of snow- covered mountains. Though we didn't get to ski, we enjoyed Breckenridge and its scenery before heading to Summit High School for our seventh concert. We would drive to Boulder, Colorado for our final concert the next day.
It was a grueling tour with eight concerts in only ten days. Mornings and afternoons were exhausting, and I sometimes felt like we would never get off the bus. But when it came to concert time, everyone would put that aside. We came to make beautiful music, and every night that's what we did. I couldn't think of a better way to spend my spring break than to travel to the mountaintops with the most passionate ensemble I have ever been a part of. The experience will surely last me a lifetime.
New Face on Campus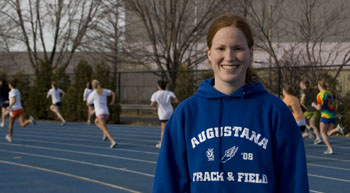 Dr. Kathleen Reif '02, visiting assistant professor of mathematics


B.S., mathematics and computer science, Augustana College
Ph.D., mathematics, The University of Iowa
When Katie Reif '02 was in her first year at Augustana, mathematics professor Jon Clauss asked her what she wanted to do in life. She wasn't sure. "When he then said, 'My job is the perfect job,' that's the first time the idea of teaching mathematics crossed my mind," she remembers.
Katie came to Augustana to work toward a pre-medicine/biology major and take a few math classes on the side. But taking math classes as electives didn't seem to be enough. She changed her focus and concentrated on mathematics and computer science. After Augustana, she studied topology in graduate school at the University of Iowa, and earned a doctorate in mathematics last July.
Today, she's excited to be in her alma mater's mathematics department as a colleague of her former professors. She also assists with the women's track and field team, which also is familiar territory for Katie. She competed in the high jump, triple jump and javelin events for the Vikings.
Next month, Katie will marry Bob Volz '02, who is in residency at the University of Iowa Hospitals and Clinics. Though they were friends while attending Augustana, they never dated. But informal get-togethers with Augustana classmates during the summers and holidays kept them in touch, and well, it's an equation that works.
From the Cabinet
W. Kent Barnds, Vice President of Admissions and Enrollment
The months of March and April are very important for those of us on college campuses. The place buzzes with prospective students returning for scholarship receptions, overnight visits, yield events and all kinds of "final looks." For most admissions officers, it's a time of nervousness as we contemplate each detail of a student's final visit: Will the prospect connect with his host? Will she enjoy her class? Will we make them feel welcome? Will it rain, or even snow?
However, for me, the typical unease simply does not apply. Maybe it's bold—particularly when we are trailing in tuition deposits for the fall—to say I am not nervous about the things that typically concern admissions officers this time of year. But, before you label me overconfident, allow me to explain.
Simply put, I believe in the value of the Augustana experience and what it does to shape the lives of students. I am confident the people who comprise this community—students, alumni, faculty and staff—all make Augie a special place. Most importantly for this time of year, I know that prospective students and families sense it, too, when they are part of our community for a day. My confidence this time of year has little to do with me, and everything to do with the people who give their all to make Augustana shine. I am confident our faculty will impress prospective students in and out of the classroom. I am confident our current students will welcome and inspire prospective students to be a part of our community. I am confident our staff will go out of their way to accommodate visitors.
I am confident because these are the things I witness each day from each of you. It would have been easy to write a column that suggested a "call to action" to mobilize the community to roll out the red carpet for these students returning to campus for a final look. However, I don't think such a mobilization is necessary. Instead, I say, do what you always do.
It would be neglectful not to mention that students will return to campus for Experience Augustana on March 30, April 6 and 13. We can hope for beautiful spring days by then, but it's all of you who are the reason our students choose Augustana.
Augustana Family News
Jane Tiedge
(Office of International Programs) and her husband Ron can boast family weddings at both ends of this summer. On September 20 their younger daughter Emily will marry Phil Stephenson, who happens to be the nephew of
Deb VanSpeybroeck
(student counseling). Their son Robert will marry Ashley Washam on May 2, and soon after he will leave for the Navy.
Allison Beck
(biology) and
Patrick Crawford
(chemistry) have love down to a science. To prove it, they're getting married on May 10 at the Quad Cities Botanical Center. They can thank Augustana for their "chemistry," since they first met at new faculty orientation back in 2006.
On March 1,
Jennifer Burnham
(geography), formerly Jennifer Horwath, married Kurt Burnham in Ascension Chapel with Pastor Richard Priggie officiating.
Seen and Heard
"The soul is liquid, and slow to evaporate…."
—Elizabeth McCracken, from her new short story, "Something Amazing."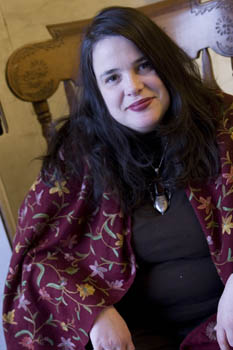 Currently on the faculty at the Iowa Writers' Workshop, Elizabeth McCracken is the author of three works of fiction—a book of short stories
, Here's Your Hat, What's Your Hurry
(1993), and two novels,
The Giant's House
(National Book Award finalist, 1996) and
Niagara Falls All Over Again
(2001). McCracken read from her work in Wallenberg Hall on March 13 as part of the new readings series Lit Wits: Writers Read at Augustana.Acknowledge
is published by the Office of Communication and Marketing. Contact
Beth Roberts
, editor. Photos in this issue were contributed by
The Dispatch/The Rock Island Argus
and Marla Alvarado Neuerburg, Ashley Biess '09 and Matt Peters '11 of the Augustana Photo Bureau. To see the calendar of upcoming Augustana events, go to
www.augustana.edu/calendar
.