February 2008
Snow removal crew ready for spring
Just past midnight last Tuesday
, Mark Steiger began plowing Augustana's parking lots, making the campus ready to open later that morning after yet another winter storm. Steiger, who heads up Augustana's grounds crew, leads a team of facilities services staff members who plow, snowblow and, most of all, shovel the campus clear after every snowstorm.
"This has been a rough year," Steiger says. "Definitely in my top five all-time." Steiger has seen 27 winters at Augustana, none of which have had as many cancellations (two) as this year. He and his crew have put in plenty of overnight shifts to make the campus ready by the time everyone else arrives for work. The grounds crew shares responsibility for snow removal with the custodial department, which is responsible for keeping building entrances clear to a point approximately 20 feet from each doorway.
In addition to campus parking lots and sidewalks, the snow removal team also clears snow from more than 50 college-owned homes in the neighborhoods near campus. While parking lots and most sidewalks can be cleared with snowplows and a pair of tractors outfitted with large, spinning brooms, there's no avoiding a large amount of shoveling at building entrances and on Augustana's many outdoor staircases.
"Being located on a hillside hasn't made it any easier," Steiger says. "Everyone is sore. Elbows, shoulders, backs—you name it." Steiger's core snow removal team includes grounds crew members Jeff Dellitt, Gary Faley, Terry Moeller, Barhyeau Phillips, Tim Ross and mechanic Brett Stabler, who in addition to keeping all of the equipment running also plows sidewalks on the John Deere 1445 tractor.
The February 6 storm that closed campus for the day was especially hard, Steiger says, because it began as light rain overnight, making the bottom layer a heavy slush that later turned to ice in some areas of campus. Several days after the storm, the snow crew was still removing piles of snow with a Bobcat bucket loader and dump truck.
"This has been a hard year for everyone here who works on snow removal," says Sharon Cramer, director of facilities services. "They've shown a tremendous amount of dedication by working through the night and all day long in cold and snowy conditions."
Love, liberal arts style
It's one concept upon which
our educational program is founded—the value of examining a topic from multiple angles. So it was in the spirit of the liberal arts and of Valentine's Day that we invited a diverse group to explore the concept of love. Some shared their own thoughts while others pulled from their academic disciplines to help us understand this much-talked about, little understood topic:
"Having grown beyond fear and greed, love is the indispensable attachment for the forest dreaming in the summer sun."
Bo Dziadyk, biology
"Love takes all we have and gives us all we are."
Ann Boaden, English
From a study of individuals who were "truly, deeply, and madly in love":
"… viewing pictures of loved ones was associated with heightened activation in the middle insula and the anterior cingulate cortex, areas that have been associated in prior research with positive emotion, attention to one's own emotional states, attention to the emotional states of social partners, and even opioid-induced euphoria."
(Diamond, L. M. (2004). Emerging perspectives on distinctions between romantic love and sexual desire. Current Directions in Psychological Science, 13 , 116-119.)
Mark Vincent, psychology
"
L'amour ressemble fort à la torture ou à une opération chirurgicale
." (Baudelaire)
Translation: "The act of love strongly resembles torture or surgery."
Taddy Kalas, French
(and she notes "it's better in French.")
"Eros, unconquerable by might,
who raids our possessions,
who sleeps the night on a girl's soft cheeks:
you stalk across oceans and in abodes beyond paths.
No one can escape, neither gods living forever
nor humans that live for a day.
To hold you is to be mad."
From
Antigone
(fourth chorus, lines 781-90)
Thomas Banks, classics


"Love is like a roller coaster; it has ups and downs, but keeps going round and round. It's a wild ride but it's a yippy-skippy of a good time!"
Connie Huntley, campus ministries
Field Notes
Field Notes
brings a letter from Jan Keessen (English), who is on the Augustana winter term in remote Holden Village outside Chelan, Washington, where, among other adventures, she is teaching the art of letter writing. The following is a response to a letter sent by the editor, but is meant to be for all of us.
Dear Beth,
Living here is like living in calendar country, but what the Holden pictures won't tell you is that beauty can be risky. I was reminded of that when we watched a small herd of mountain goats, with their shaggy grace and dust mop bodies. They leaped with rim rock precision from one precarious ledge to another, followed by two kids, learning. The rocks rattled but no one fell.
It's risky for us, too. We've learned to be aware of avalanche zones, particularly when we hike or ski. And we are learning new words like "tree-alanche" and "roof-alanche". The mavericks keep a close eye out, and put up yellow caution tape if there's a threat.
The big sky country is big, big enough to be quiet. Big enough to allow mountains to stand and grow as you get closer. You'll feel diminished because you're small, but important because you're the only ones. At night, as big as the big sky country is, it can get really crowded with stars.
To live here you'll have to take chances, knowing the snowplow will break down, your new boots will leak, your ski bindings will break, the filling in your tooth will fall out and down a mountain, a marten will chew up your money, your partner will get lonesome and find somebody else, your studies will misfire, you'll get a letter saying your dog has leprosy, you will miss the worse kind of people, you will fantasize—a lot—about eating a greasy hamburger, and will regret you ever left what was normal.
In spite of that, you'll see the backlights rise on mountains in the east and know the dawn is here. A jazz pianist who can get the rocks to rise might gladden your day. You might meet a nuclear physicist who will tell you, sadly, that he never could find evidence of weapons of mass destruction. You'll meet a family of illegal immigrants. Or a recovering alcoholic. Or a dancer, a juggler, a card shark, a medic, a garbologist, a logger, a potter, a harmonica player, and a chemist who can figure out how long there's been water on the earth.
If you are willing to take a risk, you'll discover you too have a story to tell, and letters to write.
Happy trails to all of you!
Jan
New Face on Campus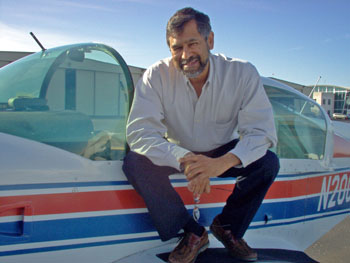 Frank Sundram

General Manager, WVIK
Whether flying, sailing or cruising along in a British sportscar, Frank Sundram knows how to get from one place to another in style. His next stop? WVIK, where he'll take over as general manager in early March.
Upon arrival, Frank will have the honor of being the only one on campus to own a Grumman Tiger, a four-place low-wing airplane. Since he earned his pilot's license six years ago, he has logged close to 700 hours. "I have flown across the country three times, into and over Canada, and once did a dog rescue, flying a pair of dogs from Hartford, Connecticut, to Tucson, Arizona, to reunite them with their owners," Frank says.
Frank's 25-year career in radio news and television production and management began at a commercial radio station in Buffalo, New York. Shortly thereafter, he moved to the Quad Cities and served as a news producer for WQAD-TV in 1982-83. "The Quad Cities has long held a special place in my heart," says Frank, who makes frequent trips to the area to visit friends outside Geneseo.
He landed his first job in public radio as a morning news host and producer at a station in Fayetteville, North Carolina, from 1987-89. He was general manager at Long Island Public Radio in New York, and most recently at the public radio station based at Gulf Coast Community College in Panama City, Florida.
Frank replaces Lowell Dorman, who has served as WVIK's general manager since 2003. Lowell stepped down from his administrative role last December, but continues as host of "Morning Magazine."
From the Cabinet
Paul Pearson, Vice President of Business and Finance
Those in attendance at the Board of Trustees mid-year conference in January had the opportunity to hear a presentation on the financial condition of the college. The primary presenter, Karen Angell, a CPA and partner with Virchow Krause & Company, focused on the financial ratios of Augustana and shared her insights. Ms. Angell is the partner on several college audits and is the coordinator of the annual ELCA college and university financial ratio project. This project entails collecting scads of operating and financial data from the 28 ELCA colleges and universities and then crunching these data into about 30 key ratios for the schools.
It is gratifying to receive "external" confirmation about the positive financial path the college has taken. This path, as elicited by the strategic plan, has directed resource deployment to occur in a manner consistent with adopted initiative implementation expectations. In other words—the college designed a plan, has followed the plan, and our journey to date has taken us in a positive financial direction. The Board's commitment to the strategic plan has been the key component to this success.
In Ms. Angell's opinion, Augustana's resources are sufficient and flexible enough to support the college mission, the college is living within its means, and the financial asset performance has supported the strategic direction. One aspect of the college's financial structure that differs from the other larger ELCA schools is the level of debt. Our institutional debt has been on the higher end for a number of years. Currently, the finance committee is developing a debt management policy similar in purpose to the investment policy used by the investment committee.
Although the general trends (as shown through financial ratio analysis) are moving in the right direction, there are many factors outside the college's sphere of control. Market and demographics changes, for example, have significant impact on financial standing. Augustana's campus community must continue to be vigilant about resource utilization and budget management into the future.
Augustana Family News
Farah Marklevits
(English and Reading/Writing Center) and
Jim van Howe
(physics) welcomed their daughter, Eloise Imogene van Howe, who rocketed into the world first thing in the morning on January 22. She was 8 pounds, 7.5 ounces and measured 22 inches long.
Continuing in the valentine vein,
Art Pitz
(history) and his wife Suzanne are pleased to announce the engagement of their daughter Emily Pitz to Jeff Jackson.
Seen and Heard
"So, I wrote him a letter, and he wrote back. And it was integral and organic, like the petals of a rose unfolding…."— Sister Helen Prejean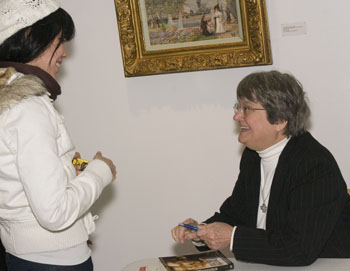 Sister Helen Prejean was appointed spiritual advisor to Patrick Sonnier, sentenced to death by electric chair on April 5, 1984. Her account of the experience became the subject of the 1995 film "Dead Man Walking." Prejean's second book
The Death of Innocents: An Eyewitness Account of Wrongful Executions
tells of a similar relationship with two death row inmates she believed innocent. Sister Helen Prejean, who speaks out against capital punishment around the country, spoke at Augustana public events on January 23 and 24. Acknowledge
is published by the Office of Communication and Marketing. Contact
Beth Roberts
, editor. Photos in this issue were contributed by Frank Sundram, Kirby Winn, Marla Alvarado Neuerburg and Matt Peters '11 of the Augustana Photo Bureau. To see the calendar of upcoming Augustana events, go to
www.augustana.edu/calendar
.