January 2008
Vietnam a go for winter term 2009
It's a fairly unusual destination
for American undergraduates studying abroad, but Augustana students will have an opportunity to study and travel in Vietnam during winter term 2009. The program is the brainchild of business administration's Ann Ericson, who has traveled to Vietnam three times since 2006. Last summer she taught accounting at the country's national university in Ho Chi Minh City. Touring and teaching in the rapidly developing country convinced Ann that Vietnam—with its people, culture and history—would be a worthy destination for Augustana students.
Ann's proposal for a Vietnam program received formal approval by the Augustana International Study Committee in October 2007. "This may seem (to be taking) a long time," says Kim Tunnicliff, director of the Office of International Programs, "but to develop and implement an academically sound program in a complicated part of the world is not something to be done in haste."
Both Ann and Kim agree that Vietnam is an excellent classroom because it (1) offers a distinctive model of political and economic development greatly impacted by free market reforms, (2) has a rich, cultural heritage and (3) played a signficant role in the late 20th-century history of the United States. "It is compelling to me that two countries that were at war 35 years ago now have diplomatic and economic ties," Ann explains. "Given that former enemies are now cooperating, our relationship with Vietnam can serve as a model for similar troubled global relationships. I think that this conflict and subsequent reconciliation are important for our students to study and witness first-hand."
Joining her on the Vietnam term will be Mariano Magalhaes of political science and David Crowe of English. Mariano and David are planning a site visit this summer.
A celebration for like minds and uplifted spirits


On Saturday, January 19
at 7 p.m., the Augustana community will join guests from the surrounding area to celebrate the life of the Rev. Dr. Martin Luther King, Jr. in Centennial Hall. This event serves as a clear example of the multifaceted role we play both as an academic institution and a member of the Quad Cities community.
As part of the group, headed by April Johnson, that coordinated Saturday's event, Kai Swanson was struck by how this celebration fits so well with Augustana's liberal arts foundation. "Few leaders in the 20th century were as effective as Dr. King in inspiring and elevating society, but his challenge to America was also deeply intellectual," he says. "This year's celebration will engage the spirits of attendees through the music of the Westbrook Family Singers, the Augustana Choir and community choral and praise-dance ensembles. But it will also engage the mind through a reading by Augustana students of extracts from Dr. King's '
Letter from Birmingham Jail
.'"
Engaging both mind and spirit, the annual celebration reinforces Dr. King's notion that in the midst of diversity, like minds can contribute to great and singular causes. It's a goal that communities remember this time every year, reminding ourselves, to quote the letter, "We must use time creatively, in the knowledge that the time is always ripe to do right. Now is the time to make real the promise of democracy and transform our pending national elegy into a creative psalm of brotherhood."
The event also illustrates Augustana's commitment to serving as a positive force in the local community. With sponsorship from Rock Island's Martin Luther King Community Center and the Rock Island County chapter of the National Association for the Advancement of Colored People, the school's celebration serves as a kickoff to the memorial celebration to be held at the Martin Luther King Center at 10:30 a.m. on Monday, January 21.
Field Notes
Field Notes
presents Norm Moline's account of a memorable event in Taipei during the recent East Asia term, and the history of human connection it brings to light. The following is an excerpt from a longer piece to appear in next week's issue of the faculty newsletter. Norm is the Edward Hamming Professor of Geography and co-director (with Marsha Smith) of the East Asia term.
This fall's East Asia term was the 13th since the first Asian program in 1974. We visited 19 cities: Kyoto, Hiroshima, Matsuyama and Tokyo, Japan; Taipei and Keelung, Taiwan; Hong Kong, Guangzhou, Guilin, Wuhan, Suzhou, Shanghai, Xi'an, Yan'an, Luoyang, Zhengzhou, Chengde and Beijing, China; and Honolulu, Hawaii.
We always time our Taiwan visit to coincide with October 10 ("Double Ten"), the national holiday celebrating the origin of the Republic of China. Each term since 1989, I have been able to secure seats for the morning event, complete with special invitations, hats and badges, for our entire Augustana group within the honored guests section adjacent to the Presidential Building. Our 85 seats represent about one-sixth of the seats available to the Ministry of Foreign Affairs. This year each member of our group also received an invitation to the special afternoon reception for dignitaries and leading business executives at the government state house.
Dressed in the best clothing we brought on the trip, we were being greeted at the door by the official national hosts when we were asked to step aside to allow the President of Taiwan, Chen Shuibian, to enter! For the next two hours in the rooms of the magnificent late Victorian building and the large inner garden, we were treated to an abundance of delicious Asian and Western food, a string ensemble, folk music, acrobatic performances, and conversations with other guests and dignitaries, including the colorfully dressed African heads of state. As spotlights on the building and small lights along the garden paths added even more fantasy to the atmosphere towards nightfall, many of us speculated as to how we, mere students and faculty from Augustana College, could attend this event, one of the most impressive receptions we will experience in a lifetime.
Students and colleagues said I must have used my "magic" to get these invitations. While I did work for these special privileges, instead of "magic" I would say
connections
. We want students to understand and enjoy that country with its version of Chinese culture just as we want them to enjoy and learn about the People's Republic of China across the Taiwan Straits. By sustaining this interest for 33 years and maintaining regular contacts with foreign affairs officials at its Chicago office, I have shown the Taiwan government that we value our connection with that country as we do with Japan, Hong Kong and China. Recognizing and rewarding this commitment, that government seeks to expand the connection by treating us as special guests for the Double Ten celebration every three years.
It is a privilege to be a co-director of this program, and to experience the value of connections through Augustana's institutional history in the region.
New Face on Campus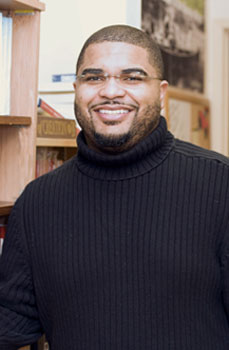 Chris Whitt

Assistant Professor of Political Science
Christopher Whitt is a man who knows how to spice up a party. Whitt, who joined the Augustana faculty last fall as assistant professor of political science, proposed to his fiancée, Ladon Wilson, before heading out for New Year's Eve festivities last month. She said yes, of course, and the two closed out the year sharing the news with friends and fellow revelers.
Whitt is a native of Baltimore who holds degrees from Salisbury State University and the University of Maryland, where he'll soon defend his dissertation, a work that focuses on the connection between race, wealth and public policy. He has developed a new course for Augustana's political science department titled "Race, Wealth and Inequality in American Politics." Whitt teaches on parties and elections, the presidency, American government and Congress.
An avid fan of the Baltimore Ravens, Whitt is following his favorite team's search for a new coach about as closely as that
other
search for new leadership in the Washington D.C. area. "We're getting a new coach," says Whitt. "So watch out next year."
From the Cabinet
Evelyn Campbell, Dean and Vice President of Student Services
By now you are probably aware that Director of Athletics Chuck Gordon has resigned to accept an opportunity at the University of Cairo. Sports Information Director Dave Wrath '80 will serve as interim director. I am extremely grateful for Dave's leadership, as I am grateful to Chuck for his excellent years of service to the department and the college. While we are in good hands for the rest of the year, this change gives me an opportunity to reflect upon changes in athletic recruitment over the past several years and to think about the future.
Through the years, our athletic department has contributed in significant ways to Augustana's reputation for excellence (for example: our status as fifth in the nation on the Academic All-America list). We believe Augustana students should be as successful on the playing field as they are in the classroom, and this is why our goal is to finish first or second in the CCIW Conference at least once every four years.
In recent years, it has become increasingly difficult to maintain competitiveness as other colleges have aggressively sought higher percentages of athletes in their first-year classes, and as other institutions have targeted our niche in the market. Students who qualify for admission to Augustana, and particularly student-athletes, have many options. Even if Augustana is the stronger school, they may find it difficult to choose our college when offered a financial reward at a less selective institution.
To recruit athletes, it now takes an effort approaching a full court press. In addition to personal contact from coaches, we rely on help from faculty; attractive, up-to-date facilities; and programs and activities that engage students the moment they arrive on campus. We have been successful this far, but it is not going to get easier. Augustana will continue to rely upon your help as we move forward under the leadership of a new athletics director.
I sincerely thank the many people on campus who support our student-athletes by participating in the recruiting process, by coming to games, and by understanding what it takes for student-athletes to reach their goals.
Augustana Family News
A little after 9 p.m. on Tuesday, January 8, Laura Evans Mahn (wife of
Jason Mahn
, religion) gave birth to Gabriel William Mahn. Gabe weighed in at 7 lbs., 1 oz., has lots of dark hair, and looks nothing like either of his parents! He's adjusting to new life at home, as is his older brother, Asa. The Mahns want to thank the Augustana community for all the thoughts and support it has extended to them.
Seen and Heard
"You will never be more powerful than you are in the voting booth."— Callie Crossley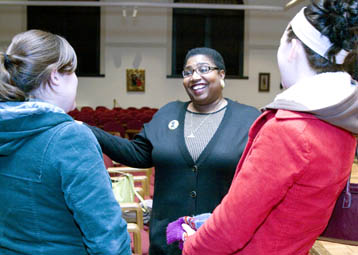 On Wednesday night in Wallenberg Hall, journalist and media commentator Callie Crossley spoke on the topic of young people's involvement in politics. Crossley was the Woodrow Wilson Visiting Fellow sponsored by the Institute for Leadership and Service.Acknowledge
is published by the Office of Communication and Marketing. Contact
Beth Roberts
, editor. Photos in this issue were contributed by Marla Alvarado Neuerburg, Kelly Morgan '09 and Matt Peters '11 of the Augustana Photo Bureau. View photography by photo bureau members at Augustana Sights and Sounds, 6-9 p.m. on Friday, January 25, at Bucktown Center for the Arts in Davenport. To see the calendar of upcoming Augustana events, go to
www.augustana.edu/calendar
.