December 2007
Tom had this great idea…
As a student representative
on Augustana's Educational Policy Committee, Thomas Williams '06 had a big idea. What if every student could study overseas without paying extra for the opportunity?
"I knew the committee would take me seriously if I put together a good proposal, so I talked to some friends and we got to work fleshing it out," says Williams, who proposed an increase in tuition that would underwrite student funding for international study programs.
He developed a proposal that would evolve into "Augie Choice," a program announced last week (and
covered favorably by Inside Higher Ed
) that will provide each Augustana student a grant of up to $2,000 for international study, research or a service-learning project during the student's junior or senior year. Augie Choice will be funded through an increase in tuition that will apply to students who enter in fall of 2008 and beyond, with the first Augie Choice grants to be made when members of the class of 2012 are in their junior year.
Augustana students will use Augie Choice grants to fund a wide range of projects and programs, including, by way of example: airfare and fees for international study, a stipend for an otherwise unpaid summer internship, materials for a service-learning or research project, or travel and registration to present research at a national conference.
President Steve Bahls notes the college has long provided a limited amount of special funding for student research, international study and service learning. "But Thomas' proposal pushed the college to extend these opportunities across the board," says Bahls. "Through Augie Choice, we'll see more students take advantage of experiential learning than ever before."
What should we read? (part two)
On November 8, Associate Professor of English Dr. Laura Greene
gave the final lecture in this year's 10th anniversary season of the Frieze Lecture Series, a collaboration of Augustana College and the Rock Island Public Library. Her talk continued the discussion started a week earlier, when Dr. Roald Tweet addressed the question, "What should we readfi"
Greene recalled Tweet's advice to read what challenges us, and added the notion that "much that is challenging is a re-vision of what we thought we knew." For example, Tweet had pointed out that most readers of Frost's poem "The Road Not Taken" assume the poem's speaker took the "road less traveled," when actually, the speaker admits, the two paths were basically the same. Greene drew our focus to the end of the poem, where the speaker imagines that in the future he will tell of how he "took the one less traveled by…." Why tell us that he took one road, and then inform us that he'll tell it differently in the future? What should we make of the storyteller who contradicts himself, and doesn't seem to mind that we notice?
Frost's poem is one example of the differences and similarities between the stories we tell and the actual lives we live. Many literary works "suggest the complexity of that question," she says. "Simply by selecting the events we tell and the order in which we place them, we suggest what's meaningful, as well as what's not." Yet one problem—or promise, depending on how you look at it—is the question of what's true. Greene recalls author
Tim O'Brien's concept
of the "happening truth" vs. the "story truth." Which is the greater truth?
Whether we relay our experience as a tall tale or the gospel truth, our stories or narratives portray what's important to us. Greene says, "We'll have a richer understanding of our own lives if we understand the way we use narrative strategies to make them orderly and meaningful." She also urges us to read those works that comment on themselves, that draw the reader into the process and blur the line between literature and life.
Field Notes
Field Notes
presents notes by Special Collections Librarian Jamie Nelson on her family's trek to the annual Augustana Christmas celebration in Andover—a service at the Augustana Lutheran Church followed by caroling in the Jenny Lind Chapel.*
At the Andover Christmas celebration earlier this month, my husband Eric Anderson '99 and I thought about our wedding as we joined the line of people making their way in the wintry night from the Augustana Lutheran Church to the Jenny Lind Chapel.
Our entire wedding party—including pastor, organist, bride and groom—had totaled 15 when we were married in the Jenny Lind Chapel in June 2003. Eric's childhood pastor from east central Kansas was the officiant, which was fitting, seeing how this same pastor (an alumnus) first brought Eric to visit Augustana in 1995. We'd chosen the Jenny Lind Chapel because of its simple beauty, and because it was both neutral and special for us at the same time. Neither of us had strong memories attached to the Chapel just yet, and it represented something different about Augustana for each of us. For Eric, it was a small step removed from Ascension Chapel, and for me, it was the embodiment of the paper history of Augustana College and the Augustana Synod so faithfully preserved in Special Collections.
That June morning had been as warm and humid as we had expected, and we were glad to have scheduled our wedding for 8 a.m. We wanted to catch a cool summer breeze, as well as start our trip to Alaska in the afternoon.
This December evening offered just the opposite weather; it was dark, cold, snowy and icy. We chose to come out on this night, nearly the calendar-opposite of our anniversary, to start another Jenny Lind Chapel tradition. Our seven-month-old son Wythe was bundled up like the Stay Puffed Marshmallow Man and enjoyed himself immensely. He snuggled quietly during the service, softly blowing raspberries toward the end of Kai Swanson's sermon, and later gazed in wonder at the students gathered close to him singing Christmas carols and hymns in the Chapel. We hope to make this night a tradition for Wythe, so that he, too, may have his own fond memories of the Jenny Lind Chapel.
*The event is a tradition that has inspired many, including Ann Boaden of the English department, author of the short story "One Christmas in the Darkness of the Plains."
New Face on Campus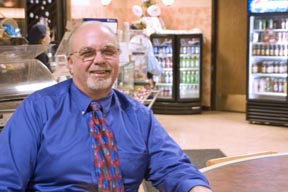 Garry Griffith

Director of Food Service
If you're someone who appreciates the difference between real mashed potatoes and the instant kind, you'll notice Garry Griffith's commitment to quality. Augustana's dining and catering operations will move to all fresh vegetables and real mashed potatoes next year, and that's just one of the changes Garry will implement as part of his ambitious and progressive agenda.
Garry came to Augustana last September after spending most of the last decade in college and university food service in southern California. The Indiana native returned to the Midwest eager to implement new ideas about large dining operations which are routinely practiced on the west coast.
This includes taking a hard look at his area's impact on the environment. His early accomplishments include a move to green packaging for Augustana's "grab-and-go" products, and he's working with local farmers and food service managers from other colleges to establish a Farm to Fork program that will increase the use of organic, locally grown products. "With locally grown food you get a better tasting product that's better for your health and better for the environment," Garry says. Augustana's cooks will start using locally raised beef in January.
A graduate of the Culinary Institute of America who began his 30-year career in food service as a chef, Garry does enjoy cooking in his own kitchen, especially when it means spending time with his wife, Linda, and their two children Sarah, 21, and Matt, 16.
From the Cabinet
Pastor Richard W. Priggie, College Chaplain
In the first of C.S. Lewis' Narnia Chronicles,
The Lion, the Witch, and the Wardrobe
, the White Witch, who has put Narnia under a spell in which it is always winter but never Christmas, turns Mr. Tumnus the faun into a statue of stone. When Lucy Pevensie and her three siblings come back to that world, they are keen to free him. The wise Mr. Beaver tries to re-direct their energy. "The quickest way you can help him is by going to meet Aslan," said Mr. Beaver. "Once he's with us, then we can begin doing things." Aslan, of course, is the Great Lion and the rightful ruler of Narnia.
However, Mr. Beaver adds, "Not that we don't need you, too. For that's another of the old rhymes: 'When Adam's flesh and Adam's bone sits at Cair Paravel in throne, the evil time will be over and done.' So things must be drawing near their end now that he's come and you've come."


Now that he's come and you've come.
Both Aslan and the children are needed to break the witch's spell.


Now that Christ has come and we have come.
Now that the kingdom has come, we must be ready for the kingdom, not standing still.
Which is the greater danger, after all…that we will think too much of ourselves, attempting to do what only God can do, or that we will think too little of ourselves, passively waiting for God to do what we must do for ourselves and for our world?
Christ comes among us again this holy season so that we can begin doing things in his name. Let us be found doing Christ-like things this Christmas.
Augustana Family News
After 43 years of dedicated service to Augustana College,
Kathleen Stout Nelson
(geography, geology, Fryxell Geology Museum and John Deere Planetarium) will retire in January. Kathy was hired in 1964 as the part-time secretary in the natural sciences division. In 1996 she graduated with honors from Augustana with a degree in English. Her 43 years at Augustana give her the distinction of being the employee with the most seniority (in second place is Steve Backmeyer, hired in August of 1966, with Paul Olsen a close third, arriving to teach in September of that year). The campus community roundly and heartily thanks Kathy Nelson for her generous dedication all these years. Congratulations, Kathy!
Congratulations also go to
Christine Aden
(library), who graduated from UW-Madison on December 16 with her master's degree in library science, and to
Ritva Williams
(religion), who was ordained into the ministry of the Evangelical Lutheran Church in America last weekend at All Saints Lutheran Church in Davenport. The Rev. Dr. Williams has accepted a call to serve as part-time associate pastor at Davenport's Zion Lutheran Church, a responsibility that will add—in more than one sense—to her role as associate professor and chair of Augustana's religion department.
Jason Singer
(biology) and his wife Catherine will be planning birthday cakes along with future Thanksgiving dinners. Over Thanksgiving break, they welcomed an addition to their family: their son Noah Kenneth Singer was born November 26, weighing a hefty 9 lbs. 5 oz. and measuring 22 inches.
Cathie and
Fred Whiteside
(athletics) had always wanted to go to Hawaii, so the week after Thanksgiving they celebrated their 30th anniversary with a seven-day cruise around the islands. It was a wonderful experience that Fred recommends to everyone, but its glamour could never replace their honeymoon in 1977: two days at the LeClaire Hotel in downtown Moline, followed by a week at the national track meet in Kalamazoo, Michigan, where the newlyweds stayed in the Calvin College dorms and spent their days cheering for our team.
Jennifer Horwath
'97 (geography) and Kurt Burnham will be married in Ascension Chapel on March 1. Jennifer and Kurt met in Greenland while doing research for their respective Ph.D.s. In January, Kurt will defend his dissertation at the University of Oxford. The couple look forward to being "the Drs. Burnham" together.
Seen and Heard
"I had believed it when we recited, '… indivisible, with liberty and justice for all.' So it was a shock to my system to find that I was not included. That I could be brutalized, hazed by state militia, stopped from going to school."— Minnijean Brown Trickey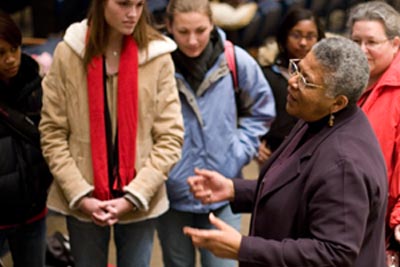 Minnijean Brown Trickey was one of the "Little Rock Nine"—nine black teenagers who in September 1957 made history when they enrolled and entered the doors of whites-only Central High in Little Rock, Arkansas, thus beginning a tumultuous transition to a desegregated school system. Brown Trickey spoke about the experience at the December 13 community convocation.

Acknowledge
is published by the Office of Communication and Marketing.
Contact Beth Roberts
, editor. Photos in this issue were contributed by Marla Alvarado Neuerburg, Kelly Morgan '09 and Steve Quinlan '09 of the Augustana Photo Bureau. To see the calendar of upcoming Augustana events, go to
www.augustana.edu/calendar
.