November 2007
What should we read? (part one)
The Frieze Lecture Series
, sponsored by Augustana College and the Rock Island Public Library, ended its 10th anniversary season with two lectures on the practical yet compelling question, "What should we readfi" The lecturers, professor emeritus of English Dr. Roald Tweet and associate professor of English Dr. Laura Greene, addressed the value of the inquiry and headiness of the pursuit, and also answered the question.
Before a large and well-acquainted audience in the library's community room on November 1, Roald Tweet sat on the edge of the stage and proposed the issue of the classic book and the well-read, well-rounded reader. He began with a brief history of the Western literary canon, a secular version of the religious canon—the Koran and the 66 books of the Bible. The early canon was a compendium of books written by authors such as Shakespeare, Shelley and Keats—those greats whose "job was to purify rough souls" in the American school system—and didn't include those muscular, sensual authors Whitman or Melville, let alone women and minorities. That's why the canon, described by Tweet as "bogus," all but disappeared between the 1960s-90s. In its place we have a mind-boggling array of excellent books, both old and new classics, written by people all over the world.
Tweet does rather miss "the good old boys," and maintains it's now impossible to be a truly well-rounded reader. But the great variety of options still prompts the question, "What should we readfi" His answer is to read what challenges us, to stretch the imagination, heart and mind, and consider ourselves, as readers, part of the creation process. If "a great writer is ahead of his time," as he says, then readers should search out those books that bring them right to the edge. "We will never catch up to Hawthorne or Lessing," says Tweet, but one can "read a book that really brings it out of you. Good literature is a beginning, not an end."
To read a poem widely considered a favorite of many, yet stranger than we may think, read "
The Road Not Taken
" by Robert Frost. This poem ended Tweet's lecture and will prepare you for part two of this series, in the December issue of
Acknowledge
.
Augustana volleyball bounces back
Coming off a 6-24 record in 2006
, head volleyball coach Stacey Ruff looked for improvement in 2007, but even she wouldn't have predicted the tremendous turn-around that was ahead. "Our goal was to get back in the top half of the conference," said Ruff, whose Vikings compiled a 22-13 overall record, including a 6-1 mark within the College Conference of Illinois and Wisconsin (CCIW), good for second place in the conference. Ruff's squad won five straight CCIW matches before losing to conference champion Carthage College in late October.
As her team kept knocking down conference opponents, those modest pre-season goals came due for an adjustment. "After the loss to Carthage, we met as a team to set our goals for the rest of the year," Ruff said. Having raised their sights, the Vikings exceeded their new goals by winning 22 games and playing in the CCIW tournament championship.
It was a comeback year that has earned Ruff, her assistants and her players the respect of their peers, says Chuck Gordon, director of athletics. "Stacey, her coaching staff and the team worked extremely hard through the off-season last spring and in pre-season this fall," said Gordon. "Their hard work, both in recruiting some outstanding freshmen and in reestablishing the team's confidence, allowed them to pull together and display their talents. The team had a great season, one they hope to build on for next year."
Looking ahead to 2008, Ruff said, "In our post-season meeting I told the team, 'You know what happens when you meet expectations? Those expectations get higher.'"
Field Notes
Field Notes
presents a summary by Dr. Arthur Pitz (history) on "Service Learning for a Cemetery." On October 19, four Augustana history students presented a workshop on this topic, under Pitz's direction, at the annual conference of the Illinois State Preservation Society in Springfield, Illinois.
At this conference, my students Amanda McLain, Jorie Ollenburger, Zachary Spoor and Brian Taege represented their history 131 class from winter term 2006-07. They collaborated with Greg Vogele, superintendent of Chippiannock Cemetery in Rock Island, to research the lives of a number of people buried there who were connected with the Civil War. Their research has been turned into a walking tour brochure published for the cemetery.
From the brochure:
Jackson Beardsley (1832-1885)—He was married to Melissa Robison and enlisted in the Union Army in Davenport in 1864. He served in the 48th Colored Infantry and fought in the battle of Fort Blakely, in which his right hand was injured and rendered useless. After the war he became a mail carrier and would take the mail from Rock Island to Andalusia. He lived above Wilt Lundy's store on 5th Avenue and 16th Street in Rock Island. At age 40 he was a powerfully built and influential man, standing nearly six feet tall and weighing 200 pounds. Almost every colored person in Rock Island looked up to him. This powerful man gradually wasted away, probably due to tuberculosis, and after a painful six-month illness, he died at age 53 in Rock Island. He left behind his wife and their seven-year-old daughter.
At the conference, the students shared how they felt reluctant about the assignment at first, but then came to embrace the project. They learned just how to do original historical research and how to present that research in a format suitable for the general public. They found their original sources mostly among the Tredway Library's own special collections and at the Rock Island County Historical Society and Museum in Moline.
Now, cemetery visitors and descendants of the individuals researched may come to Chippiannock to learn about these people and how the Civil War influenced their lives. The students believe they have performed an invaluable service and found their work to be a "transforming experience." Greg Vogele has been excited about this partnership, and he and I look forward to taking part in future collaborative projects.
New Faces on Campus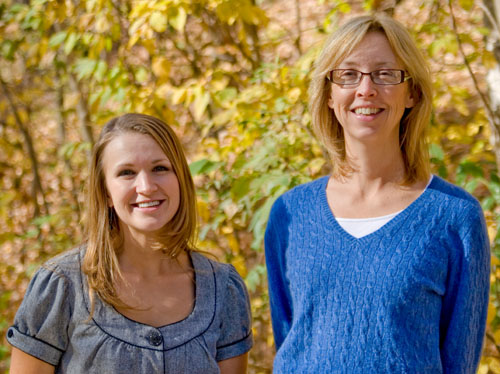 Development officers Emily Leone and Lori Roderick
She describes it as trial by fire, and she loved it. Lori Ridlbauer '86 Roderick began working as a development officer a couple weeks before Homecoming, one of the biggest weekends of the year for the development and alumni relations offices. "I was able to hook up with people I haven't seen in years," she says. "This job is all about building relationships with the college. I'm re-connecting with faculty and friends, and meeting new people and hearing their stories. There's nothing better than that."
Lori is a ceramic sculptor, and she comes to Augustana after her role as Vice Director of Programs at the non-profit Quad City Arts for six years. "I believe in Quad City Arts and what it does, and the only other place I'm as passionate about is Augustana, so I think this is a good fit for me," she says.
About the same time Lori returned to campus, Emily Leone joined the development team. The biggest problem Emily has had so far is being mistaken for a student. She raised a few eyebrows when she asked for a second parking sticker.
Emily previously worked in fundraising and community relations at John Lewis Community Services and as the public service coordinator at KLJB-Fox 18 in Davenport. "Since John Lewis was a small non-profit, you had opportunities to do a lot of different things, including development," Emily says. "But cultivation of donors is what I like to do best, so I'm looking forward to being able to focus on this one goal."
Augustana Family News
Acknowledge
presents the longest list of family news in the newsletter's history. We call it the Thanksgiving issue.
Meg Gillette
(English) and her husband Aaron welcomed their little boy Benjamin Ivan Gillette on October 5. Born at 25 ½ weeks (some 3 ½ months early), Ben was a tiny, but beautiful, 2 lbs., 2 oz. He suffered a broken rib and punctured spleen at birth, but he's a tough kid who grows more and more into his initials with every day (he's already up to 4 lbs., 1 oz). The family will remain at the University of Iowa Hospitals and Clinics until Big Ben is ready to go home.
On November 12,
Nancy Loitz
(academic affairs) celebrated her 50th birthday. To honor Nancy, friends and colleagues planned an elaborate surprise party. First, a little background: since joining Augustana in 2006, Nancy has been known for her work on the general education curriculum and with first-year advising. However, socially, Nancy has played hostess to monthly Women's Night Out (WNO) events at her home in Rock Island. All women associated with the college, or who have a friend, partner or spouse at Augustana, are welcome to attend and even bring their children. In place of the November 7 WNO event, which Nancy herself planned, party-goers turned the tables and treated Nancy to a surprise party at Huckleberry's. To learn more about WNO contact
Nancy Loitz
. Happy birthday, Nancy!
The holidays are a great time to have grandchildren around.
Art Pitz
(history) and his wife Suzanne became second-time grandparents on Halloween, when their oldest daughter Margaret and her husband Charley welcomed little eight-pound Samuel Miller Moser to the world. Their first grandchild, Sophia Elizabeth Pitz, was born December 22, 2005, just in time for Christmas, to their middle daughter Emily.
The denizens of Denkmann welcome the newest member of their family. On October 29, Mark and
Janet Vink
(Denkmann building services) adopted Charles Xavier Springer, a 14-year-old bundle of joy. The Vinks opened their hearts and home to Chuck on July 27, shortly after his custodial grandmother's death. Chuck is an eighth-grader at Geneseo Middle School and is on the boy's basketball team. He loves to skateboard, ride his bike and play video games. Please extend your congratulations to Janet, Mark and Chuck!
Wedding bells still ring in autumn… and maybe more clearly for the sharp air. On October 13, Alysa Tschopp '04, daughter of Alyson and
Doug Tschopp
(communication and marketing) married Jon Campbell in Augustana's own Ascension Chapel. On the same day but on a Cape Cod beach, John Daniel Erickson, son of
Don Erickson
(English), married Jill Santopietro, who arrived "slowly, in the family's speedboat," according to Don. Then on November 3, Evan Anderson '93, son of Ed and
Renea Anderson
(residential life), married Rebecca Pelletier in Lake Arrowhead, California.
Seen and Heard
"It's not an act of weakness to forgive; it is an act of courage and strength."— Martin Doblmeier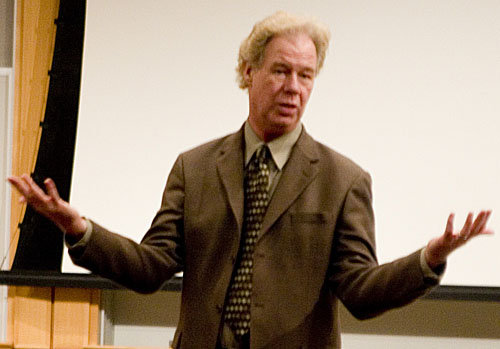 On November 11, documentary filmmaker Martin Doblmeier discussed his award-winning film, "The Power of Forgiveness," during the morning's community convocation and again that evening after a public screening of the film.Acknowledge
is published by the Office of Communication and Marketing. Contact
Beth Roberts
, editor. Photos in this issue were contributed by Ashley Biess '09, Kelly Morgan '09 and Kait Sirois '10 of the Augustana Photo Bureau. To see the calendar of upcoming Augustana events, go to
www.augustana.edu/calendar
.