October 2007
New software provides new freedom on the web
Offices across campus will soon have a way
to quickly and easily make updates to their public web pages. Recognizing the need to decentralize the maintenance of our website, the college has purchased content management system (CMS) software, which uses a web interface that allows website updates from any computer with internet access.
The CMS will give offices the freedom to manage their own pages without having any knowledge of web programming or design. The simplicity of the CMS means that the time needed to make these updates is no more than it would be to e-mail an update request to the Office of Communication and Marketing.
Communication and marketing has been working with the CMS vendor to customize the software and meeting with representatives from the college's operational areas to create a plan for how to implement the CMS across campus. After working with the representatives to identify those who will update each office's website, those users will attend one of several training sessions. After training, your office will begin to move your website into the CMS with help from communication and marketing so the site can be launched within the CMS by February, 2008.
Your operational representative will be in contact with your office to let you know how you can begin using the CMS. If you have questions in the meantime, contact
Beth Nordby
, web manager.
Hip! Hip! Huzzah! Trotter debuts as "Dr. Pamel"
Dr. Pamela Trotter traveled through time last month
to stand at the crossroads of early chemistry and the realm of magic (and to blow some stuff up). Appearing as a 16th-century alchemist, "Dr. Pamel" gave two demonstrations on the forerunner of modern chemistry during the Four Kingdoms Renaissance Faire, held September 29-30 at Rock Island's Camelot Campground.
Alchemy was a spiritual discipline as well as an early form of chemistry, according to Trotter, who holds Augustana's Robert W. Beart Chair in Chemistry. At the beginning of the 16th century, alchemists held that all matter comprised four basic elements—fire, water, earth and air—and that alchemists could shift any substance into varying forms by altering its ratio of those four elements.
"There was a mystical side to alchemy as well as a very practical side," says Trotter. "Those four basic elements have been replaced by the periodic table, but modern chemistry still has its roots in this early process of natural investigation."
Trotter's Renaissance Faire audience
ooh
ed and
aah
ed when she used zinc and flame to turn pennies into "silver" and then "gold" (really brass). And her demonstrations of potent chemical reactions that produced fire and loud noises drew the biggest
huzzahs!
of all.
The Four Kingdoms Renaissance Faire represented her debut appearance as Dr. Pamel, but Trotter, who has long enjoyed attending renaissance events with her husband, William (a.k.a. William of Trotter, a troubadour), promises more alchemy in the future. "Surprisingly, there aren't a lot of people doing alchemy demonstrations at these events. I'd like to do it again."
Field Notes
Field Notes
presents biologist and birder Steve Hager's notes from the Midwest Birding Symposium field trip to the Port Louisa National Wildlife Refuge in Keithsburg, Illinois last month.
6:20 a.m.
Our group of approximately 20 birders arrives at the refuge. Yes, too early for me, but the birds are active! Weather—gorgeous—clear skies, calm winds, air temp 45°F, and twilight giving way to sunshine. We get there early enough to hear several Great Horned and Barred Owls still vocalizing. Songbirds and waterfowl such as House and Marsh Wrens, Wood Ducks, Soras and Pied-billed Grebes are just beginning to become active.
We begin walking through the refuge toward the Mississippi. The willows, cottonwoods and other wetland plants are filled with the chip notes of Indigo Buntings and Rose-breasted Grosbeaks and the nasally "meow" of the Gray Catbird. Warblers became active in concert with their main food source, insects. We see 14 warbler species, including Chestnut-sided Warbler, American Redstart and Blackpoll Warbler.
9:00 a.m.
We make it to the river and walk along the levee adjacent to shore. Some cottonwoods have flocks of songbirds consisting of Yellow-throated Vireos, Black-capped Chickadees and Willow Flycatchers. We were lucky to identify at this time both species of cuckoo: Yellow-billed and Black-billed. Everyone is very happy to see hundreds of Double-crested Cormorants and Northern Rough-winged Swallows and dozens of American White Pelicans. Also present are other species typical of wetlands: Belted Kingfisher, Green-winged Teal, Great Blue Heron, Swamp Sparrow and Pileated Woodpecker. We sight very few raptors: only one each of the Cooper's Hawk and American Kestrel, but several Bald Eagles.
10:30 a.m.
We arrive back at the vans; time to return to the symposium. Weather—still gorgeous—partly cloudy skies, wind 3-7 MPH, and air temp 55°F. The group goes over the final tally of birds identified. We have sighted 99 species, including some rare invasive species many of us have never seen: the Eurasian Collared-Dove and Eurasian Tree Sparrow. The only thing I wish we wouldn't have done is leave the refuge so early—I would have preferred to be out there all day.
New Face on Campus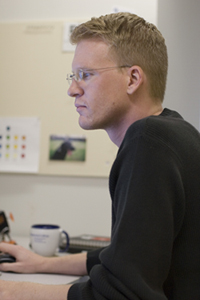 Kurt TuckerDesign Director, Communication and Marketing
B.A., art/graphic design, Illinois State University
Advertised as nothing short of a work of art, the Victory Vegas motorcycle with its long, low stretched styling seems the perfect ride for our new design director, Kurt Tucker. It seems his move to Augustana also is a good fit.
While working as the associate art director of an advertising agency, Kurt says he grew interested in working for a college or university because "no matter what you do, it goes back to the students"—as opposed to an ad agency's focus on making money for clients.
Kurt, who grew up in Fenton, Illinois, feels at home in the Quad Cities but is always looking for travel opportunities. While attending Illinois State University, he studied art for a semester at the University of Wolverhampton in England. During his stay, he and his friends explored seven other countries besides England. The next time he's abroad, he'd like to spend a week in the Tuscany region of Italy.
In the meantime, Kurt enjoys drawing, tackling home-improvement projects, and training his black Labrador named Casper, who has yet to master the art of riding a motorcycle.
From the Cabinet
Jeff Abernathy, Vice President and Dean of the College
Last Thursday, the campus came together to celebrate our collective accomplishment in reaching our goal of 2,500 students two years ahead of schedule. Recruiting a class reflects the work of all in our community. Thus our success develops from conversations each of us has with prospective students and their families on visit days, to the excellent service they receive in the dining hall, to friendly, helpful directions from security.
We thank Kent Barnds and all of our colleagues in the admissions and financial assistance offies for their efforts. As a tuition-dependent college, our success in meeting our mission depends on their success in recruiting a class. Here are just a few of many changes that have taken place in the last few years to ensure our success:
• High school students are often introduced to Augustana in their junior year through mailings and direct contact.
• The admissions process now includes an essay and letters of reference for each applicant.
• Students are encouraged to interview as a part of the admissions process (for the fall of 2007, the admissions staff conducted 1,132 interviews; of these, 800 students applied to Augustana).
• Scholarships have been restructured to make Augustana more competitive.
• The campus visit now offers prospective students a richer view of campus life.
On Thursday we celebrated another statistic critical to our growth: attrition for full-time students is at an all-time low. All but 11.3% of full-time students from last year returned for fall term. Twenty years ago, that figure was regularly over 20%.
Retention of our students is a large part of maintaining a campus enrollment. Members of the Retention Task Force have in recent years paid close attention to the factors that contribute to student attrition, and their efforts have had good effect. Among the changes we have made in recent years:
• The admissions office is working to ensure that students who come to Augustana know who we are and have a strong commitment to being here.
• The offices of athletics, residential life, student activities, counseling services and others work tirelessly to support our students and to create enriching programs.
• Our first-year classes in the LS program have been significantly reduced in size—from an average of 27 to an average of 18.
As with admissions, the efforts of every member of our community contribute to students' decisions to stay at Augustana. Thank you for all that you do to make this a welcoming community where students come to learn and to grow, and for the efforts you make every day to present the very best of Augustana through your work.
Seen and Heard
"The sound of the male Ovenbird
when it sings during the breeding season is distinctive," according to Steve Hager, associate professor of biology. "It sounds as if the bird is saying with increasing loudness 'Teacher, Teacher, Teacher!'"
Click here to hear the bird sing
.
He also sends a photo of the one and only nest he found of this species at Green Wing. The Ovenbird is named after its nest, which is built on the ground and looks like an oven. Hager notes "it's really cool how the birds set up the dome and entrance to it."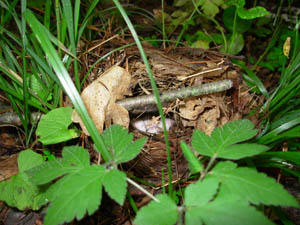 Acknowledge
is published by the Office of Communication and Marketing. Contact
Beth Roberts
, editor. Photos in this issue were contributed by Ashley Biess '09 and Kelly Morgan '09 of the Augustana Photo Bureau, as well as Steve Hager and Kirby Winn. To see the calendar of upcoming Augustana events, go to
www.augustana.edu/calendar.