September 2007
Stop me if you've heard this one…
A figure skater, a rock climber and an eagle scout walk onto a college campus…
OK, so you probably haven't heard it before, but that's because it's brand new to Augustana. The campus is bursting at the seams with a record-setting incoming class—718 students—but it's not just the large number that defines this group. These students are highly accomplished and multifaceted, traits that will undoubtedly benefit the rest of the Augustana community by creating a wider variety of perspectives and a richer experience for us all.
In addition to academic achievements such as 40 percent of the incoming class maintaining a high school grade-point average of 3.5 or higher, these students demonstrate a passion for service through participation in Habitat for Humanity, Salvation Army, Relay for Life, Locks of Love, D.A.R.E., peer mentoring, and volunteering at the local animal shelter. These students also strive to learn and develop skills in non-academic areas, as demonstrated by our black belt martial artist, the Hemingway Writing Contest finalist and the competitive equestrian.
All of these students have a story to tell, and their college experience will add some exciting chapters and enhance their narrative for years to come, just as they themselves become part of the story that is Augustana.
Parkander Completes the Picture
This month's opening of the Dorothy Parkander Residence Center
represents a significant milestone for Augustana's Office of Residential Life. The college is now able to provide Transitional Living Area (TLA) housing to every junior who desires the option. When construction was completed last August, it was the end of a process that began with the opening of the Arbaugh and Naeseth Residence Centers in 1996.
"For many years, there just wasn't enought TLA housing available to accommodate the entire junior class," says Carmen Hoppenjan, director of residential life. "The overwhelming demand indicated this was a highly desired, if not expected, housing option."
In TLA housing, students have a private bedroom and share kitchen, bathroom and living room space with their suite-mates. Much as they would in an apartment or home, students are responsible for handling their own garbage, recycling and cleaning. Hoppenjan says the extra measure of independence comes with a greater degree of responsibility. "TLA housing was established to provide an independent living experience undergirded by a support net of services designed to prepare students for off-campus life during their senior year and beyond," she says. Augustana's TLA options also include a variety of houses and apartments on the periphery of campus.
The new facility, which will be dedicated Thursday, October 4, houses 56 students in two three-story buildings that each contain seven four-bedroom suites. Special attention was given to limiting the buildings' environmental footprint throughout the design and construction process. The buildings, which feature high-efficiency furnaces, a state-of-the-art foam insulation system, double-pane energy saving windows and solar powered roof vent fans, are among the most energy-efficient on campus.
Field Notes
Field Notes
presents notes and musings by Sarah McDowell, English instructor and term coordinator for the college's first international term in Ireland, which took place last spring.
The East: Dublin in March
. It has the dirt, the noise, the insane traffic of Chicago or New York, but with Irish accents and over a thousand years of history. St. Patrick's and Christ Church cathedrals quiet the spirit; Trinity College awes visitors with the library's Long Room; a mile and a world away, Kilmainham Gaol humbles us as we learn about the struggle for Irish independence. Sun every morning, but rain every afternoon helps clean dear, dirty Dublin. Our hotel overlooks the Grand Canal, where water rushes over a mossy weir, and a statue of poet Patrick Kavanagh (1904-1967) keeps watch for ducks, moorhens and swans.
The South: Cork and Killarney
. University College Cork's main quad buildings (c. mid-19th C.) and ogham stones (c. 4th-8th C.) are massive and impressive. Farther west towards Killarney, the roads get narrower and the ruins more frequent. Most castles and forts are now inhabited by sheep and nettles. A day trip takes us to 1,000-year-old ring forts in southwest County Kerry; another to 1,500-year-old beehive huts on the Dingle Peninsula.
The West: Galway and Sligo in April
. Our bus driver Paul Kealy serenades us at dinner with "The Fields of Athenry." We visit the Cliffs of Moher and Downpatrick Head, both offering stunning views of the sea and sheer drops of 300-800 feet. Some students eat lunch at Dun Aengus on Inis Mor with their legs dangling 200 meters above churning water and jagged rocks. In Sligo, Yeats's country, we cruise the lake around his Isle of Inishfree. We tour Carrowmore, a neolithic cemetery, then climb Knocknarea and help restore Queen Maeve's cairn. (See the
mockumentary
recording this historic event.)
The East Again: Navan and Dublin in May
. St. Stephen's Green is in bloom, and Georgian Dublin's window boxes have come alive since March. We re-enact a coronation ceremony on the Hill of Tara, seat of the ancient High Kings and Queens of Ireland, and stop at the holy well whose clear waters bubble up from under the hill. At the passage tomb Newgrange, we stand in a chamber built before the pyramids of Egypt. On a windy, rainy, sunny day we tour St. Kevin's monastery in Glendalough, the glen of the two lakes, folded snugly in the Wicklow Mountains. With sun over the mountains to the west and a rainbow over the Irish Sea to the east, we return to Dublin.
New Face on Campus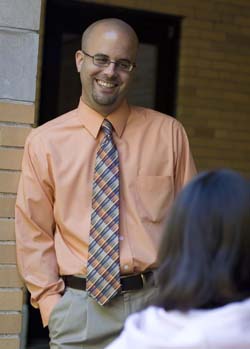 Jeremy Reed

Director, Career Center
B.A., international studies and political science, Loras College
M.Ed., educational administration–higher education, Kent State
True, he arrived this summer, but Jeremy Reed still qualifies as a new face around campus. If he hasn't been to an office near you, it's likely he will be soon as he finishes his rounds.
In addition to increasing awareness of the Career Center among, well, everyone on campus, Reed is committed to strengthening a sense of "team" among his staff, increasing collaboration among key offices and faculty and promoting local employment opportunities through increased participation in Quad Cities professional organizations.
A first-generation college graduate, Reed became interested in student affairs work by participating in orientation and student government and by leading campus tours at Loras College. He worked as an admissions counselor/assistant director at Knox College from 1998-2002, earned his master's at Kent State, and then served as director of career services at Iowa Wesleyan College for two years.
Hiking, canoeing, camping and running are favorite activities. When the weather doesn't corporate, Reed is happy to take in a science fiction movie or get lost in a science fiction novel. More covert activities include teaching his four-year-old niece to burp the alphabet.
Tip of the day: If you need a quick favor from Reed, he really likes almond M&Ms.
From the Cabinet
Steve Bahls, President
Over the summer, I had occasion to reflect on the fact that institutions, like people, have callings. Hiking with my family in the William O. Douglas National Wilderness near Mount Rainier in western Washington, I thought about the calling of our college, and whether we spend enough time thinking about Augustana's vocation.
The website of Augustana's Center for Vocational Reflection describes its work as being about helping students discern "who they are called to be." This is in contrast to the many "what" questions which bombard students. What classes best prepare me for life? What will I do after graduation? What career or further education will I pursue? The work of the Center is vital since vocation goes much deeper than these questions and in fact informs—consciously or otherwise—their answers.
At Augustana College, we've done a good job of asking the "what" questions—what we expect of our curricular plans, what to include in our strategic vision and campus master plan, and so on. We've benefited from asking such questions, and today the student body, the faculty and the college's finances are all strong.
Now, in this new year, I'd like to suggest that we all be more intentional about the deeper questions of vocation. Who are we as a community of learners, teachers and fellow travelers? How does the mission of the college inform the way we do our work and the manner in which we relate to one another?
I look forward to exploring these questions with you in the year ahead. Thanks for being part of the community that is Augustana.
Augustana Family News
Isn't this just what happens when you make beautiful music? The music department boasts four new babies born to faculty this summer:
—
Margaret Ellis
and
David Ellis
(history) began the trend when their twin daughters were born June 20—first Julia, and then Gretchen two minutes later. While "Gretchen" is German for "little Margaret," Gretchen herself has the dark hair and calm disposition of her dad and her big brother Jack. Julia on the other hand (quite literally), is the feisty one with the red hair.
—If numbers have significance, it may be especially so to James Donal Robertson—he was born to Christine and
Jemmie Robertson
on 7/7/07 at 7 a.m. Baby James was named after his great grandfather, who flew in the Pacific theater in World War II. His proud dad says James' favorite hobbies are nursing, rolling over and listening to classical music.
—
Sangeetha Rayapati
and
Michael Zemek
both sing the praises of their infant daughter Karenna Mai, born July 29. Karenna looks quite a bit like her big sister Annika did at her age, and is named for her grandmothers, both Karen.
Sarah Johnson
, Augustana's new general counsel and director of risk management, says anything from her is "news," because she is new to Augustana. However, she would especially like us to know that she and her husband Tait welcomed baby number two in May—Andrew (Drew) Thomas Johnson. Drew's big sister Gracie will be two in November. Also new to Augustana (although not really, as she was a visiting instructor last year),
Carrie Hough
, assistant professor of sociology, anthropology and social welfare, and her husband Rob Decker welcomed their first child, Eleanor Ruby Decker, on June 27 in Iowa City. —Welcome to the world, Eleanor and Drew, and welcome to Augustana, Carrie and Sarah!
Esteban Loustaunau
(Spanish) reports that he,
Kathleen Suchenski
(French) and their children Diego and Lucinda appeared on the cover of this summer's issue of the "Latino Guide to the Quad Cities." This free bilingual publication by the
Argus/Dispatch
and the
QC Latino Connection
welcomes and assists Spanish-speaking immigrants newly arrived to the area.
Wearing huge smiles,
Chuck Hyser
(education) and
Ruth Ann Hyser
(library) joyfully announce the birth of their first grandchild Elsa Werner Hyser on August 10 in Portland, Oregon. Elsa's parents are David Hyser '95 and Nancy Werner '96.
Seen and Heard
"Gives new meaning to making the bed, doesn't itfi" — Kirby Winn (who photographed first-year student Katie Storm and her father Philip Storm '84, below)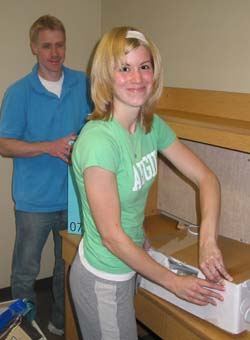 Acknowledge
is published by the Office of Communication and Marketing. Contact
Beth Roberts
, editor. Photos in this issue were contributed by Sarah McDowell and Kirby Winn, as well as Marla Alvarado-Neuerburg and Kelly Morgan of the Augustana Photo Bureau. To see the calendar of upcoming Augustana events, go to
www.augustana.edu/calendar
.