April 2007
Campus community responds to shootings at Virginia Tech
The offices of Campus Ministries and Student Counseling Services
have coordinated several ways for students, faculty and staff to express their sorrow and remember the victims of yesterday's shootings at Virginia Polytechnic and State University.
"In times like these, we find strength and support in community," said College Chaplain Richard Priggie. "Through these programs we will add our collective voice to those who express their sympathy to the students, faculty, staff and alumni of Virginia Tech."
The Office of Campus Ministries has placed message boards in the College Center's second floor lounge. Students, faculty and others are invited to write their messages of prayer and support on the large sheets of newsprint which will be shipped to an ELCA congregation near the Virginia Tech campus in Blacksburg, Virginia. The boards will remain in place through Friday, April 20.
Tomorrow (Wednesday) night, Augustana's weekly Service of Prayer and Holy Communion will include a remembrance of this week's violence. The service, scheduled for 9:30 p.m. at Ascension Chapel, will include prayer around the cross and a candle lighting for each victim. All are welcome to attend.
Later that night, college chaplains will join Mike Tendall of the Office of Student Counseling Services in an open conversation with students at 10:15 p.m. in the Westerlin Hall Lounge. "Students may be feeling shock, anxiety or grief after receiving news of this tragedy," said Tendall. "We are offering this forum to give students a place to have an open conversation about their feelings."
Field Notes
Field Notes
takes a slower approach in this issue, as Warren Fincher of the sociology department, currently on spring term in India, shares an essay on living with Indian time.
Of all the items I brought with me to India, my watch is the least useful. The Indian pace of life seems to have little use for exact measures of time. Trains run late. Slow-cooked food is commonplace. And hurrying will not get anything done that isn't fated to happen. In India, time means something different than in the West.
While in Jaipur, our group visited Jantar Mantar, a field of dramatically scaled time-keeping devices which, when used collectively, map out our moment in a variety of chronological systems. An imposing blade, standing in the center of the park and cutting six stories into the sky, displays the time with an accuracy of within two seconds. Other devices locate our date on the calendar. It was with these devices that I verified, and adjusted, my watch….
Precisely measuring time is not historically outside India's technological abilities—Jantar Mantar was completed in 1734 using ancient Vedic principles—but rather the meaning of time is different. Time is less used to mark out the rhythms of the factory and the office place workday, but rather has astrological significance, agricultural importance and ceremonial uses.
This issue speaks to the central concern of my course, "South Asia and Modernity." Because meanings of such fundamental and commonsense notions of time are different from the modern West's, we may not use American life as a yardstick for how modern India has become or how much farther it has yet to go before reaching some Western standard of "modern." Indian modernity can only ever be its own unique way of life.
I experienced the benefits of this different approach to time last summer while in India…. My two colleagues and I had dropped by Christ College in Bangalore, desiring to speak with the president of the college but without an appointment. As I entered his office, wondering if my fellow professors felt as sheepish as I for arriving unannounced, the president greeted us warmly and said, "You have come like Indians—without a bothersome appointment that makes us watch the clock. If fate has decreed that we will meet, then we will. Please sit." And with Indian efficiency and fateful providence, we did.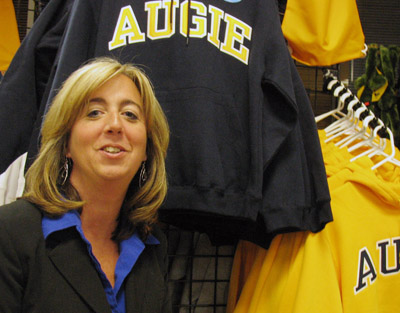 New Face on Campus
Sonda Reinartz
Manager, Runestone Bookstore
Earlier this year—when the bookstore was closed on Saturdays—Sonda Reinartz figured it would be a good time to work with no interruptions. "But that wasn't the case," she explains. "People would see me inside and start knocking on the door…. If you think about it, when does a parent visit a child at college? On the weekend." Augustana's bookstore is now open from 11 a.m. to 3 p.m. every Saturday when school is in session. Reinartz reports the weekend hours have been well received.
Before coming to Augustana, Reinartz managed Black Hawk College's bookstore for 10 years. She was interested in the Augustana position because of the college's reputation in the community and the opportunity to be at a four-year school. The Iowa native has worked in the college bookstore business for 23 years.
The biggest challenge today, Reinartz says, is navigating the movement away from textbooks to e-books and coursepacks (materials chosen by a professor for a particular course). It's also essential to be able to compete online. Runestone customers may now shop 24/7 at
www.augustanabooks.com
. Plus, beginning this fall, students will be able to reserve textbooks online and then pick them up at the bookstore, which should help shorten the lines.
When Reinartz isn't minding the store, she reads and does all the things the mom of an involved 13-year-old son does. Traveling is also a favorite hobby—preferably to warm and sunny places.
From the Cabinet
Paul Pearson, Vice President of Business and Finance
If you have recently traversed the 38th street hill you may have noticed considerable construction on the bluff to the west of Swanson Commons, where Hodge Construction of Moline has been hired to build two three-story TLA buildings. (Though Hodge Construction built the Dahl President's Home, there is no truth to the rumor that each apartment's living room will be the same size as utilized there!) The two buildings will each house 28 students in transitional living layouts similar to those at Naeseth, Arbaugh and Swanson Commons' south and west wings. The buildings are rising on the site of the former Delstat House and, as President Bahls announced, will be named in honor of Professor Emeritus Dr. Dorothy J. Parkander.
Building residential facilities on this bluff is one of the recommendations of the campus master plan. The project was authorized at the January Board of Trustees meeting with the expectation of an August 15, 2007 completion date. Despite the extremely tight development and construction window, this will be a high-quality facility for the benefit of the juniors housed there, the neighborhood and the entire campus community. The addition of these 56 TLA beds should now provide all juniors with an opportunity to experience this type of living arrangement.
Also for your consideration is an update on progress made thus far in converting Carlsson Hall from its current residential status into an academic building: in early March, after many months of developing construction bid documents, BLDD Architects and college staff members met with representatives of several contractors to tour the building. After evaluating the responses to the bid requests, we have chosen Estes Construction, a Quad Cities firm, for the renovation of this venerable building. The total project budget is $8.2 million. Work will commence shortly after this year's graduation and will be completed in July 2008.
Beginning fall of 2008, instead of housing 109 students, Carlsson Hall will become home to the college's new Center of Inquiry as well as to the academic departments currently residing in Sorensen Hall.
Augustana Family News
Originally from Paraguay,
Monica Banks-Gunzenhauser
(Spanish) has seen a lot of students pass through her classes in the ten years since she started teaching at Augustana, and she has found it an honor to teach every one. "Outside of the classroom," she admits, "I have been very quiet in my little Denkmann office." But now she has some exciting news to share. On March 30, after a six-year application process, she finally became a citizen of "the country that opened its arms to me 12 years ago as a fledgling graduate student…." The ceremony took place in Des Moines, and it was a very important day for the 72 people from many different countries.
She adds, "I am happy and proud to be an American citizen, and I promise to respect and honor this country for the rest of my life. However, as the presiding judge said, I will always love and share my heritage, my native language and my people with all I encounter." And so, our fellow American Monica Banks-Gunzenhauser welcomes us all to stop by her office and "visit for a spell."
Kent Barnds
(enrollment) is facing a 15th reunion at his
alma mater
, Gettysburg, this summer. But while he may be surprised at how quickly those fifteen years have slipped over the horizon, he can take comfort in the title of the award he'll receive at the reunion: 2007 Young Alumni Achievement Award for Career Development. Furthermore, since he is one of two 1992 graduates to receive the award, he can share both his pride and his pangs with another.
Don Reffett
(security) and his wife Lynn look forward to May 2 with great anticipation: on that day their daughter Larilyn Reffett will return from Baghdad, Iraq, where she has been a mid-level ambassador in the U.S. State Department for the past 18 months. Don notes that he and Lynn "have been praying daily for her safe return from this assignment, and for the lives of all our servicemen and servicewomen and the Iraqi citizens who are risking their lives daily for what we as Americans cherish most: our freedom and democracy."
Barbara Shellhouse
(music) passed away earlier this month of complications from
Amyotrophic lateral sclerosis
, or Lou Gehrig's disease. She taught voice in the Rock Island public schools and at Black Hawk College for 30 years, and after her retirement continued to teach at Augustana. From the
obituary
: "Her quest in life was to bring music to children of all ages…. After she was diagnosed with ALS in early 2006, a highlight in her life was the opportunity for her to participate in the naming of the Dr. Barbara Shellhouse Center for Singing at Augustana College in January of this year."
Seen and Heard
"There's a Haitian proverb: 'Taking medicine without food is like washing your hands and drying them in the dirt.'" — David Walton, on the difficulty of treating disease without first eradicating poverty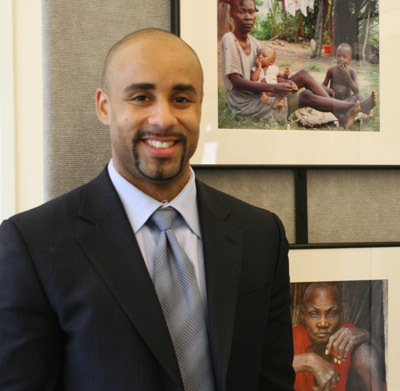 Augustana alumnus David Walton, M.D. divides his time between the Brigham and Women's Hospital in Boston and Haiti. At a recent convocation he spoke of his work in Haiti with Paul Farmer and the Partners in Health medical treatment/advocacy organization. Walton also is a photographer (see his photos on the wall behind him, and on the far left of the band at the top of this newsletter).

Acknowledge
is published by the Office of Communication and Marketing. Contact
Beth Roberts
, editor. Photos in this issue were contributed by Ashley Biess '09, Karri Kelm '07 and Carolyn Krueger '07 of the Augustana Photo Bureau, as well as David Walton and Marla Alvarado-Neuerburg. To see the calendar of upcoming Augustana events, go to
www.augustana.edu/calendar
.