August 16, 2012
After successful season Vikings look for more in 2012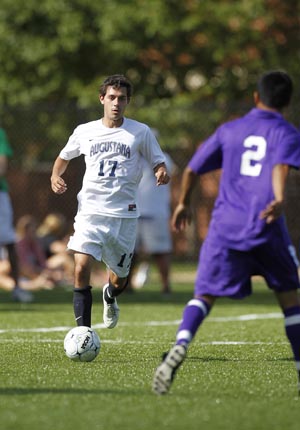 Senior Nick Wolfe is the leading returning scorer for the Vikings heading into 2012. He scored four goals and had six assists a year ago for 14 total points.
Last year was a major break-through for the Augustana men's soccer team as the Vikings hit the double-digit mark in victories for the first time in Brenton Joseph's tenure with a 13-6-0 overall record. Joseph's team also cracked the top 10 in the NCAA Division III Midwest Regional rankings and finished the year with back-to-back victories over North Central and Elmhurst to end the campaign.
Heading into 2012, Joseph is hoping for more of the same from a squad that returns eight starters and a total of 17 letter winners from 2011.
"We have a bunch of returning players," said Joseph who is now 41-43 at the helm of the Vikings and has guided his team into the College Conference of Illinois & Wisconsin tournament two of the last three seasons. "That group has experience and is anxious to build off last year's success."
In Joseph's first two seasons at Augustana the Vikings were a combined 3-9-2 in CCIW play. Over the last three campaigns, however, the Blue & Gold has gone 10-9-2 and Joseph thinks this team has what it takes to contend.
"We had great success out of conference last year and lost a couple of tough-luck games in the league last year," he said. "We are ready to take that next step."
One area that has been consistent during Joseph's tenure at Augustana has been the defense. Last year was no exception as the Vikings allowed just 19 goals in 19 matches and finished the year with nine shutouts. Things won't change much this year as the defense returns intact.
Senior co-captain Jason Beckus (Neuqua Valley HS, Naperville, Ill.) and juniors Evan Johnson (Glenbard South HS, Glen Ellyn, Ill.) and Michael Buric (Notre Dame Prep, Scottsdale, Ariz.) have played together for two seasons and it shows. Buric was a second team all-conference selection in 2011. Sophomore Adam Bengfort (Davenport Assumption HS, Davenport, Iowa) is also in the mix. A talented freshmen group consisting of Eric Gustafson (Cary-Grove HS, Cary, Ill.), Cole Collins (Lisle HS, Lisle, Ill.), Ryan Muzzarelli (Geneva HS, Geneva, Ill.) and Robert Scott (Houston HS, Collierville, Tenn.) could factor in here as well.
Junior co-captain Tyler Cowherd (Bettendorf HS, Bettendorf, Iowa) has been the starter at goalkeeper the last two years. He played 15 matches and logged over 1000 minutes in 2011 while recording five shutouts and a 1.32 goals-against-average. Sophomore Brett Johnson (Zion-Benton HS, Beach Park, Ill.) played in nine matches and recorded 17 saves in 460 minutes with a 0.59 goals-against-average. Freshman Jacob Dreiling (Barrington HS, Barrington, Ill.) will be in contention also.
One area where Joseph knows his team must be more productive is on the offensive end.
"We need to be more efficient on offense," said Joseph who watched as his team scored 37 goals a year ago but were held to one goal or less in nine matches. "Somebody is going to have to take the lead in that area in order for us to be successful."
Last year, departed senior Sean Fidlow was the leading scorer with 13 goals and six assists, accounting for 32 total points. Fidlow accounted for 35 percent of all goals and 32 percent of the total points by the Vikings in 2011.
Senior Nick Wolfe (Neuqua Valley HS, Naperville, Ill.) is the leading returning scorer with four goals and six assists for 14 total points. Other returning players who will vie for playing time at the forward positions are junior Grant Halter (Glenbard West HS, Glen Ellyn, Ill.), senior Kevin Wyrostek (Naperville North HS, Naperville, Ill.) and sophomore Vincenzo Dal Pozzo (Neuqua Valley HS, Naperville, Ill.). Halter and Dal Pozzo each had two goals a year ago and Wyrostek tallied once.
Sophomore Josh Bennett (Wheaton North HS, Winfield, Ill.) and newcomers Jakob Rettke (Columbia-Rock Bridge HS, Columbia, Mo.), Gabriel Brouillette (Carmel HS, Mundelein, Ill.) and Ian Deggendorf (St. James Academy, Liberty, Mo.) will be in the hunt for playing time at the forward positions as well.
In the midfield juniors Matt Shipon (South Elgin HS, Elgin, Ill.) and John McSpadden (Geneva HS, Geneva, Ill.) and sophomores Nathan Kyes (Oswego HS, Oswego, Ill.) and Chandler Brooks (University HS, Bloomington, Ill.) all logged playing time a year ago. McSpadden scored three goals and had four assists while Shipon had three goals and three assists. Kyes scored one goal and recorded two assists while Brooks had an assist. Sophomore Kevin Murphy (Maine South HS, Park Ridge, Ill.) and freshman Andrew Smith (Galesburg HS, Galesburg, Ill.) could be used in the midfield also.
"One of the keys to our season this year will be a highly competitive schedule," said Joseph. "We play a number of very good teams in the non-conference portion and that will prepare us for CCIW play."