August 11, 2012
Vikings anxious for 2012 to begin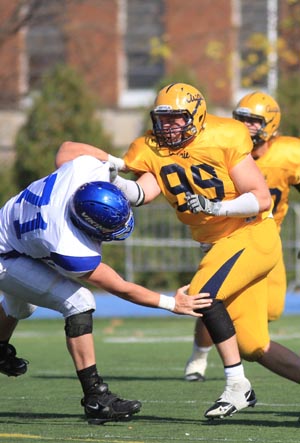 Junior Carl Hartweg will anchor the Augustana defense from his nose guard position in 2012. Hartweg recorded a total of 29 tackles in 2011 and is part of a defensive unit that figures to be a key to the Vikings' success.
When Rob Cushman is asked to assess the Augustana football team's chances for the 2012 season, he gets right to the point.
"Without question we have a lot of change from a year ago," said Cushman whose team went 2-8 overall and 2-5 in the College Conference of Illinois & Wisconsin in his first year at the Vikings' helm. "It starts with a coaching staff that lost some very valuable and longtime members and it continues with the exciting plans for a new stadium and the fact that we will be playing on a new turf this fall. There is an excitement amongst our players as we start the year. Even with all the changes that have and will happen this program still has the same goals as always. We want to contend for a conference title and be a factor in the national picture."
Cushman's season of change began last winter when longtime assistant (and former Augustana head coach) Tom Schmulbach retired. Part-time assistants Mike Brewers and Jim Sanders decided to hang up their whistles as well after long and distinguished careers. In addition, Kyle Reade, who had a long-time association with the Augustana program, made a career change. In all, it left Cushman with a staff that now has five new assistant coaches, most notably Tom Casey and Anthony Scott. Casey will become the new defensive coordinator, allowing Cushman to focus on the whole program more as he relinquishes his former role of defensive coordinator. Scott will step into Schmulbach's shoes as the offensive line coach.
"Bringing new people on board is exciting because of the type of individuals who we were able to get. There is always a transition period with new staff members but it went smoothly during the off-season," said Cushman. "We are looking forward to getting started and our players have a renewed commitment to getting Augustana football back on track. The returning guys were not happy with what happened last year and you could see that attitude in the off-season.
What happened in 2011 was a plethora of games that were decided in the last minutes of games. Of the eight losses, five were decided by less than eight points and the Vikings trailed CCIW champion North Central on the road by just 10-3 before the Cardinals put up two late scores in the final minutes.
"I have been coaching 30-plus years and I don't think I have ever seen a season like that," said Cushman. "We all know that the ball bounces in funny ways but it sure didn't bounce our way last year. That was quite a learning experience for all of us and I think we learned from it."
Officially the Vikings return 12 starts (five on offense and seven on defense) from a year ago but in this day and age of situation substitutions, the number of players who saw significant action is certainly higher.
One area where the theme of change is paramount is on offense where a new quarterback will be asked to replace David Lee, who graduated after completely rewriting the Augustana record book. Lee erased the name of former NFL MVP Ken Anderson from the single game, season and career ledger in almost every category.
There will be a battle in the pre-season to see who will grab the position. Senior Nick Welch (Oswego HS, Oswego, Ill.) and junior Ken Clay (Waubonsie Valley HS, Naperville, Ill.) are the two returnees who will get the first shot at the position. However, there is a talented group of freshmen who could factor in here.
Senior Brett McWilliams (Rockton Hononegah HS, Roscoe, Ill.) and junior Eric Chandler (Cary-Grove HS, Cary, Ill.) both made significant contributions at running back in 2011. McWilliams led the team in rushing with 427 yards on 109 attempts and scored five touchdowns. Chandler added 155 yards on 41 rushes with two scores. An additional boost could come from junior Alex Hembrey (Cary-Grove HS, Cary, Ill.), who missed the entire 2011 campaign due to a foot injury. He rushed for 158 yards on 29 carries as a freshman in 2010.
Sophomore Ben Hodges (St. Charles North HS, Elburn, Ill.) had a good year on the junior varsity team in 2011 and he could be a factor. Sophomore Antonio Owens (Naperville North HS, Naperville, Ill.) was a starter as a freshman in the slot position where he led team in all-purpose yardage with 692. He rushed for 129 yards on 29 attempts, caught 15 passes for 155 yards and added 408 yards on 24 kickoff returns. He will be used both as a running back and as a receiver. Sophomore Kyle Frake (Clifton Central HS, Clifton, Ill.) and junior Kyle Snow (Wheaton-Warrenville South HS, Wheaton, Ill.) could factor in as well.
Whoever wins the quarterback position will have junior Nick Krantz (Moline HS, Moline, Ill.) as a reliable target. Krantz snagged 24 passes last year for 299 yards and scored three touchdowns after catching nine for 125 as a freshman. Sophomore Torre Harrell (Bloomington HS, Bloomington, Ill.) could be a game breaker. He is an explosive athlete who won the CCIW title in the long jump at the outdoor track & field meet as a freshman. Senior Derek Schneeman (Streator HS, Streator, Ill.) will be counted on as well.
The tight end position has senior Marty Resner (Oswego HS, Montgomery, Ill.), junior Sean Mulholland (Clinton HS/Prince of Peace HS, Clinton, Iowa) and senior Eric Hansen (Immaculate Conception HS, Elmhurst, Ill.).
The offensive line was very young a year ago and three full-time starters return. Sophomore Anthony Roome (Geneseo HS, Geneseo, Ill.) and senior Mike Kautz (Rock Island Alleman HS, East Moline, Ill.) return at the tackle positions and senior Derek King (Westmer HS, New Boston, Ill.) is back at one of the guard slots. Junior Eric Link (Sherrard HS, Aledo, Ill.) and sophomores Greg Ferguson (Plainfield South HS, Plainfield, Ill.) and Alex Anderson (Geneseo HS, Geneseo, Ill.) will be battling for starting positions. Junior Eric Dratnol (Kaneland HS, Kaneland, Ill.) might have the inside track for the center position.
Since Cushman became the defensive coordinator in 2008, this area has always been strong and he is counting on that once again. He really likes the people who are occupying the "front-end" positions. Junior Carl Hartweg (Illini West HS, Carthage, Ill.) will anchor things from his nose guard position where he recorded 29 total tackles last fall, including a sack and two tackles for loss. Junior Will Hass (Marian Central Catholic HS, Algonquin, Ill.) will provide backup help.
Two fifth-year seniors occupy the end positions. Shane Holl (Batavia HS, Batavia, Ill.) and Pete Schimeck (Benet Academy, Naperville, Ill.) are both experienced and productive. Holl was fifth on the team in tackles last year with 43 with five tackles for loss and two sacks while Schimeck had 18 tackles, four tackles for loss and three quarterback sacks. Senior Luke Anderson (Lemont HS, Lemont, Ill.) was also a starter last year and he had 30 tackles while sophomore Sean McIntyre (Genoa-Kingston HS, Genoa, Ill.) should get plenty of action.
The linebacking corps is led by junior Erik Westerberg (York HS, Elmhurst, Ill.), who won Capital One Academic All-America honors as a sophomore. He led the team in total tackles with 106, including 72 solos which was the eight highest in NCAA Division III. He was a first team all-conference selection and made the all-region team. He was also listed on several 2012 pre-season All-American teams. Senior John Draminsky (Kewanee Wethersfield HS, Kewanee, Ill.) is coming off a good off-season. Senior Joe Weber (Marmion Academy, South Elgin, Ill.) earned all-conference recognition in 2011 and was named to some pre-season all-region teams. He was second on the Vikings in tackles last year with 48 with five tackles for loss and five quarterback sacks. Senior Andrew O'Reilly (Driscoll Catholic HS, Elgin, Ill.) and junior James Stratton (Sherrard HS, Sherrard, Ill.) lend quality depth.
Senior Robby Mago (Cary-Grove HS, Cary, Ill.) heads up the outside linebackers. He was third on the squad in total tackles last year with 45 and he had three tackles for loss. Senior Nick Chandler (Clinton HS, Clinton, Ill.), junior Mike O'Donoghue (Mundelein HS, Mundelein, Ill.) and sophomore Jacob Benner (Batavia HS, Batavia, Ill.) will join Mago.
The leader in the secondary is fifth-year senior Matt Glawe (Wheaton-Warrenville South HS, Winfield, Ill.) at cornerback. Although he was injured during the latter part of the season, he did record 23 tackles and tied for the team lead in pass breakups with four. Sophomore Bo Goshorn (Romeoville HS, Romeoville, Ill.) was a pleasant surprise as a freshman when he totaled 31 tackles and had two interceptions from his safety position. The other safety could be sophomore Tim Maroder (Burlington Central HS, Elgin, Ill.). Junior Sean Walker (Annawan HS, Annawan, Ill.) and sophomore Ben Fornek (Batavia HS, Batavia, Ill.) will battle for the cornerback slot opposite Glawe.
Senior Arnie Fitzwater (Waterford Union HS, Waterford, Wis.) at punter makes the Vikings solid in the special teams area. Fitzwater was the all-conference punter a year ago and finished 12th in the nation with an average of 40.50 yards per punt. He was the Vikings' special teams MVP and was an all-region selection. He was mentioned on several pre-season All-America teams. He set a school record with a 76 yard punt. Sophomore Brady Rogers (Cherokee Trail HS, Parker, Colo.) handled the placekicking chores last fall and was second on the team in scoring with 26 points. Fellow sophomore Conner Murray (Conifer HS, Morrison, Colo.) will battle Rogers for the kicking duties.
"We know we have to be more productive on offense this year," said Cushman. "We like what we have on defense and some facets of our special teams, especially in the kicking department, are very solid. We just need to come together as a team and I think we will be fine."