August 10, 2012
Olsen is excited about experienced and veteran team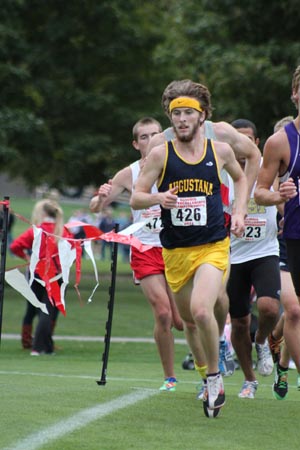 Tommy Harris is one of three captains and 11 seniors on the roster for 2012 men's cross country team.
For almost half a century the Augustana men's cross country program has been one of the top teams in the nation at the NCAA Division III level. Veteran head coach Paul Olsen enters his 47th season at the helm of the Augustana harrier fortunes and once again, he has a team that figures to be among the nation's best.
"I think this is going to be a great year," said Olsen who has coached cross country for 46 seasons and men's track & field for 44 heading into 2012-13. "We have four seniors who will provide great leadership and will be able to run at the front of every race and that is something you need to compete at the highest level."
A year ago Augustana finished the season ranked 25th in NCAA Division III and placed seventh in the Midwest Regional. The Vikings won the Brissman-Lundeen Invitational and placed second at the Luther Invitational and the Wartburg Invitational. Five runners who were in the top seven at the end of the season return for the 2012 campaign, fueling Olsen's optimism even more.
"I believe we are going to be good," said Olsen. "We have the depth we need to go along with the top-level performers. The level of commitment that I have seen from our entire team is one that will pay off in the end."
A senior quartet of Brian Pollastrini (York HS, Elmhurst, Ill.), Jonathan Smith (Moline HS, Moline, Ill.), Nathan Smith (Fenton HS, Bensenville, Ill.) and Justin Smith (Fenton HS, Bensenville, Ill.) will be counted on for leadership. All four have been regulars in the Vikings' top seven for most of their careers. Pollastrini won the College Conference of Illinois & Wisconsin individual title in the 5000 last spring and was second at the Wartburg Invitational last cross country season. Jonathan Smith finished 10th in the CCIW cross country championship last fall and placed sixth in the Luther Invitational and seventh at the Brissman-Lundeen Invitational. He was named the CCIW's "Runner of the Week" on September 27, 2011.
Nathan Smith was in the top seven the entire season in 2011 and Justin Smith was named the team's Most Improved Runner in 2011. Justin Smith was an NCAA Division III national qualifier in the 1500 during the 2012 track season and earned Capital One Academic All-America honors for his combination of athletic prowess and academic excellence.
Seniors Tommy Harris (Davenport Assumption HS, Davenport, Iowa) and Dennis O'Flaherty (Carl Sandburg HS, Orland Park, Ill.) both are experienced performers who have legitimate shots at being in the team's top five. Juniors Tyler Busch (Winnebago HS, Winnebago, Ill.) and Isaac Trostle (Willowbrook HS, Lombard, Ill.) and sophomores Nick Gornick (York HS, Elmhurst, Ill.) and Grant Bell (Belgrade-Brooten-Elrosa HS, Belgrade, Minn.) will certainly be in the mix as well. Gornick was the Vikings' Most Valuable Freshman in 2011.
Senior Kyle McNicholas (Carl Sandburg HS, Orland Park, Ill.), junior Andrew Allabastro (Lyons Township HS, Countryside, Ill.) and Alex Stockwell (Glenbard West HS, Glen Ellyn, Ill.) will be joined by sophomores Andrew Brimeyer (Dubuque Senior HS, Dubuque, Iowa), Alex Odenkirk (Ironwood Ridge HS, Tucson, Ariz.), Matt Simo (York HS, Elmhurst, Ill.) and Keegan Buttimer (Riverside-Brookfield HS, Riverside, Ill.) in a contending group for the top seven.
There could also be a newcomer in the mix from a talented recruiting class that numbers 19 runners. Jose Martinez (Addison Trail HS, Des Plaines, Ill.), Cale McCormick (Mahomet-Seymour HS, Mahomet, Ill.), Ben Popek (Minooka HS, Minooka, Ill.), Keith Sands (United Township HS, Silvis, Ill.), Cody Webster (United Township HS, East Moline, Ill.) and Ethan Koch (Prospect HS, Mount Prospect, Ill.) could all have shots at cracking the top seven for the championship meets at the end of the year.
"We are very confident heading into the year," said Olsen. "This is a group that has maturity and lots of emotional stability. We are looking forward to a great season."
As always, the Vikings will tackle a tough schedule this fall. They will compete at invitationals at Western Illinois and Wisconsin-Oshkosh as well as their own Brissman-Lundeen Invitational. They will compete in the always-tough Illinois Intercollegiate Championships as well as the pre-national meet in Terre Haute, Indiana.
"The schedule will prepare us well as we head to the important meets at the end of the season," said Olsen. "The pre-national meet will be a tremendous indicator for us."