August 8, 2012
Miedema anxious to get started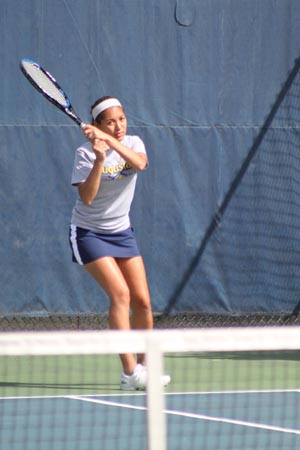 Junior Mariah Bardo posted a 17-9 record in 2011-12 and was second on the team in singles' victories.
It is hard to keep the excitement out of Jon Miedema's voice when he talks about the prospects for his 2012-13 women's tennis team at Augustana. After posting a 15-11 record in his first go-around as the Vikings' head coach, Miedema is looking forward to his second season.
"I am really excited about the coming year," said Miedema, who guided the Vikings to a fourth place finish in the College Conference of Illinois & Wisconsin in 2011-12. "There was definitely a learning curve last year, both for me as a first year head coach and for the players as they adjusted to a different coaching style. By the end of the fall season and into the spring we were all on the same page and I am anxious to start that way this year."
After posting a 7-6 record in the fall, the Vikings caught fire in the spring and won eight of their final 13 matches, including five of six near the end of the year. The season ended with an 8-1 defeat at the hands of CCIW champion Wheaton in the semi-finals of the CCIW's automatic qualifying tournament in May.
"My philosophy is to put a big emphasis on pushing yourself in practice," said Miedema, who spent one year as the head coach at Grace Bible College in Grand Rapids, Michigan prior to taking the Augustana position. "The harder you push yourself in practice, the easier the matches are. We worked on that a lot last year and I think it paid off at the end of the season."
Junior Kim Sawyer (Batavia HS, Batavia, Ill.) will handle the number one position after putting together a 27-7 record a year ago. She was a first team all-conference selection and was voted the team's Most Valuable Player. She placed second in the CCIW at number one singles. Through two seasons with the Vikings she has accumulated 56 career victories.
Senior Krista Panko (Geneva HS, Geneva, Ill.) has been a solid performer throughout her career and she is just five victories away from joining the 100-win club. She has a 46-38 record in singles and is 49-39 in doubles play. Last year she went 13-14 while playing mostly at number three singles and was 18-11 in doubles. She could move into the number two singles position this season.
Another senior, Meghan Wethington (Geneseo HS, Geneseo, Ill.), is a three year letterwinner. She was 11-16 in singles as a junior while playing at number four and she teamed with Sawyer at number one doubles where they were 11-14.
Sophomore Miranda Pence (Oswego HS, Oswego, Ill.) missed the fall portion of her freshman year but came on strong in the spring. She was 3-2 in singles and 5-3 in doubles in limited action. She could challenge for a spot in the singles lineup this season. Junior Katie Scharnagle (Wheaton St. Francis HS, Lisle, Ill.) was 11-7 in singles while working in the number five slot. She was 3-0 in doubles.
Juniors Mariah Bardo (Sterling HS, Sterling, Ill.) and Emily Kaczmarek (Glenbard South HS, Lombard, Ill.) both gained valuable experience last year. Bardo was 17-9 in the number six spot while Kaczmarek was 6-6 while playing the majority of her matches at number five. Bardo didn't play any doubles but Kaczmarek was 14-9 in the third position with a variety of partners. Junior Callie Winter (Downers Grove South HS, Downers Grove, Ill.) was 3-0 in limited time.
Sophomore Chelsea Lavin (Downers Grove South HS, Downers Grove, Ill.) played only in the fall because she was a member of the Vikings' softball team in the spring. She was 8-8 in doubles action in the fall. Junior Caitee Margenthaler (Moline HS, Moline, Ill.) was 8-4 in doubles play a year ago.
Miedema thinks that there will be some freshmen who will push for spots in the lineup as well. Aileen MacDonald (Mundelein HS, Mundelein, Ill.) caught Miedema's eye during the recruiting process and she could make an immediate impact. Lauren Kaczmarek (Glenbard South HS, Lombard, Ill.), Madeline Voss (Lincoln-Way East HS, Frankfort, Ill.) and Kersten King (Union HS, Dysart, Iowa) all have chances of making contributions throughout the year.
"This group was fun to coach last year and I look forward to working with them again," said Miedema. "We made good progress throughout the season and we hope to pick up where we left off. I am looking forward to starting the year."