2009 Season - Augustana Football Trip to Europe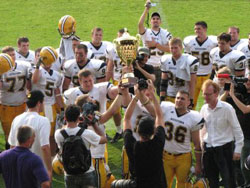 The Augustana Vikings football team traveled to Europe at the end of May to take part in a 10-day trip that focused on playing football against one of the premier football clubs in the Euro Football League.
Read more about this trip in the following Quad-City Times articles:
Sunday Special: Football catching on overseas
By Scott Ketzmann, Quad-City Times, Saturday, June 9, 2007
It is true the quality of football played and the level of competition is considerably behind that in the U.S., but the excitement and support of the fans who show up is beyond what is found at most American football stadiums. Read rest of article.
Sunday Special: Austria trip helps Augie football team bond
By Scott Kretzmann, Quad-City Times, Saturday, June 10, 2007
Perhaps more so than any other sport, football requires members of a team form close relationships.
Many opportunities are provided for teams to build the trust and camaraderie necessary to be successful, from summer training camp in the weeks leading up to the season to practices and team meetings, and even team meals the night before games. These experiences work, if for no other reason, because it allows teammates to spend time with each other and form closer personal relationships. Read rest of article.