$100,000 gift to support Latino students
July  19, 2012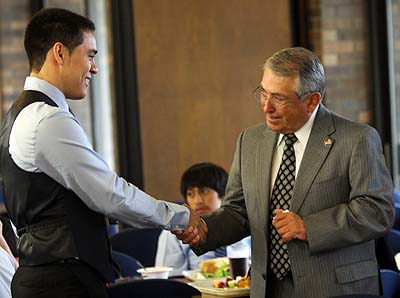 Bob Ontiveros meets one of the students attending the National Hispanic Institute's Midwest Great Debate. (Augustana Photo Bureau/Mark Marogil)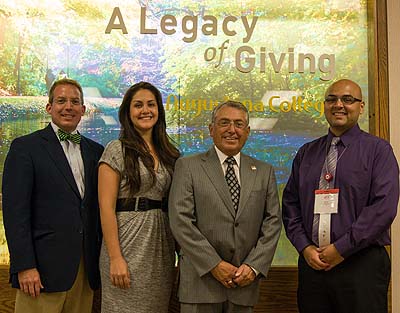 From left, W. Kent Barnds, Lydia Ruelas Duran '05, Bob Ontiveros and Miguel Duran at the National Hispanic Institute's Midwest Great Debate. The Durans are volunteers who help to organize the debate event.
Some 100 top-performing Latino high school students, who were on campus last week for the National Hispanic Institute's Midwest Great Debate, were among the first to hear about a $100,000 gift to Augustana College from Bob and Blenda Ontiveros.
With their gift, the Ontiveros have established an endowed scholarship to assist students of underrepresented populations and/or Latino heritage, according to W. Kent Barnds, vice president of enrollment, communication and planning. "This scholarship is intended to make excellence in higher education attainable and affordable and to encourage a diverse student population," he said.
Barnds described Ontiveros as "a self-made man" and a "very generous person." With his wife's support, Ontiveros founded Group O in 1974. Group O is based in Milan, Ill., and offers marketing, supply chain and packaging solutions to other companies. Group O employs more than 1,500 people, and is recognized as one of the largest Hispanic-owned businesses in North America.
"Bob Ontiveros gives of himself in many ways — serving as a member of the Augustana Board of Trustees, supporting many local non-profits, and offering tremendous leadership to the Greater Quad Cities Hispanic Chamber of Commerce," Barnds said. "He is a great example of the American dream."
After the scholarship announcement, Ontiveros addressed the NHI attendees. He provided three pieces of advice: have a dream, work hard and be proud of your heritage.
"The Ontiveros Scholarship is a true blessing to Augustana and to its students," says Lynn Jackson, Augustana's Vice President of Advancement. "The college is dedicated to advancing diversity across its campus, including through a diverse student body. Bob and Blenda are helping us do that by making college affordable and attainable to talented students who will enrich our campus."
Sam Schlouch
Senior Communication Director
(309) 794-7833
samschlouch@augustana.edu